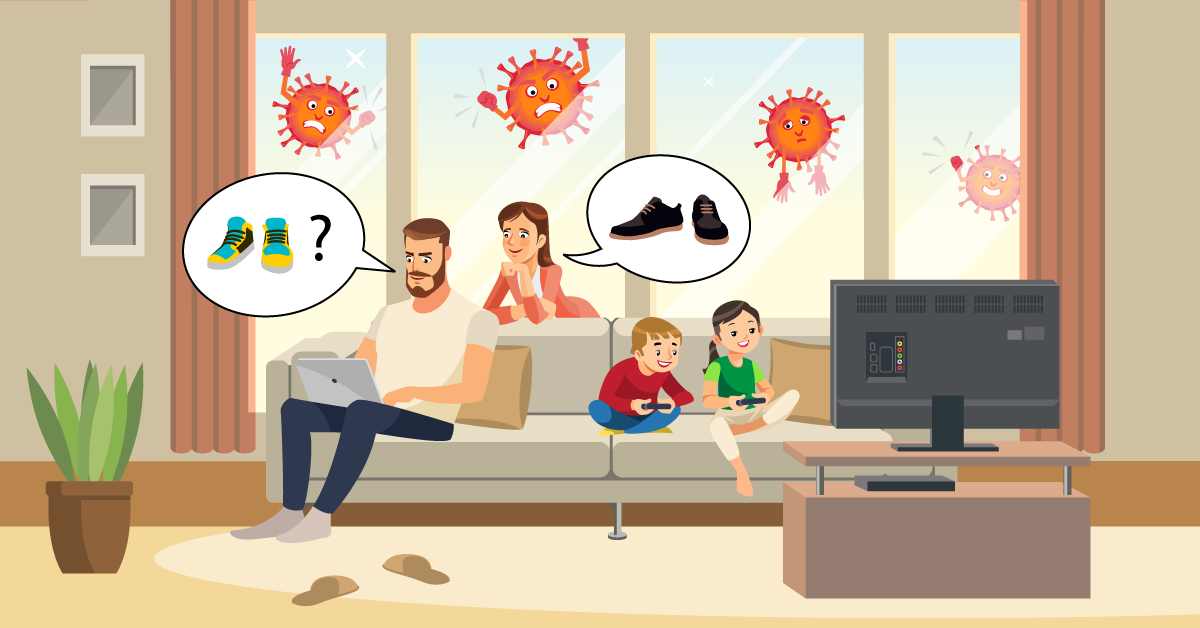 E-commerce
Coronavirus Proves the Relevance of E-commerce and Digital Transformation
The coronavirus outbreak has brought many companies to their knees and has been pushing them towards bankruptcy. Best positioned to survive the crisis are those businesses that had previously focused on digitization and the implementation of new technologies. What we used to call the digital future just a few months ago, has become a reality literally overnight.
As during any crisis, there are always those who turn out to be completely unprepared and ultimately suffer heavy losses, while others manage to find their ways to minimize damage to their businesses and survive tough times. It's already clear that it is the e-commerce industry and digital services providers that will be much less affected by the coronavirus pandemic which has been literally paralyzing traditional brick-and-mortar retail over the last weeks.
There is no doubt that in this situation the world economy faces right now, the digital transformation has proved its relevance and importance. It turns out that the best prepared for these difficult times are those companies which in recent years have bet on digitization by investing in e-commerce solutions, process automation, and customer self-service.
Consumers switch to digital channels
As the number of confirmed coronavirus cases and deaths ticked higher, more and more people decided to limit their personal contacts with others. These decisions were additionally driven by governments and medical authorities recommending that citizens stay in their homes in self-quarantine. As a result, people started to avoid crowded spaces and one of the first places they abandoned were physical stores, mainly shopping malls and supermarkets.
Even in the early stages of the epidemic, three-quarters of US internet users said they'd be likely to avoid shopping centers and malls if the coronavirus outbreak worsens, and over half would avoid shops in general (Fig. 1), according to the Coresight Research study.
Fig. 1 — Share of US internet users likely to avoid stores if the coronavirus outbreak worsens
Source: Coresight Research, n=1.121, 28 February 2020.
As the coronavirus pandemic raged on, people were choosing to isolate themselves even if governments didn't impose such restrictions. Towns and cities around the world became literally deserted, especially in the countries most affected by COVID-19. According to an international study of more than 14.000 people across 13 countries, conducted by YouGov in early April, the Italians and Spanish came at or near the top for each protective measure considered, including avoiding crowded areas, going to shops, touching objects in public, and taking public transport (Fig. 2). Brits were the second most likely to say they were always or frequently avoiding crowds and public transport. An equally high share of people keeping away from public places was recorded in Germany, although the country was ranked last with regard to avoiding shops. But even in this case, still more than 40 percent of respondents admitted to staying away from brick-and-mortar stores.
Fig. 2 — Avoidance behavior in select European countries
Source: YouGov/Imperial College study, 1-7 April 2020 (Question: Thinking about the last 7 days, how often have you taken the following measures to protect yourself or others from coronavirus? % in each country saying they are "always" or "frequently" doing these).
While people increasingly avoided physical shopping environments to reduce the risk of catching the infection, online orders and sales started to surge rapidly from day to day.
And there's nothing surprising about that. Locked away in their homes and isolated from the rest of the world, people have been trying to live their usual lives — working, studying, shopping, entertaining, and communicating with family and friends. On a scale never seen before, they have been making use of numerous digital tools, solutions, and all the endless possibilities provided by the global network and modern technologies.
This remarkable turn to digital channels affects many areas of consumers' lives and activities. In their latest report, eMarketer and Business Insider Intelligence analysts identified several business areas that are likely to be affected most by the current situation. These include telecoms and technology, digital media, fintech, banking, healthcare, and obviously payments and e-commerce. According to the report, most of the changes expected to take place within these industries will be related to accelerating and deepening of digitization. Why? Because this is exactly what the new post-corona consumers will require from their providers of goods and services.
It seems, however, that our shopping habits were among the most affected areas of our daily lives. During the home quarantine, many people decided to do online purchases for the first time in their lives, while others did this more often than usual. And the longer the social distancing lasted, the more frequently consumers bought online products they would have never ordered via the internet before. This is exactly what happens when you are forced to stay at home for a few weeks and all the brick-and-mortar stores outside are closed. In fact, people had no other choice but to switch to online shopping with all their needs. And as a result, even toilet paper is now being purchased online.
This way, more and more people were overcoming their previous fears and concerns about purchasing products via the internet. They suddenly found out that online shopping could be indeed very easy and completely safe.
However, there is one fundamental condition for customers changing their attitude to online shopping once and for all, that is, impressions of online shopping must be really positive and encouraging of further purchases. Unfortunately, the pandemic doesn't help creating this famous seamless customer experience at all. Numerous online retailers simply haven't been successful in keeping up with this challenge. Some well-known online stores, like for example tjmaxx.com, have suspended their operations until further notice. For many companies, delivery delays have become a new "promise". What's worse, cancelled orders and deliveries are not uncommon these days. Moreover, consumers are frequently facing out-of-stock product issues, or they can't access the store, or even complete their orders due to various technical problems.
But despite many examples of process organization and technology failures, it seems that most long-time online retailers have managed to deal with the crisis. They adapt quickly to the changing conditions and thus they can continue their operations and sales. Otherwise, we wouldn't be seeing such a significant increase in total online sales across the globe.
According to a study by Adobe Analytics, the digital economy in the US has been growing significantly faster than the economy as a whole during the coronavirus pandemic. E-commerce has grown 25% from March 13-15 compared to the baseline period of March 1-11. In fact, this growth was driven primarily by online grocery sales that have doubled YoY for the two-week period.
Likewise, strong growth in online sales has been recorded across Europe. The data collected and analysed by Nielsen confirms that COVID-19 is strongly driving online sales growth of consumer goods in France, Italy and Spain (Fig. 3).
Fig. 3 — Weekly e-commerce sales of consumer products in Southern Europe
Source: Nielsen. Percentage growth compared to the corresponding week of 2019.
According to Nielsen, e-commerce sales in France grew four times faster than those of physical stores during the week of March 2-8 compared to the corresponding week of 2019 (Fig. 4). As the analytics company points out, this is an unprecedented situation since French e-commerce has never before grown at such an accelerated rate compared to brick-and-mortar retail.
Fig. 4 — The growth in e-commerce sales in France quadrupled this of physical stores during the week of March 2-8
Source: Nielsen.
What's more, the pace of online sales growth increased even more in the following weeks. Nielsen estimates that online orders with home delivery rose 93 percent year on year in the week of March 16-22. But the biggest winner is "drive" — as the French call the click-and-collect model (buy online, pick up in-store) — which previously enjoyed mediocre popularity and now has seen a surge of 74 percent year on year.
Nielsen found out that in France, while visits to physical stores fell by nearly 30 percent during the week of March 16-22, at the same time e-commerce sales have reached a historic value of nearly 250 million euros.
Fig. 5 — E-commerce market share in France exceeded 10% in certain weeks
Source: Nielsen ScanTrack. Scope: Drive + Home Delivery including Amazon.
The evidence is strong that the market share of online sales of consumer products in France, after exceeding 10 percent in certain weeks (Fig. 5) and reaching 9,5 percent during the entire containment period (Fig. 6), will remain above 8 percent of total retail sales.
Fig. 6 — E-commerce market share in France has surged this year
Source: Nielsen ScanTrack. E-commerce = Drive (click-and-collect) + Home Delivery, including Amazon. Data as of 12 April 2020.
As for Germany, we can observe a huge gap between what retailers and e-commerce professionals expect and the actual performance of the market as a whole.
Results of research carried out by the main German organizations representing the e-commerce sector show that the majority of the industry expects online sales to decline in most product categories this year.
Fig. 7 — Most German online retailers feel that the coronavirus crisis has been affecting their businesses
Source: Händlerbund e.V., March 2020. Base: n=412 German online retailers. Question: Do you feel your business activity is affected by the coronavirus?
At the beginning of March, thus still in a very early stage of the epidemic, the Germany's online trade association Händlerbund e.V. conducted a survey among 412 online retailers. According to the study, 70 percent of companies felt their business activities were being affected by the crisis (Fig. 7) and 55 percent considered this impact to be negative (Fig. 8). Moreover, 82 percent of online retailers surveyed expected the situation to get worse.
Fig. 8 — More than half of German online retailers expect the crisis to have a negative impact on e-commerce
Source: Händlerbund e.V., March 2020. Base: n=412 German online retailers. Question: How does the coronavirus crisis affect e-commerce?
Even darker predictions emerge from the results of a recent member survey conducted by the German Association for the Digital Economy (BVDW). According to the study, 98 percent of companies expect a drop in sales this year due to the coronavirus crisis. On average, online sales are expected to fall by 38 percent throughout 2020.
Such pessimistic forecasts may be justified by the fact that industry associations mostly comprise small and medium-sized companies which are indeed most vulnerable to suffer from the crisis. However, it seems that the overall situation of e-commerce in Germany is not as black as it's painted. According to some sources analysing actual market data, significant increases in online sales are observed both in terms of revenue and orders.
Interesting data in this respect is provided by the CCinsight project developed by Emarsys in cooperation with GoodData. The tool, which delivers a daily COVID-19 insights tracker, draws on activity from more than a billion engagements and 400 million transactions across 120 countries, providing a global and regional picture of e-commerce activity and trends.
Data from ccinsight.org clearly shows that since the pandemic outbreak, German e-commerce as a whole has been seeing a solid growth of revenues and orders compared to the previous year (Fig. 9 and 10). These increases slightly slowed down after the German government began gradually reopening the economy, but the data suggests that we are still seeing growth rates of several dozen percent.
Fig. 9 — Year-over-year growth trend in the revenue from online transactions in Germany
Source: COVID-19 Commerce Insight by Emarsys/GoodData. Trends are calculated as follows: transactions from the 14-day period compared to the corresponding period of the previous year.
According to CCinsight, during the 14-day period ending 3 May 2020, online orders from German pure e-commerce retailers were up 62 percent (Fig. 10) and their year-over-year revenue growth was 49 percent (Fig. 9). During the same period, online orders of primarily store-based retailers increased by 50 percent year over year while their revenue from online transactions grew by 46 percent compared with the same period a year earlier.
Fig. 10 — Year-over-year growth trend in the number of online orders in Germany
Source: COVID-19 Commerce Insight by Emarsys/GoodData. Trends are calculated as follows: transactions from the 14-day period compared to the corresponding period of the previous year.
Certainly not all merchants have experienced such significant increases. It's likely that the growth was mainly generated by the biggest national and global players, including huge marketplaces, like Amazon. Undoubtedly, the increases have also been driven by specific product categories, which in individual e-shops — like Idealo — have grown from several dozen to even several hundred percent in just a few weeks (Fig. 11).
Fig. 11 — Rising demand for certain products in German e-commerce amid COVID-19
Source: Idealo. Weekly demand in the respective product category on idealo.de within the period between 20 January 2020 and 22 March 2020. The increase in a given week was calculated with reference to the initial value from week 4.
Digitization is the only way
The coronavirus pandemic has been changing consumer behavior on a massive scale. That's a fact. Self-isolated or quarantined in their homes, people are adjusting to the situation and developing their "new normal" where digital technologies play a fundamental role. Along with remote working and learning, one of the major changes affecting businesses around the world is the shift to online shopping and cashless payments.
Most experts agree that these new behaviors and habits — at least for a significant share of consumers — are likely to last and become permanent after the coronavirus is subdued. A similar effect has been observed for years during the holiday seasons when online sales increase rapidly and never get back to previous levels after the holidays are over. A part of this growth always remains permanent as many consumers return to online shopping and do so more frequently post-holiday.
Andrew Lipsman, principal analyst at eMarketer, told Forbes: "During the holiday, a time with more concentrated buying activity, consumers spend more online creating a step-change, meaning the consumer may not return to past behavior. We may see this type of similar behavior unfold over the next few months".
This conclusion is supported by a recent study carried out by Kantar on behalf of Detail Online, covering Europe's three largest e-commerce markets: France, Germany and the UK. During the last week of March 2020, more than 3.000 consumers were interviewed regarding their shopping habits before and after the pandemic outbreak. According to the survey, the share of customers who do more than half of their total purchases online has grown between 25 and 80 percent since the outbreak of COVID-19.
The study also showed that in some product categories most respondents who currently shop online will continue to do so even after the crisis ends (Fig. 12). In particular, clothing and consumer electronics are the categories that will maintain the highest percentage of customers making their purchases through digital channels.
Fig. 12 — Online shopping in different categories post COVID-19
Source: Kantar/Detail Online, 26-30 March 2020. Base: n=3.162 respondents aged 16-64 (France: 1.050 respondents; Germany: 1.068 respondents; UK: 1.044 respondents). Question: Do you think you will shop online for this product category during the rest of 2020?
Another important finding from the study is that the majority of German consumers are likely to continue shopping online to the same extent once the pandemic is over (Fig. 13).
Fig. 13 — Likeliness of German consumers to continue to shop online post COVID-19
Source: Kantar/Detail Online, 26-30 March 2020. Base: All who currently shop online, Germany, n=870. Question: How likely is it that you will continue to shop online to the same extent once the coronavirus has passed in your country?
All the evidence points to the conclusion that a side effect of the global coronavirus pandemic will be the largest ever increase in the share of e-commerce in total sales.
But this change in consumer habits will only be sustained if online retailers manage to cope with such a surge in demand and, on the other hand, if shipping companies are able to deliver continuously in a way that customers perceive as completely safe for them. In short, if the entire experience is positive so that at least some consumers decide to repeat their online shopping adventure in the future.
Unfortunately, this boom in online orders has simply overwhelmed many retailers and delivery companies. For sure, they will have to rethink their strategies, organization, processes and even business models which have proved to be inefficient during the crisis. It seems that deeper digitization is the only way to secure businesses against similar situations in the future.
A clear message on future actions that must be taken comes from China, which seems to be slowly recovering from the crisis and learning first lessons from it.
According to Scott McKenzie, Nielsen Intelligence Leader, 67 percent of 10.000 Chinese retailers surveyed declared they needed to invest more in online channels and applications that enable and empower digital commerce. "This is not just a China thing", said McKenzie. "China is perhaps one of the most mature e-commerce markets on the planet. There are more ways to shop using devices — everything from laptops to mobile phones, to applications, WeChat channels, social groups that enable purchase — which don't exist anywhere else in the world. And yet you've got retailers saying: we're nowhere near where we need to be. We need to change towards a much more aggressive e-commerce model and develop that".
Fig. 14 — Chinese retailers will invest even more in digitization post COVID-19
Source: Nielsen China survey of 10.000 retailers.
And although — as emphasised by numerous analysts — e-commerce will not save all retailers, it will help many of them mitigate negative impacts of the crisis and survive these difficult times. It's now clear that digital leaders who have invested in their transformation and now have both efficient e-commerce platforms and online customer service systems will lose the least, while the digital laggards will fall even further behind. At worst, for many of them the end of the pandemic may also mean the end of their business.
The coronavirus has infected our minds and irreversibly changed the way we live. Both your current and potential customers have changed radically. Now it is time for your business to change accordingly.