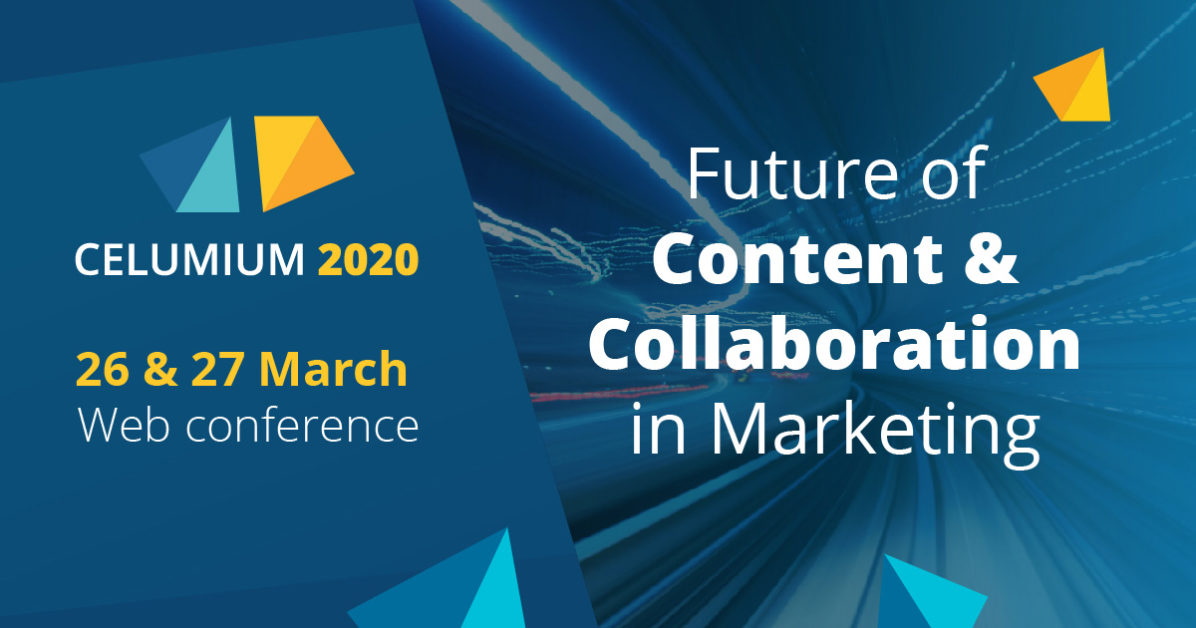 UX
Explore the Future of Marketing Content and Collaboration at CELUMIUM 2020
Hundreds of marketing and communication professionals will take part in the CELUMIUM 2020 web conference organized by CELUM, a leading provider of digital asset management technology. Striped Giraffe is proud to be among partners of the event.
UPDATE
CELUMIUM 2020 TURNS DIGITAL
Due to concerns around the coronavirus (COVID-19), and in accordance with health guidance from the health authorities and WHO, the conference organizers have decided to reimagine the physical CELUMIUM event: The conference will take place online.
All current participants are automatically registered for the event and will receive all updates and the link to the webinar by email very soon. The masterclasses on Day 2 are reopened and will now take place consecutively throughout the day, enabling you to join each and every masterclass you like.
---
CELUMIUM is an annual event for CELUM implementation partners and customers — marketers, digital experts, content creators, and communication specialists — who meet once a year to share knowledge on latest trends, best practices, technical innovations, and exciting new opportunities in the world of digital asset management (DAM).
CELUMIUM 2020 will take place on March 26 and 27. This year's edition is exceptional since in 2020 CELUM is celebrating its 20th anniversary. Two decades ago the company was one of the first to venture into digital asset management. At present, CELUM is an undisputed leader in marketing content and enterprise digital asset management solutions. In the latest DAM Forrester Wave report, CELUM was named a strong performer among the 14 most significant DAM providers worldwide and got top scores possible for content collaboration support and market approach.
This year's CELUMIUM comes as a three-day event. On the first day, Wednesday 25 March 2020, the 6th CELUM Usergroup Meeting is scheduled. Just like the conference, the meeting will also have a digital format. You can register online for the remote session starting at 1:30 pm. The session will be held in English.
The Conference Day
The main web conference is scheduled for Thursday, March 26. The event will kick off at 9:30 am with the keynotes about CELUM strategy and roadmap for 2020, which will be presented by Mr. Michael J. Kräftner, CEO of CELUM.
During the first day, top brands such as Horsch, Werk II, Rosenbauer, H. von Gimborn GmbH, DAM United AG, and more will provide attendees with valuable insights into their best work.
The speakers include Horst Huber — CEO and Founder of Werk II, Daniel Brandt — Head of Communication & Design at HORSCH, Karl-Josef Seidenstücker from H. von Gimborn GmbH, Oliver Häuser — one of the founders of DAM United AG, Ulrike Lazelsberger — Head Of Brand Marketing at Rosenbauer Group, and Michael J. Kräftner — CEO at CELUM.
Workshops
The second day — Friday, March 27 — is intended for online workshops that will take place within two time slots — from 9:00 am until 12:00 pm and from 01:00 pm until 03:00 pm.
During the workshops, participants will get acquainted with the best practices how to organize, distribute and publish marketing content. They will also have an opportunity to learn how to get faster results with agile workflows provided by CELUM flowboards or how to boost collaboration with smart task management and powerful content creation tools that comes with CELUM workrooms.
There will be also masterclasses for implementation partners and IT service suppliers who will be provided with an overview of CELUM support offering and trainings, as well as technical aspects of flowboards and its integration into CELUM ContentHub.
Registration
CELUMIUM is free of charge for current DAM users and those who are interested in such solutions, including marketers, digital experts, project managers, and content creators.
To participate in the conference, you must register by filling in the online form available at www.celum.com/en/celumium2020.
The conference and masterclasses will be held in German.