Interview
Cloud solutions can benefit companies of all sizes
We talked to Oliver Schröder, Vice President Sales DACH at Informatica, about the biggest trends in data management, his view of the cloud solutions market, as well as his greatest personal achievements.
Personal achievements
Striped Giraffe: You are running a company that is a market leader in enterprise cloud data management. Which of the company's achievements under your leadership are you most proud of?
Oliver Schröder: Building a Go-to-Market in the DACH region with subsequent growth while changing the business model from on premise license to predominantly subscription and as a service model. Building a regional sales team structure focusing on a very targeted set of accounts. This was the right move at the right time, which is also emphasized by our positioning as the market leader, with 85 of the Forbes 100 using our software. Gartner also underlines this, positioning Informatica as a Leader in its current Gartner Magic Quadrants for Enterprise Integration Platform as a Service, Master Data Management, Data Quality or Metadata Management. Moreover, we transformed and extended the Informatica portfolio, shifting it to a cloud- and subscription-based offering, which customers and prospective clients value. Subscriptions make up 80 percent of our revenues.
Trends
What would you consider as the biggest trend in data management (for the near future)?
Companies need to implement new roles – such as hiring a chief data officer – to help them evolve into a data-driven organization. Change management and governance are key to successful data management projects. Hence, a change in corporate culture needs to be one of the biggest trends in data management. While it does not have anything to do with the selection and implementation of a piece of software, it has everything to do with the successful use and integration into employees' daily tasks. Partners such as Striped Giraffe are very important to the successful adoption of software and do accompany the process from end to end.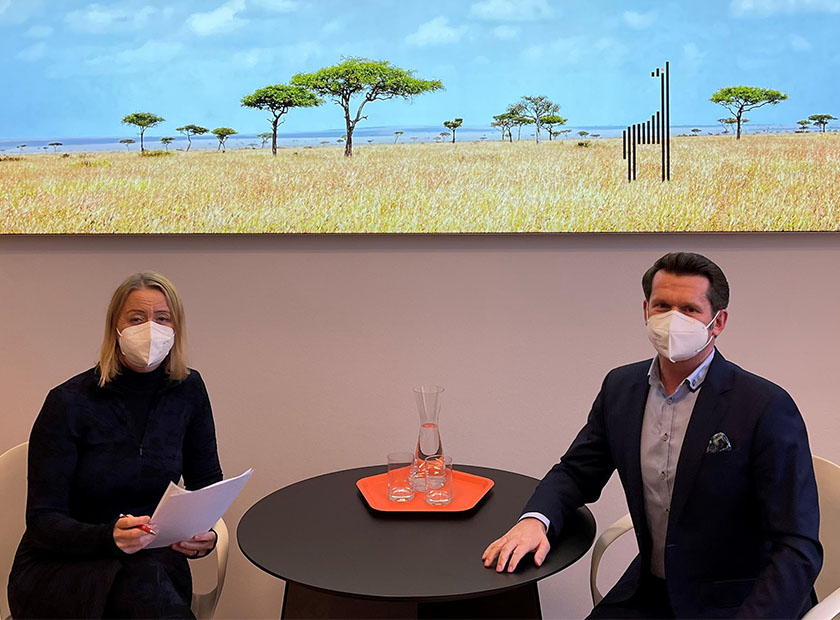 What is the most important system in a company when it comes to cloud data management and why?
One important system is Master Data Management (MDM). It is the basis for data analysis and for businesses to make informed decisions. Companies can only ensure a "single source of truth" for their data-driven, digital transformation, delivering reliable, accurate and complete data for superior customer experiences, marketing and sales, omni-channel retailing, supply chain optimization, governance and compliance initiatives, and more if their data has been vetted by an MDM.
Smaller organizations often choose a public cloud which offers a full package of services and flexible contracts. If a company needs to scale up their use, it can easily do so – with transparent and easy to calculate costs. SMEs recognized these benefits and are therefore less reluctant to move into the cloud.
Market views
Some believe that cloud solutions are only suitable for large companies. What is your opinion on that?
Digitization is important to all companies if they want to stay competitive and successful. Hence, cloud solutions are also suitable for SMEs. Indeed, they can benefit from cloud solutions as they provide a better control over data and workflows as well as better security.
However, each company has its own entry point and a different cloud journey, which needs to be taken into consideration. Informatica offers flexible, modular solutions for all kinds of businesses and industries – regardless of their size or how far they are in their digital transformation. The Informatica Data Platform can be easily and quickly scaled, so businesses can start small and then scale rather quickly.
In recent years Informatica has been intensively developing its offer in the cloud. It is known, however, that many corporations are afraid of the cloud and do not trust this solution. Is the same fear visible amongst SMEs? How would you convince skeptics of the cloud to this option?
From our perspective, smaller companies are less reluctant than bigger ones with regards to adopting the cloud and cloud services. They often decide in favor of a public cloud such as AWS or Azure, Google, etc., which offers a full package of services, including security, features, as well as flexible contracts. If a company needs to scale up their use, they can very easily do so – with transparent and easy to calculate costs. SMEs recognized these benefits and are therefore moving into the cloud.
What is Informatica offering for SMEs and how has it been evolving in recent years? Is there a step-by-step approach with Informatica tools and where to start from?
We are offering our full portfolio to SMEs, though this has evolved over the years. It is not a "corporate light" version, but of course offers all features that large businesses enjoy. Since our portfolio is cloud-based, they can tailor to their respective requirements. There is not a specific step-by-step approach that every company, regardless of size, should adhere to as the requirements and also their point in time of the digital transformation journey vary significantly.
Thank you very much for the interview!
* * * * *
About Informatica
Digital transformation changes expectations: better service, faster delivery, with less cost. Businesses must transform to stay relevant and data holds the answers.
As the world's leader in Enterprise Cloud Data Management, Informatica is prepared to help you intelligently lead — in any sector, category or niche. The company provides you with the foresight to become more agile, realize new growth opportunities or create new inventions. With 100% focus on everything data, Informatica offers the versatility needed to succeed.
Over the last 25 years, Informatica has helped more than 9,000 customers unleash the power of data. We are proud to be a Gold Partner of Informatica.