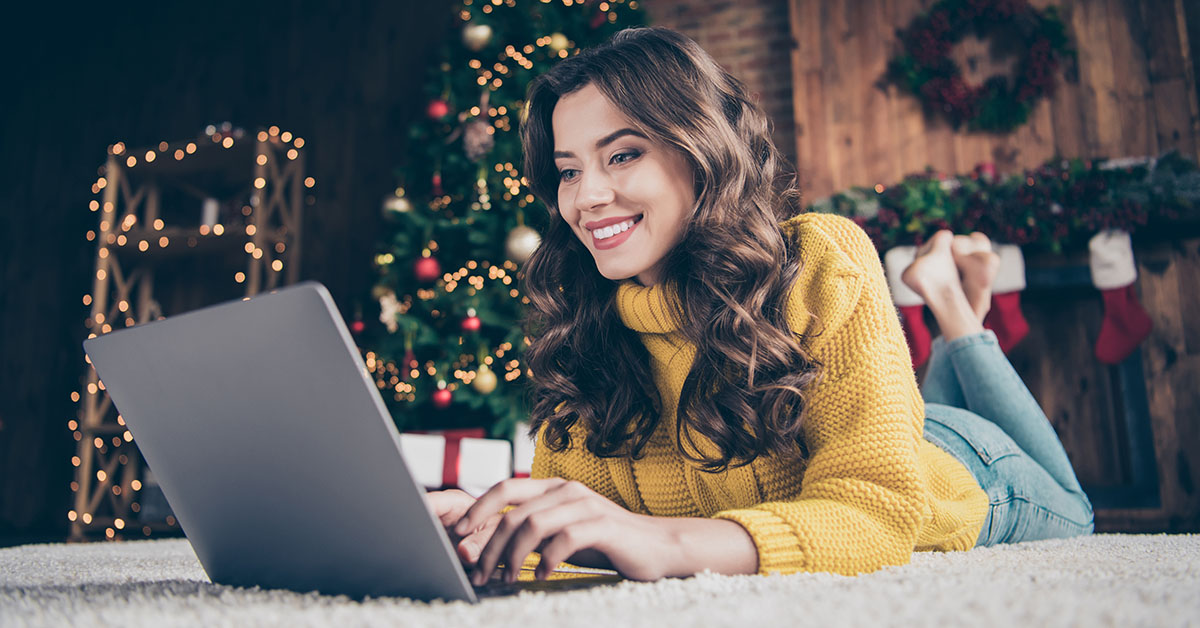 E-commerce
How to Provide Holiday Inspiration on Your E-Commerce Platform
Well-prepared inspirational content helps consumers visualize your products as part of their daily lives and stimulates them to make purchasing decisions. Find out how you can provide your customers with Christmas ideas and advice, learn how to make the inspiration sell your products, and discover some interesting examples from leading online retailers.
It has been several months since the WHO declared the coronavirus outbreak a global pandemic. Many retailers have used this time to accelerate digitization and adapt to new ways of doing business. Suddenly, every merchant and brand wants to be online — operate its own e-shop or sell its products in online marketplaces. As a result, online competition has increased significantly, and succeeding during the upcoming holiday season will be quite a challenge, despite the anticipated huge increase in e-commerce sales.
As a result of social distancing and isolation, whether imposed by the authorities or voluntary, buyers will not have the opportunity to see, touch, feel and try out items in person. Nor will they have a chance to talk to a salesperson or consultant and ask for their help or advice.
In this unusual situation, one of your most important tasks is to offer consumers new and more attractive ways to discover and get to know your products, especially in the early stages of the buyer's journey. And this is where inspirations turn out to be indispensable.
Inspire to drive purchasing decisions
Most people do not really know what specific products or brands they are looking for. Rather, they want to discover items that have certain features, applications or functions. This is even more true during the holiday season, when many consumers are searching for gift ideas, tips on how to style their homes, decorate the table, what meals to prepare for Christmas dinner, or what to wear during a family gathering.
Google statistics show that mobile searches for "easy …… ideas" grew by over 55% during the festive seasons between 2016-18. This only confirms that customers are looking for inspiration and — if it is prepared and presented in an appropriate way — it can quickly turn into a purchasing decision.
Obviously, the greatest source of inspiration nowadays — especially for younger generations — are social media. However, in this article we are focusing on e-commerce portals, so let's stick to the topic and see how you can reach your customers with various forms of attractive inspirations throughout your online store.
Note that you can hover the cursor over the images in this article to activate the slideshow controls. Click the image to see its larger version.
Still a rarity: shoppable pictures
It goes without saying that the purpose of inspiration is to sell products. That is why any inspiration — even if it shows the most beautiful imagery — doesn't make sense if your customer is not able to easily find out what products are depicted there.
The best solution to ensure that inspiration will truly drive sales is to use so-called shoppable pictures. The idea is very simple — there are interactive hotspots over selected products in the picture (Fig. 1). When hovering over such a hotspot, a pop-up layer with product details appears. The customer can add the item to their basket, a wishlist, or go to the product details page if they need more information.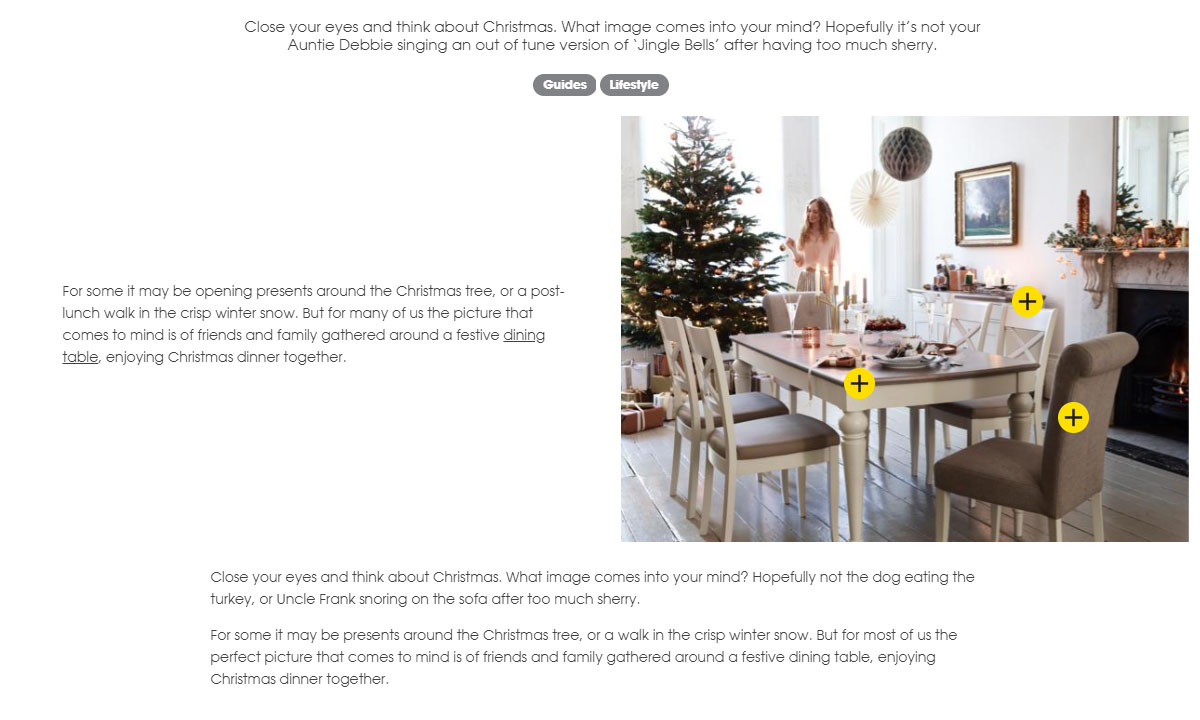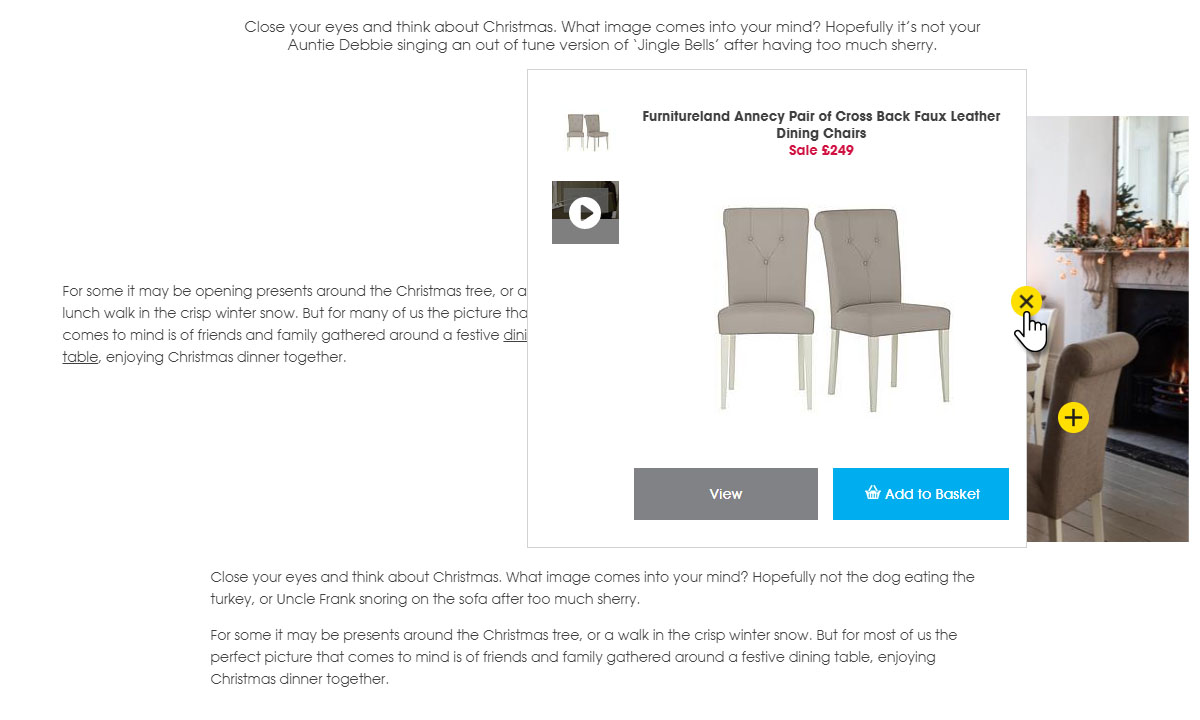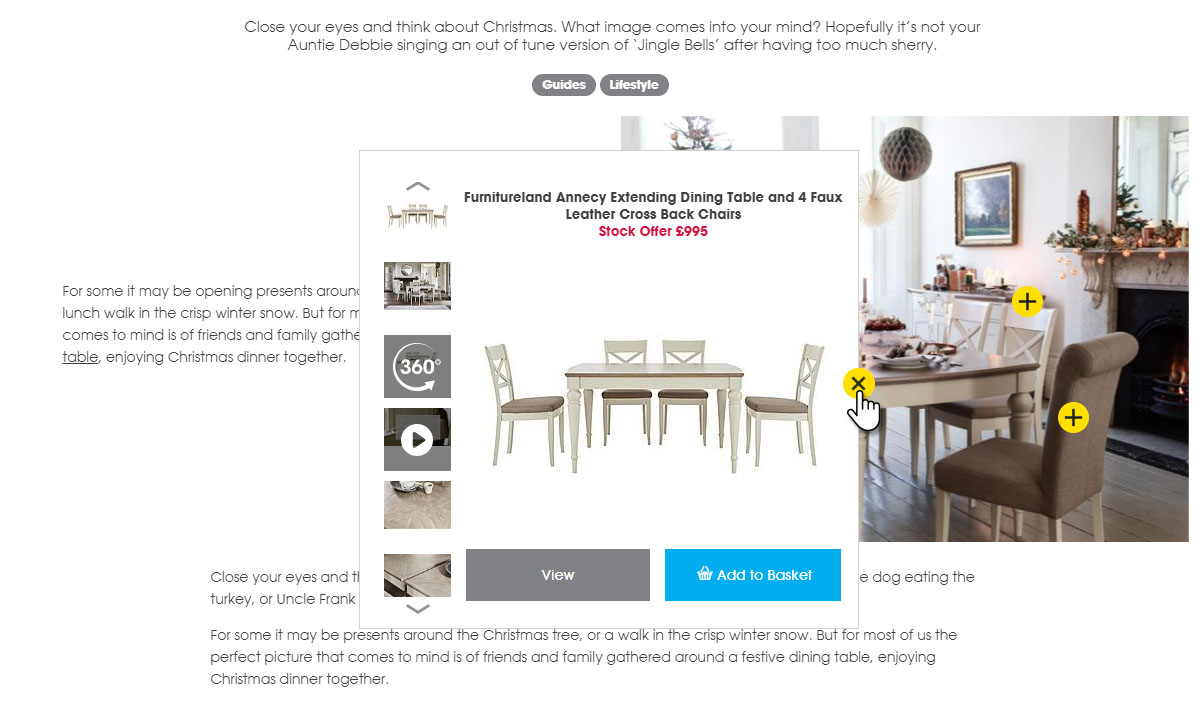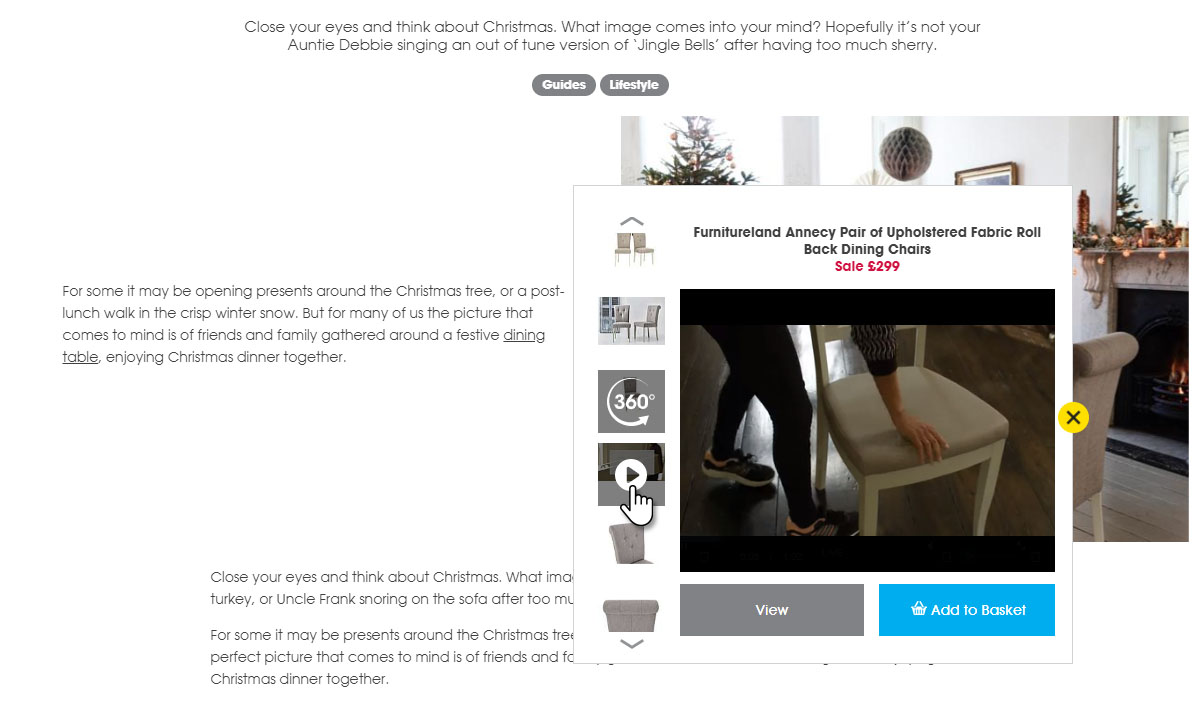 Fig. 1 — Shoppable picture in a Christmas-themed blog article
Source: Furniture Village; accessed: 18 November 2020
The reason for this kind of solution is simple — to keep the customer inside the inspiration as long as possible, allow them to discover various other products while there and add the ones they choose to their shopping cart without even having to leave the page.
Creating a simple inspirational section doesn't require months of design and programming. In most cases, all you have to do is configure the appropriate functionalities of your e-commerce platform. However, if some specific features are missing, you can use extensions to your system or implement third-party tools providing required functions. Obviously, in the latter case, you are limited by the capabilities of the chosen tool. For this reason, some of the largest online retailers decide to develop their own dedicated functionalities, such as displaying hotspots over images. This allows them to decide what information from the product page will appear on the layer triggered by clicking a hotspot.

Mariusz Święs
Chief System Architect, Striped Giraffe
Inspirational galleries
Separate "Inspiration" sections are the primary place where shoppers look for inspirational content within online stores. Usually, the pictures in such a gallery can be filtered according to different criteria. For example, in the furniture industry these can be room types, colors, or styles.
During the holiday season, it is crucial to let the customer easily filter out holiday ideas — just like Wayfair did it last year by adding a special category "Christmas" to its permanent "Room Ideas" section (Fig. 2).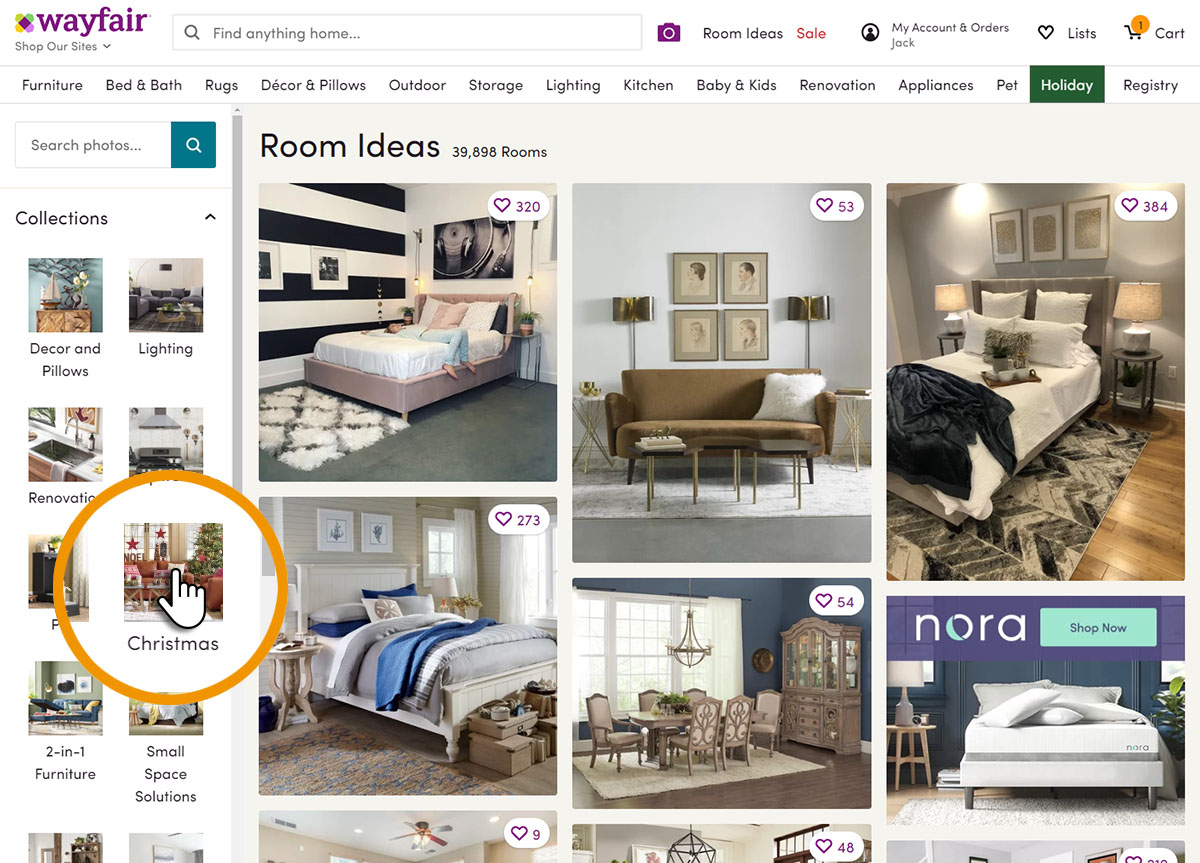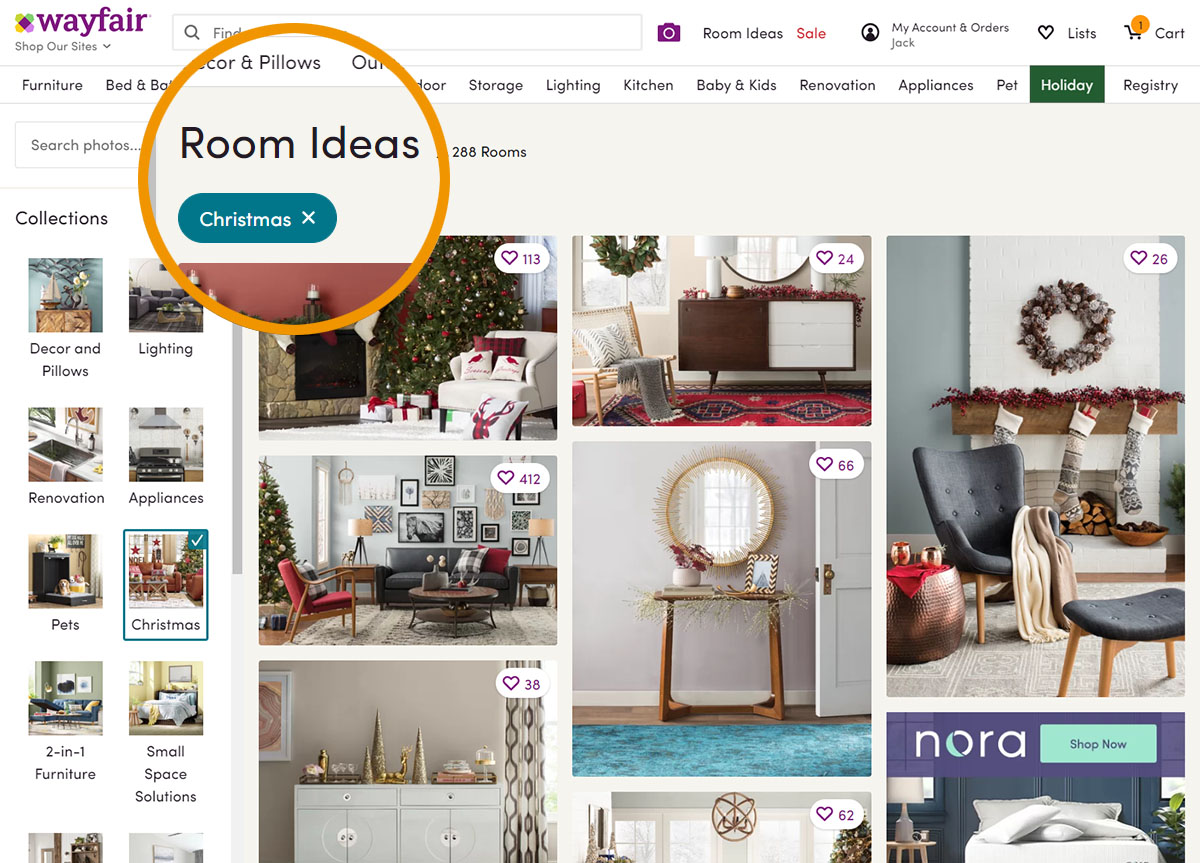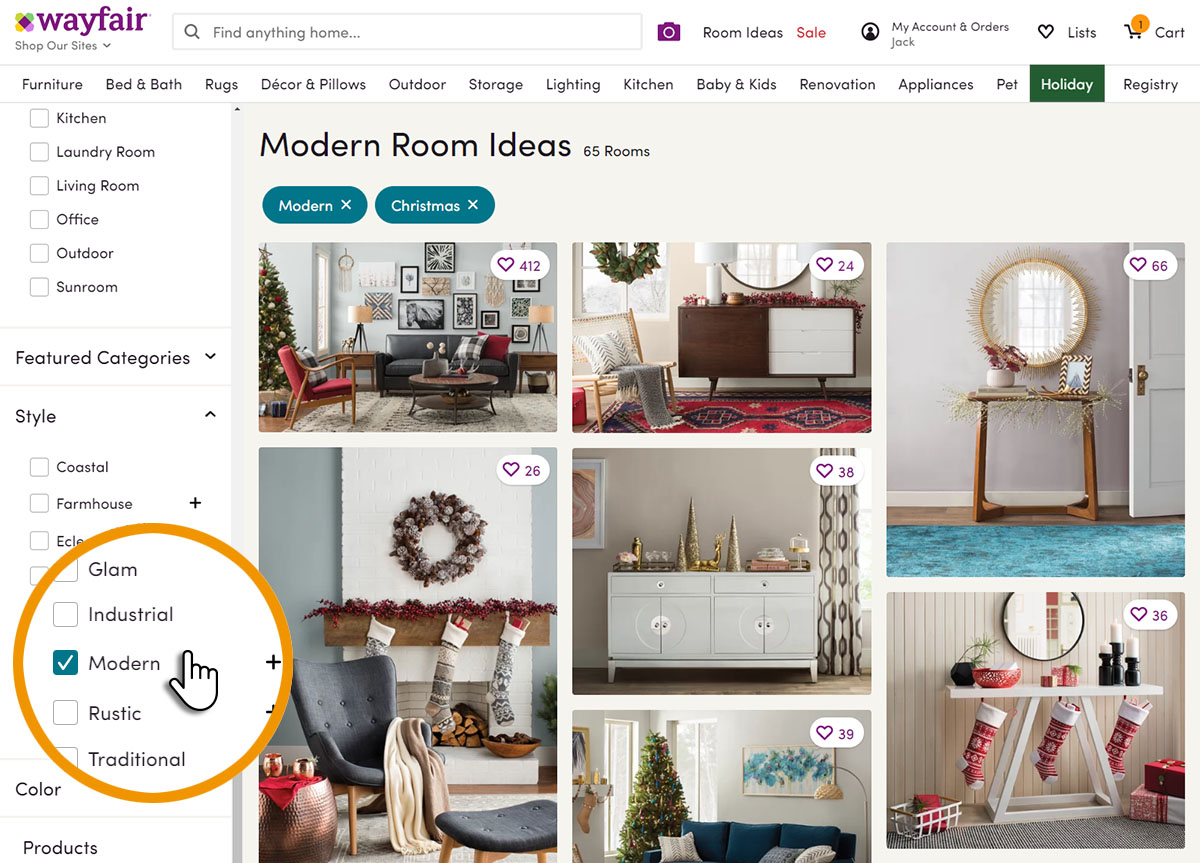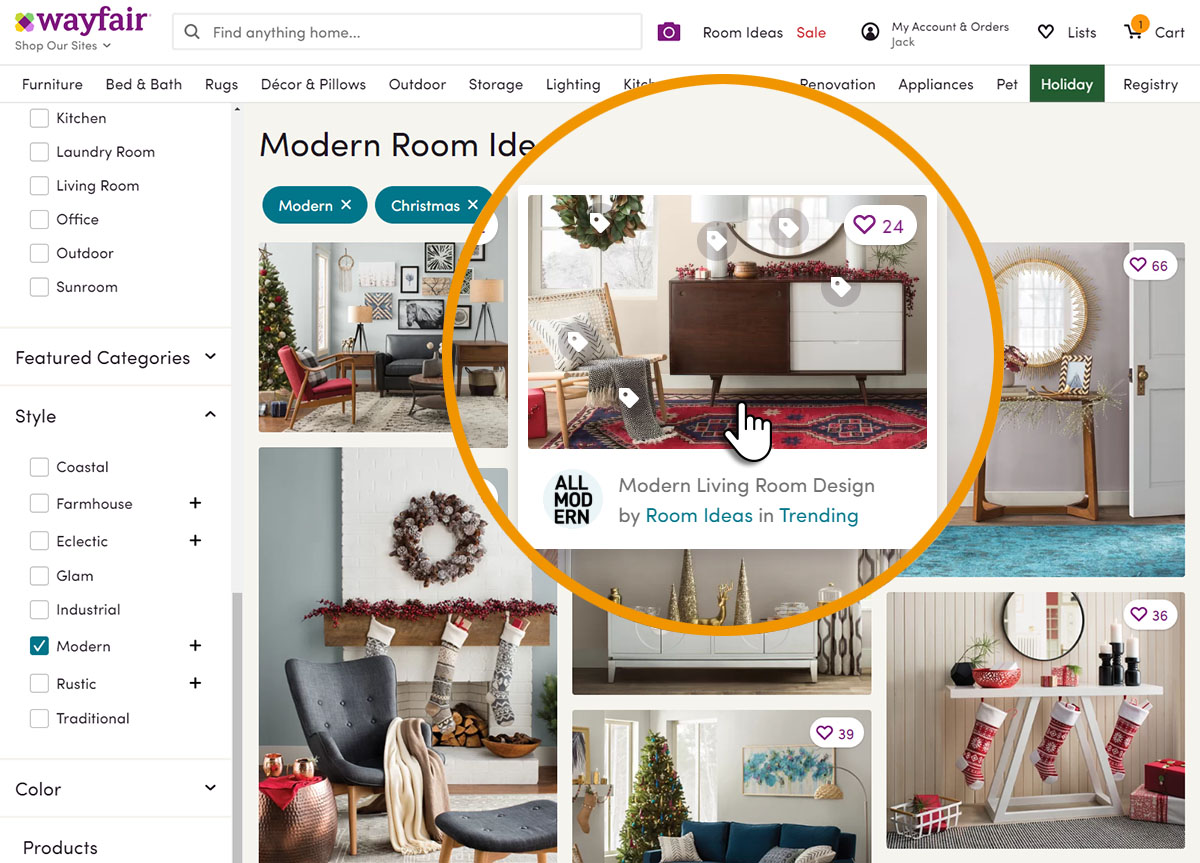 Fig. 2 — Wayfair included a special Christmas category in its inspirational section
Source: https://www.wayfair.com; accessed: December 2019
The important thing about "Inspiration" is that it allows you to show any of your products in a festive context — also those items which are not strictly Christmas related, like regular furniture, bedding, tableware, or clothing. All you have to do is create the appropriate scenery and add some festive accents.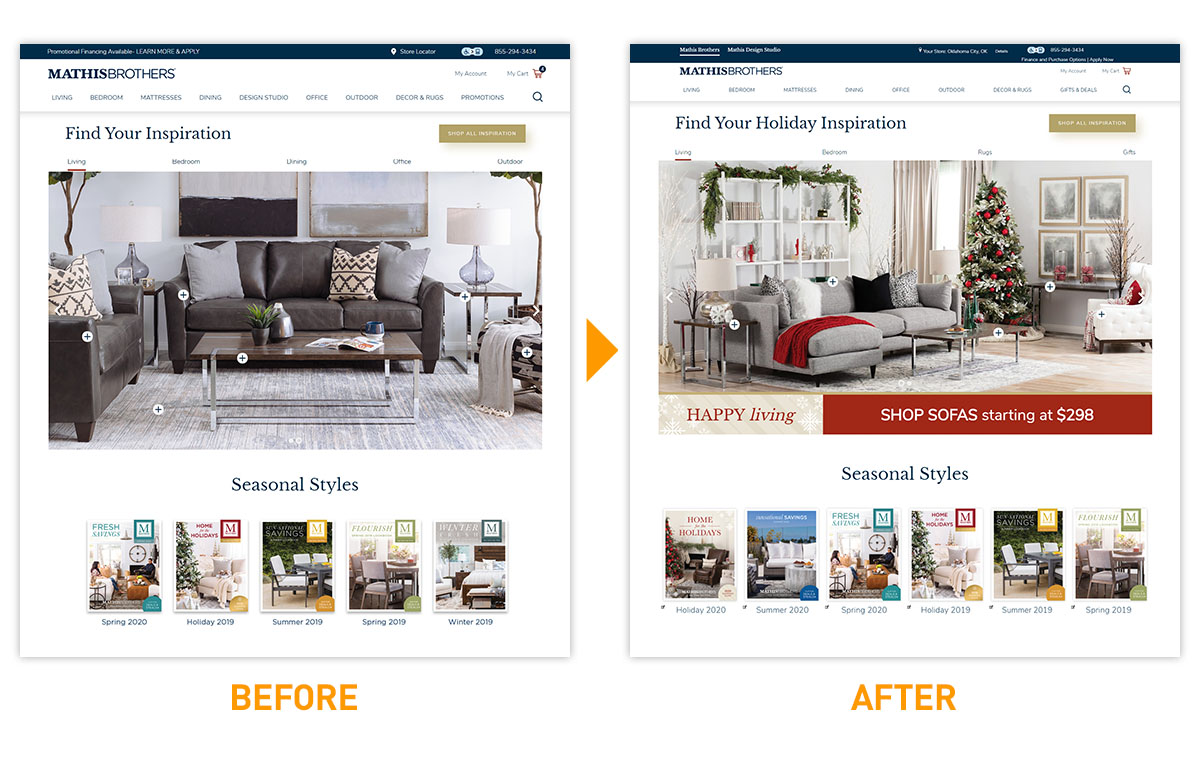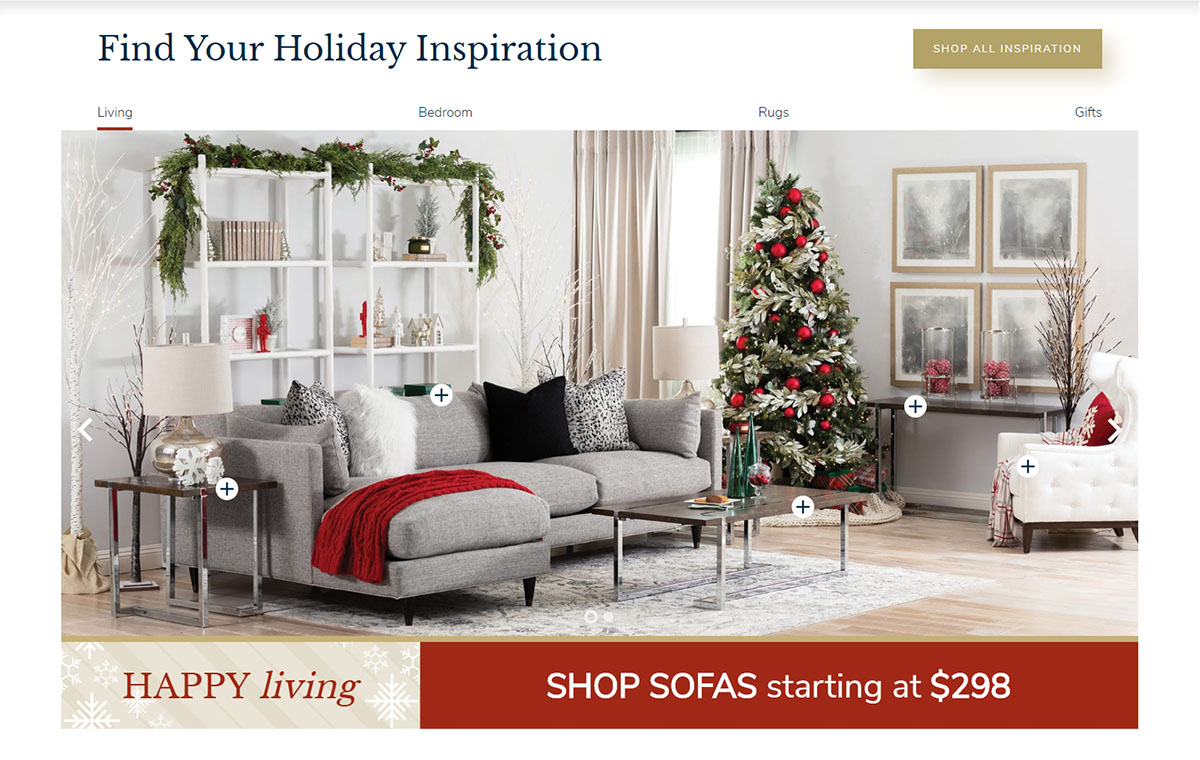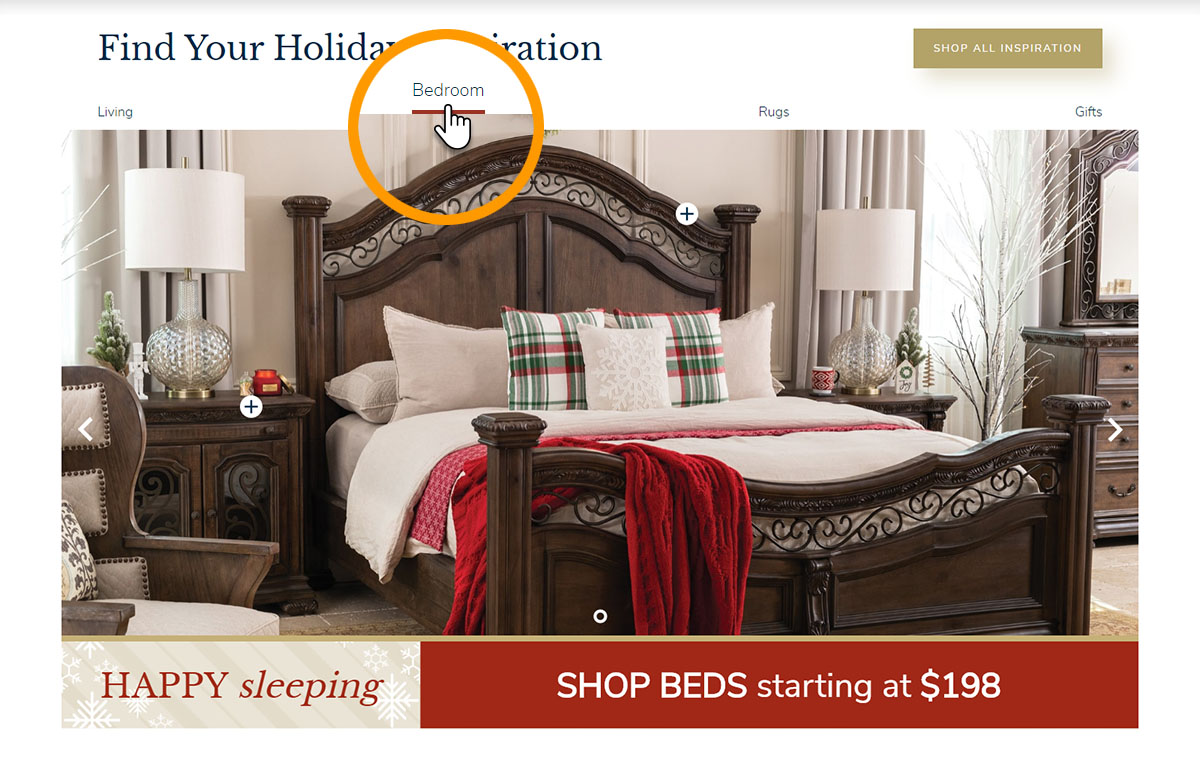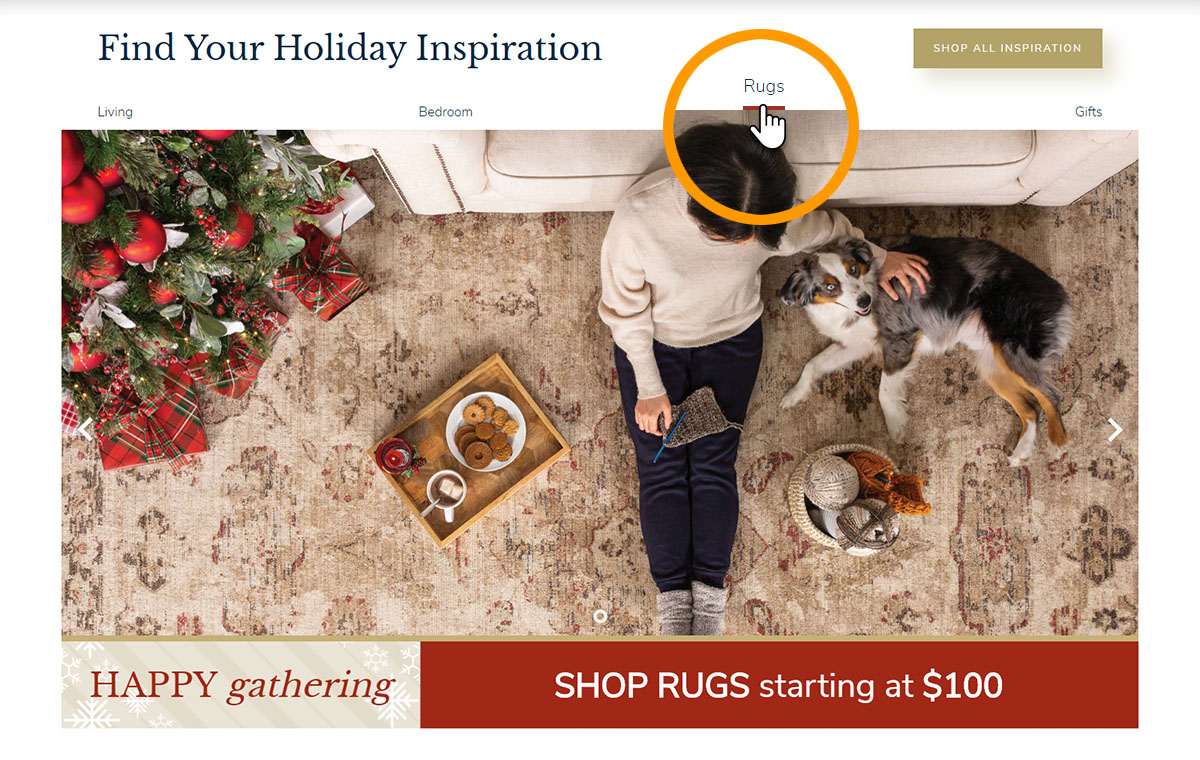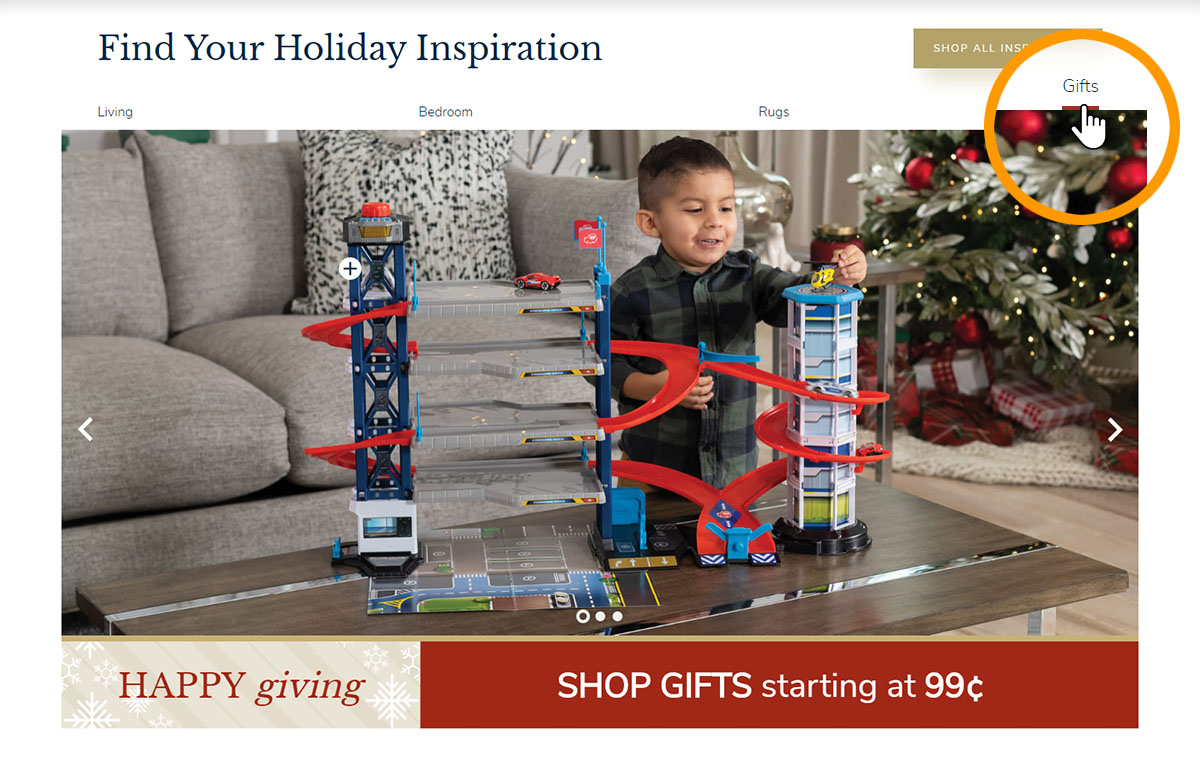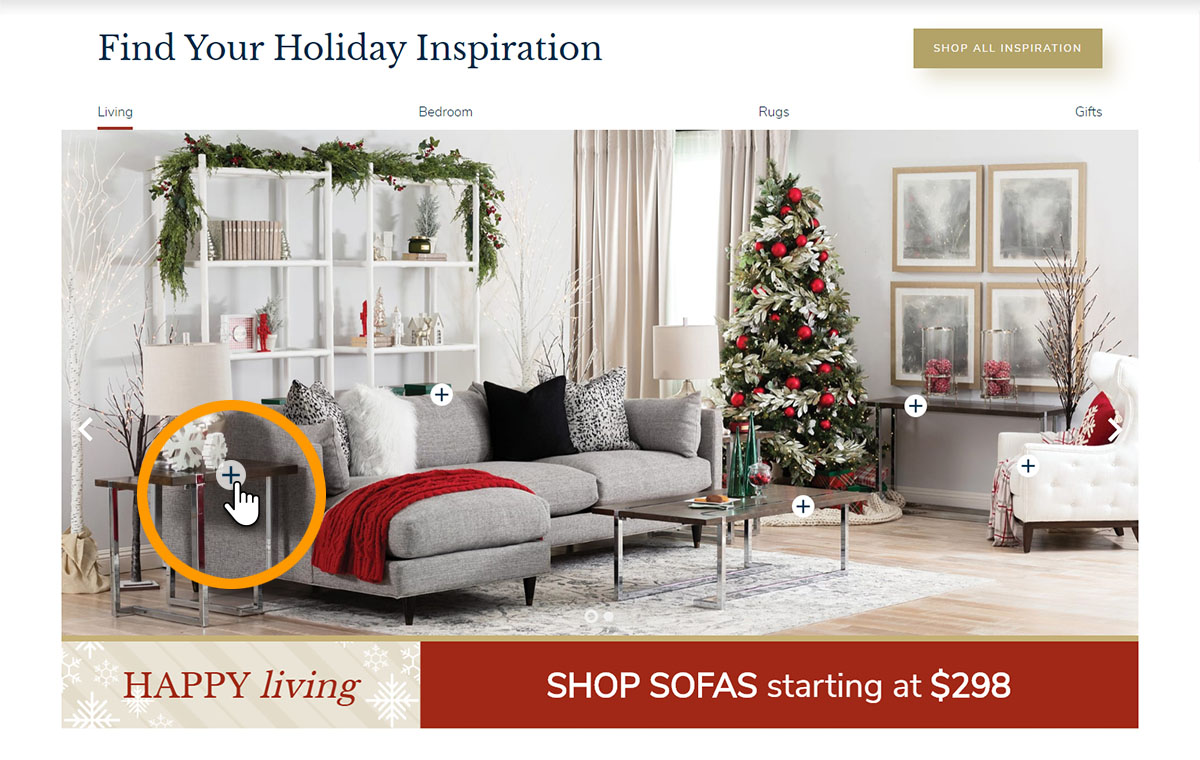 Fig. 3 — Mathis Brothers turned its regular inspiration section on the homepage into a holiday one.
Source: Mathis Brothers; accessed: 20 November 2020
Ideas and advice
During the holiday season most people have to prepare for numerous meetings and create the appropriate mood both within their homes and outside. With this group of consumers in mind, you should definitely consider preparing a wide selection of decorating and entertaining guides with numerous tips, hints and advice.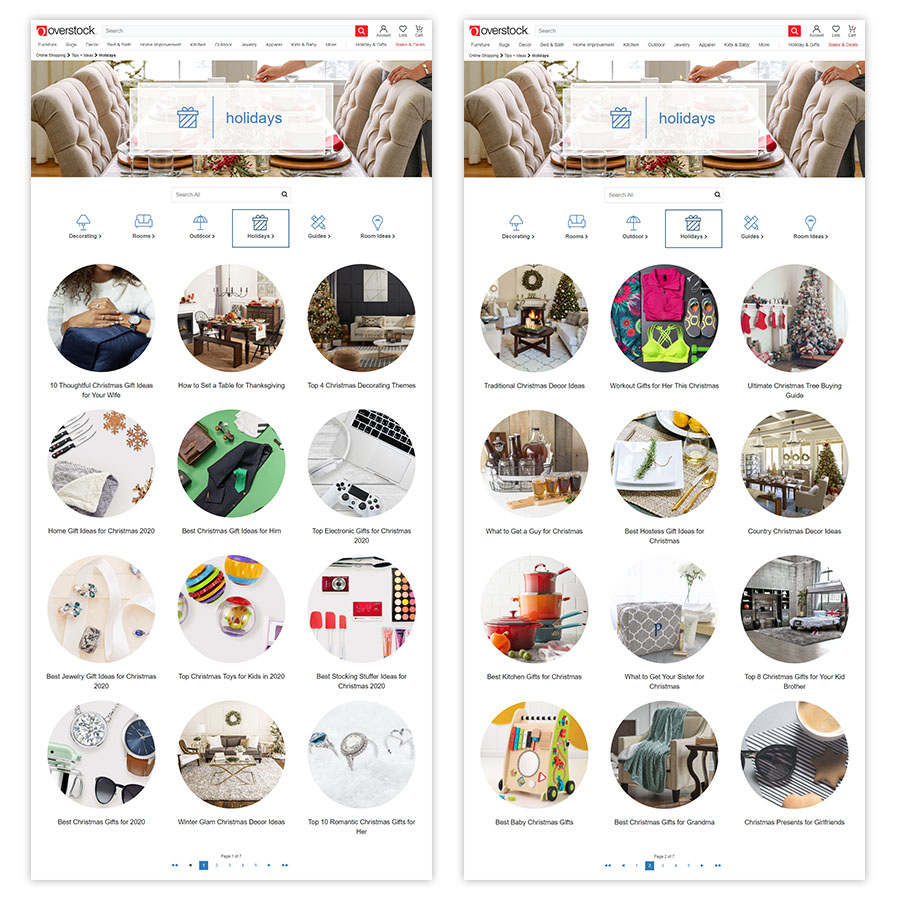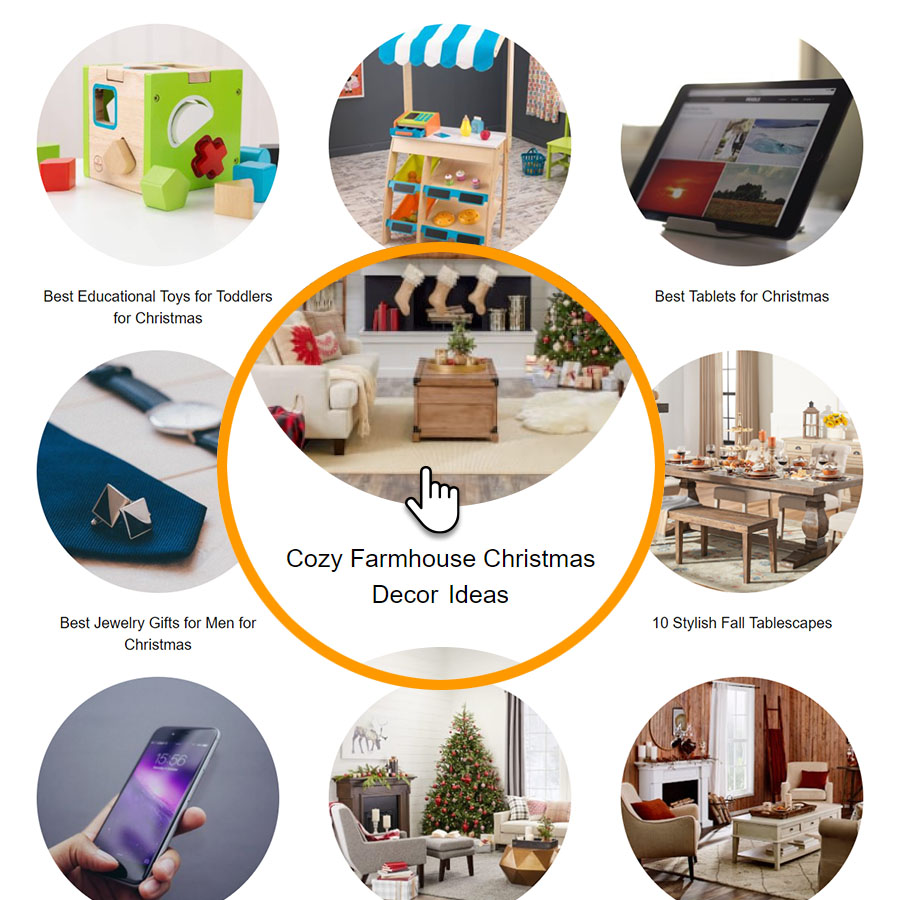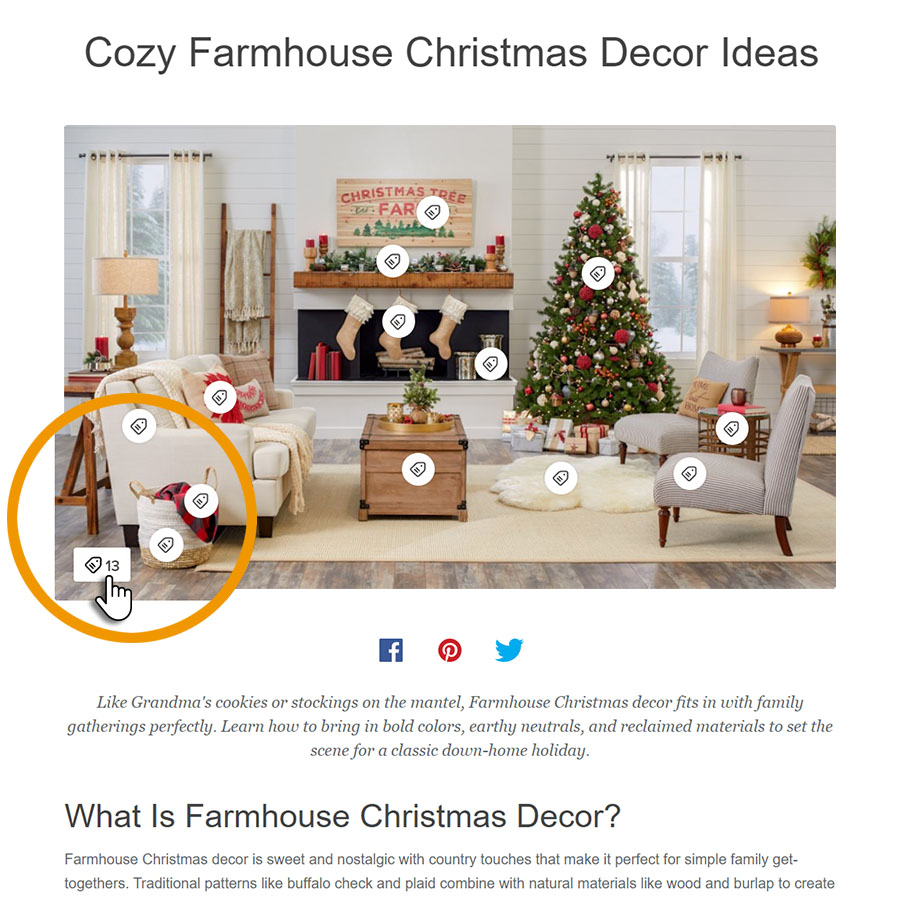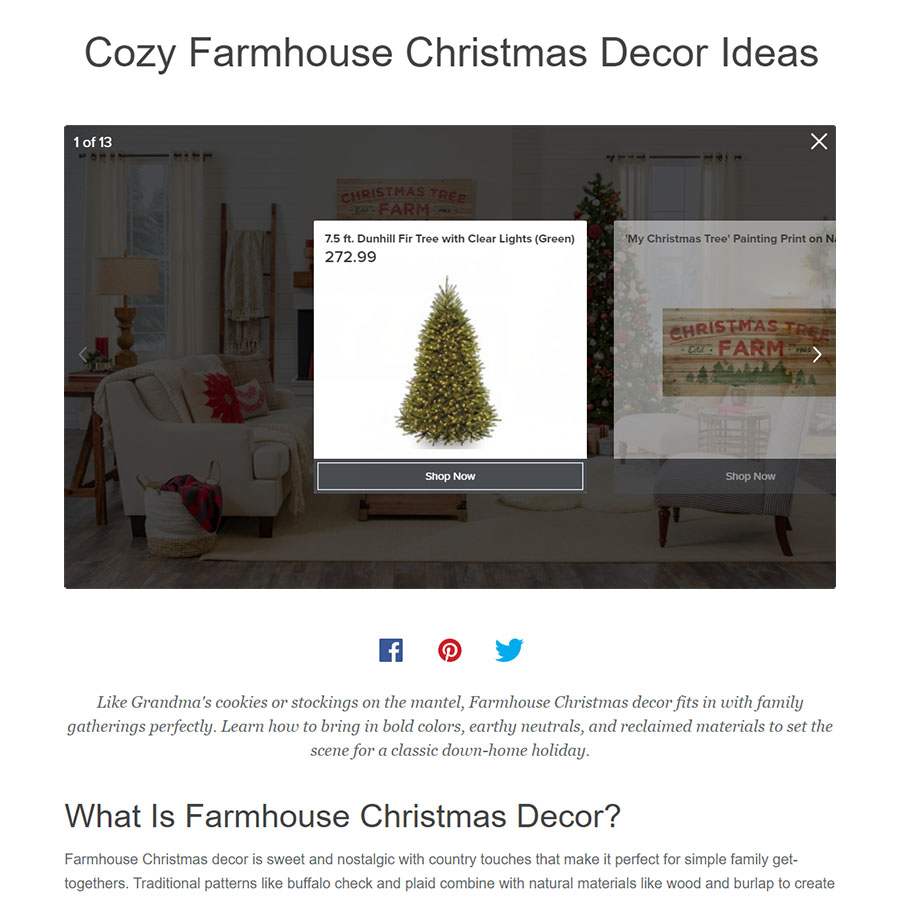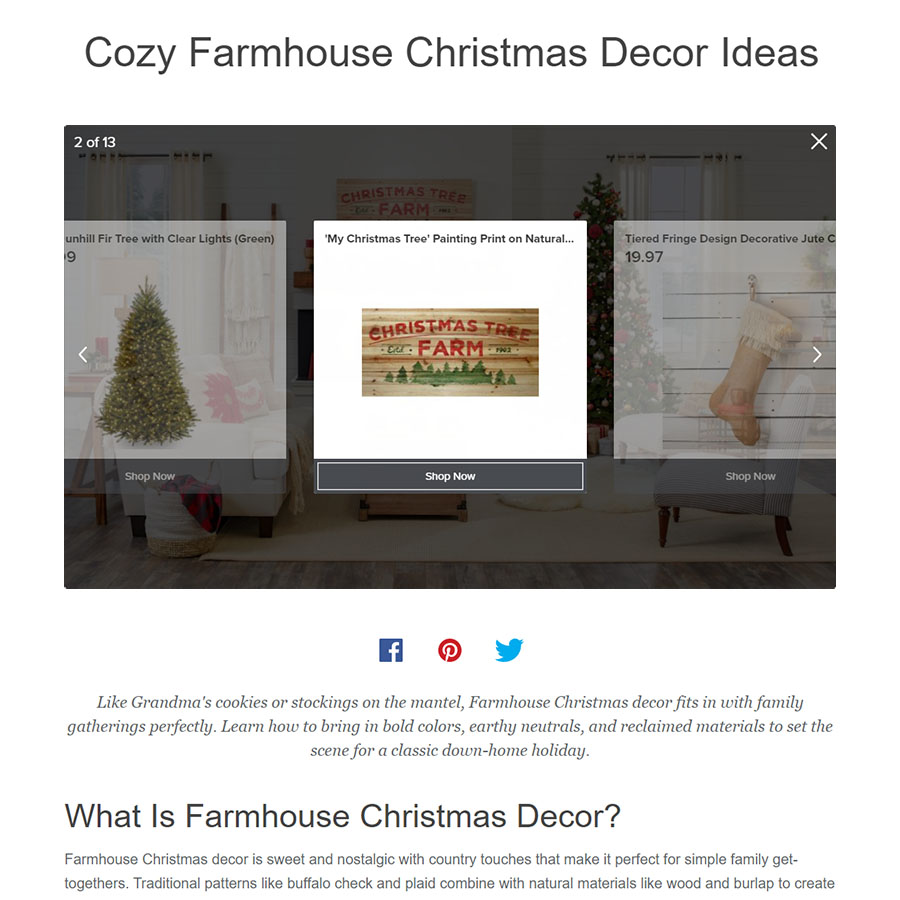 Fig. 4 — A large selection of holiday tips and advice from Overstock
Source: Overstock.com; accessed: 18 November 2020
It is important to include as many of your products as possible in every hint you give, even if the item is not strictly related to the topic you are addressing. For example, you don't have to sell food to publish recipes. It is enough that you sell dinnerware, table linen or serving platters to have a great opportunity to show meals on tables decorated with your items. This is the tactic adopted by Pier 1 Imports, which showcased its regular products as important elements of festive sceneries in its numerous stories on how to get ready for Christmas (Fig. 5).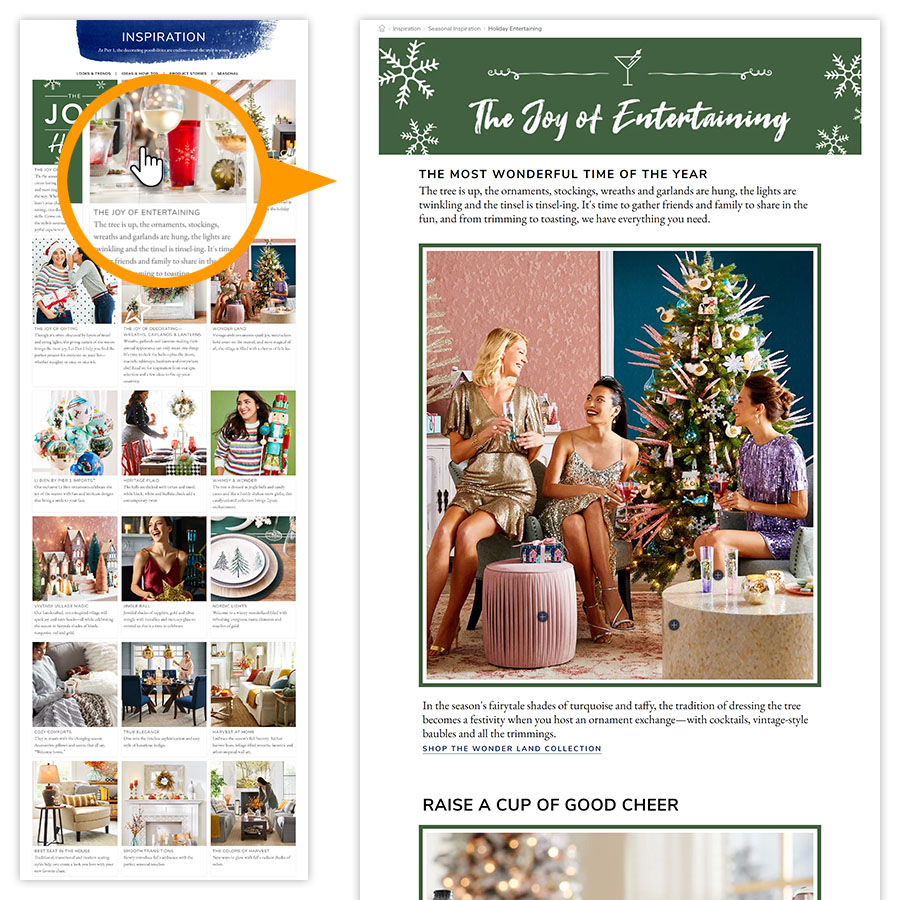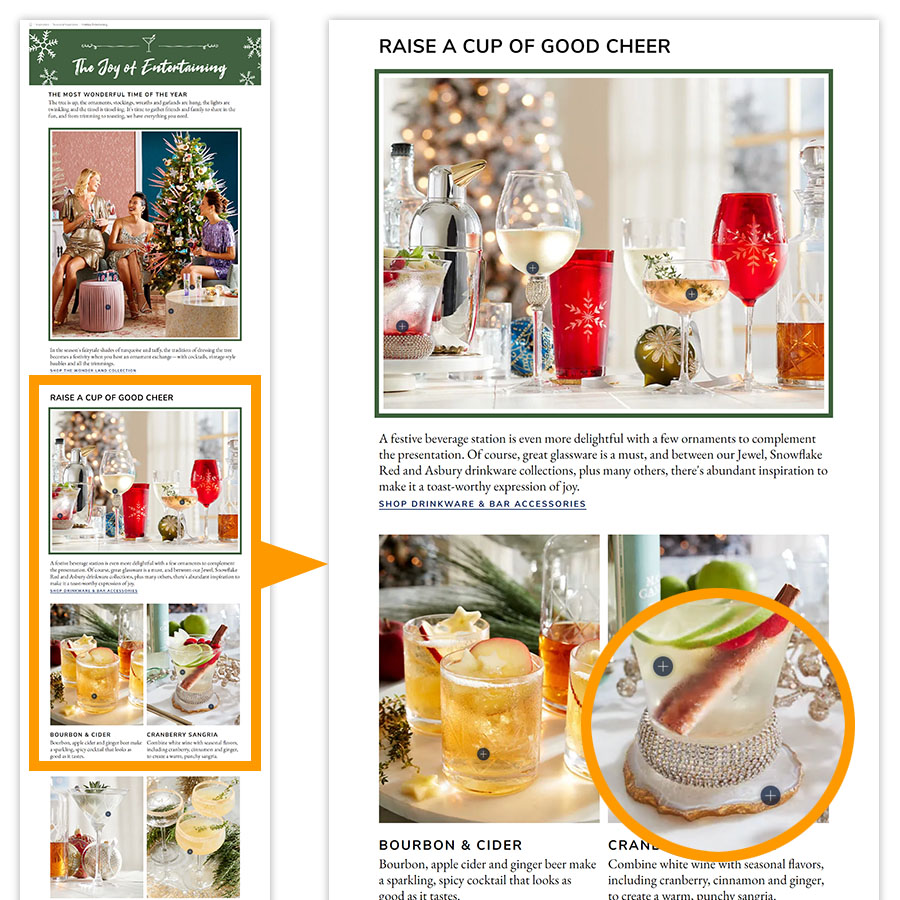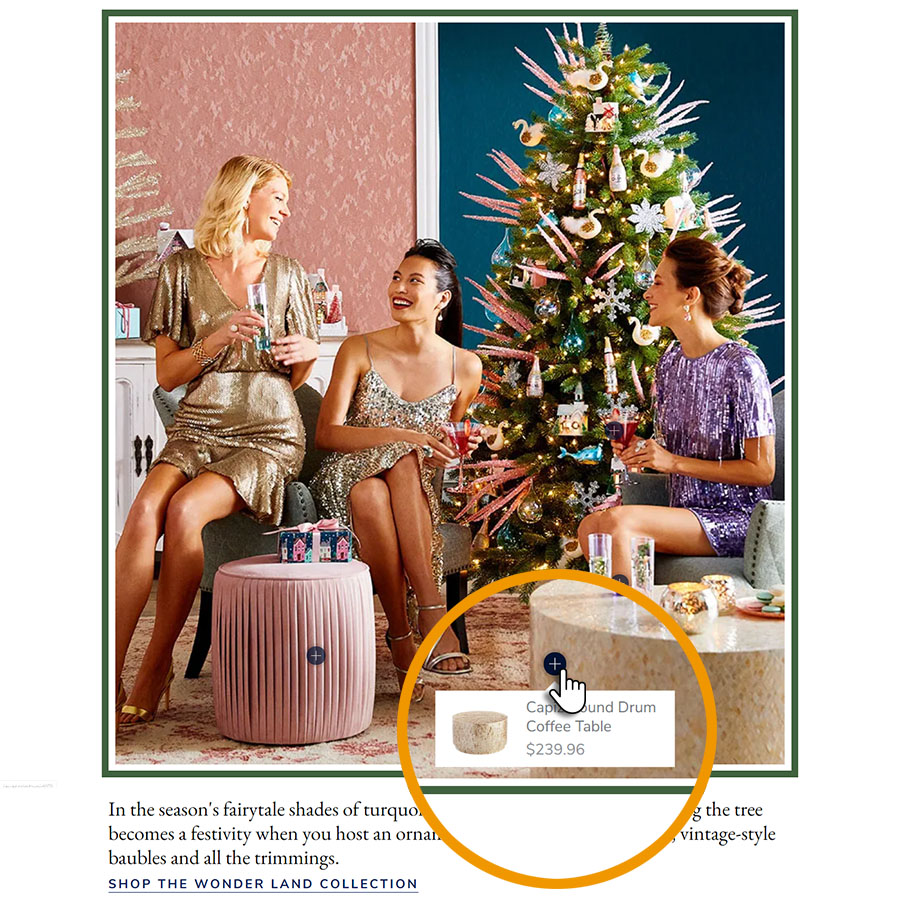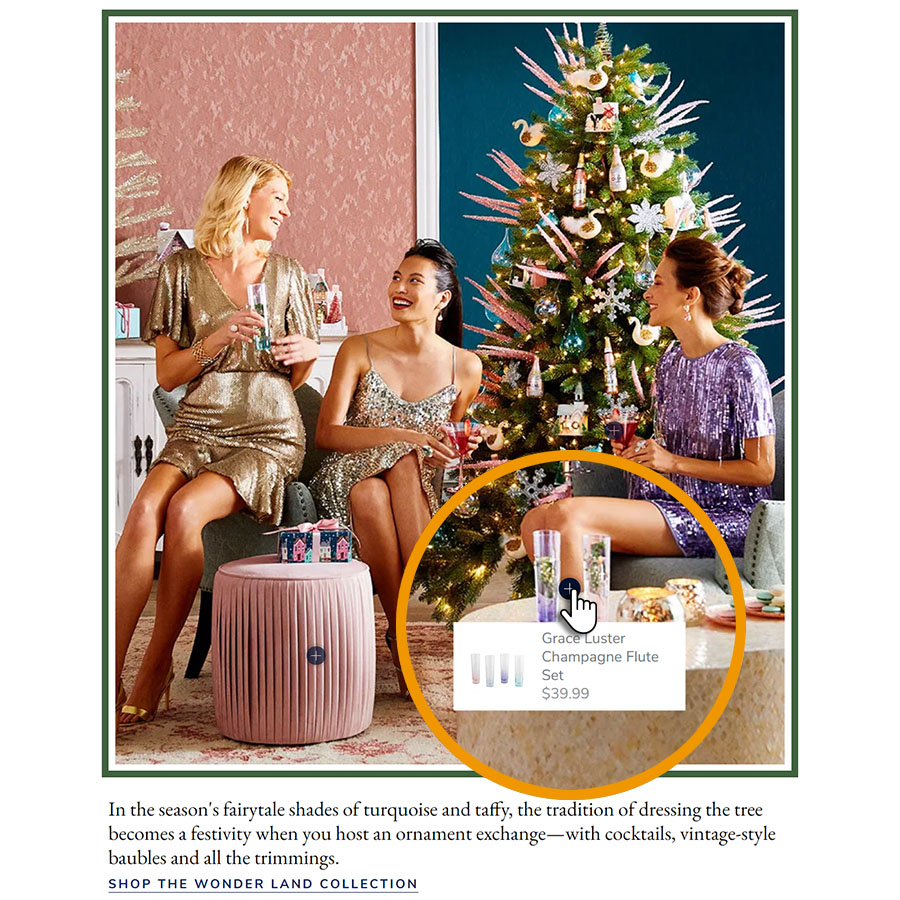 Fig. 5 — A collection of Christmas decorating and entertaining guides and advice by Pier 1 Imports
Source: https://www.pier1.com; accessed: December 2019
Shopping lists
Another type of inspiration are curated shopping lists — that is, carefully selected collections of items that meet certain criteria. In fact, this is the easiest way to provide your customers with recommendations and ideas for holiday-related products.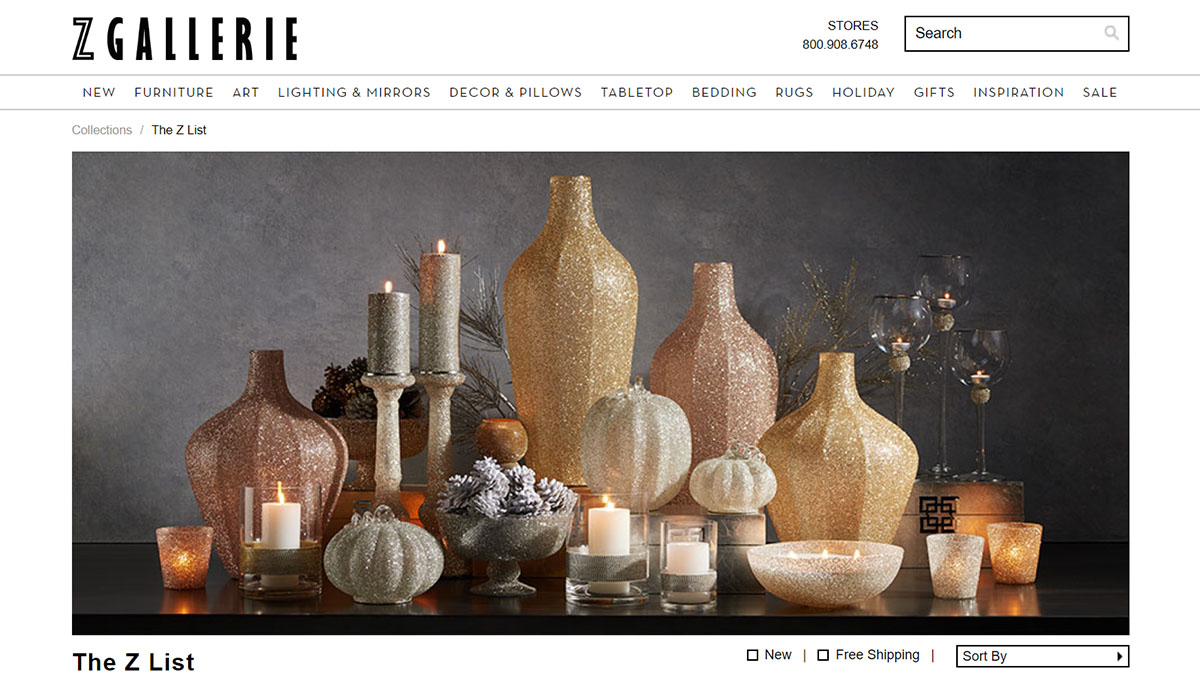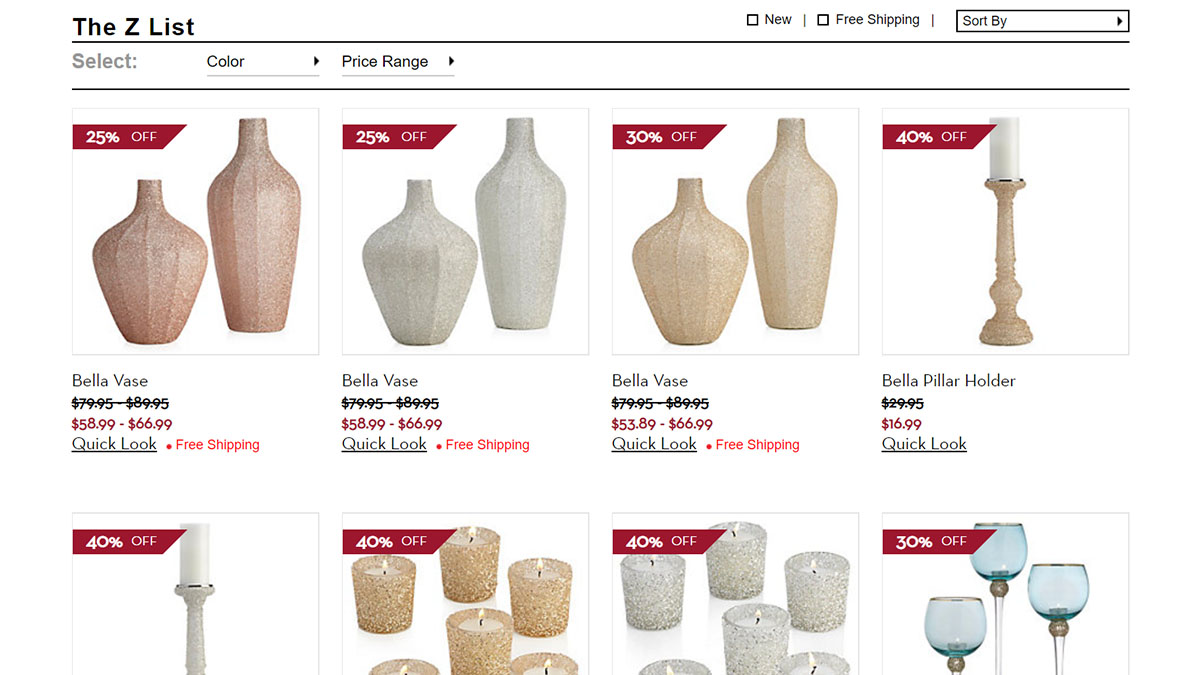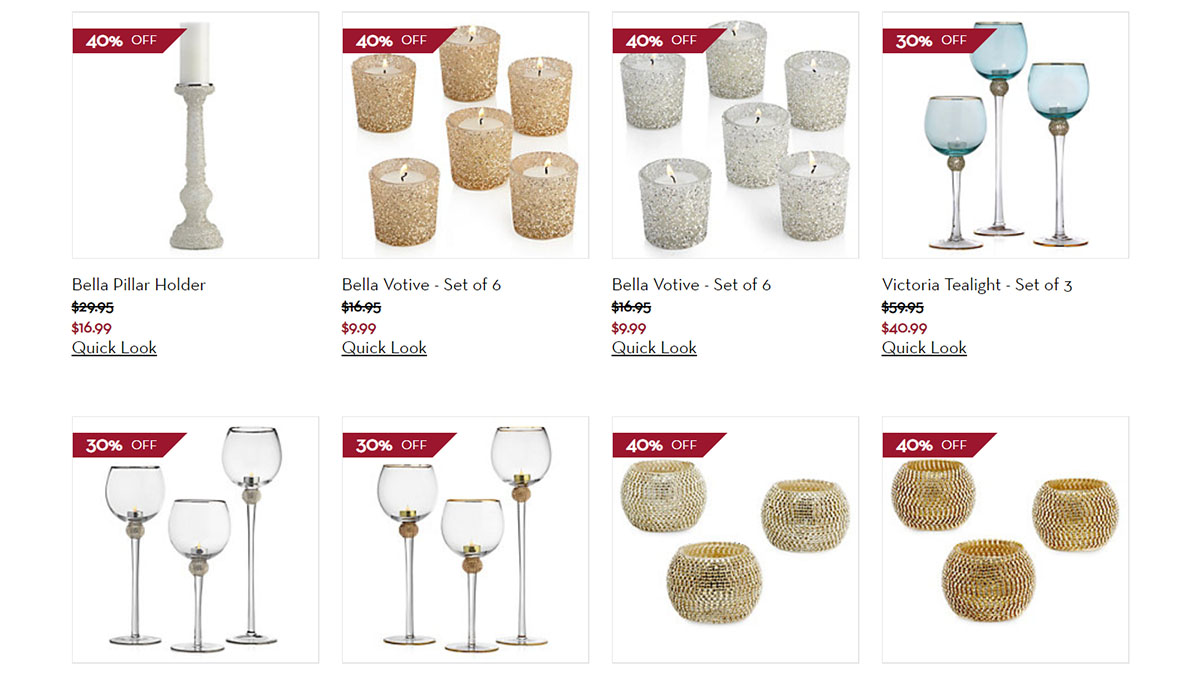 Fig. 6 — Curated shopping list of modern Christmas-themed items by Z Gallerie
Source: Z Gallerie; accessed: 18 November 2020
On your e-commerce platform, you can develop such shopping lists easily by setting up additional product subcategories. In this way you can create plenty of holiday-themed product collections which can be defined very broadly — like a list of items to create Christmas in a modern style (Fig. 6) – or in more detail, like "Christmas table linens" (Fig. 7).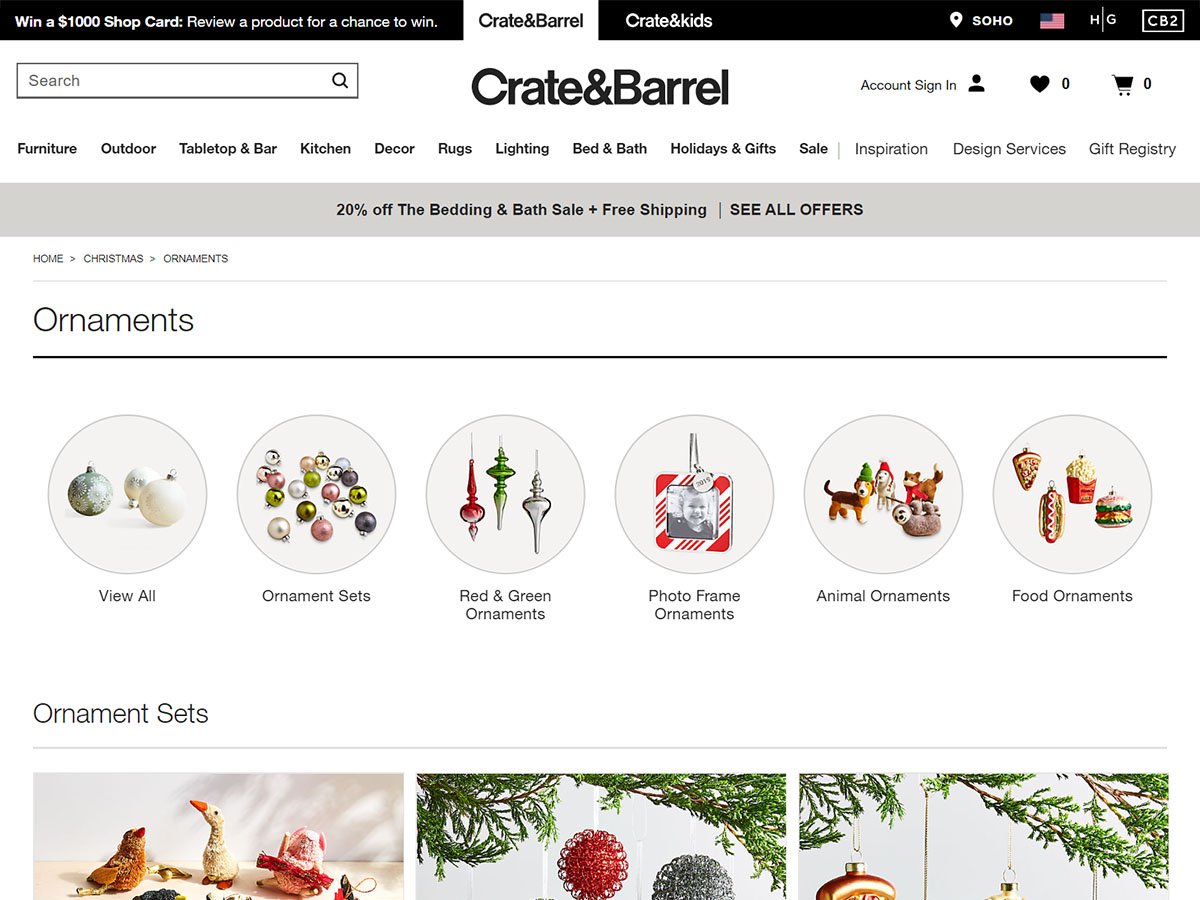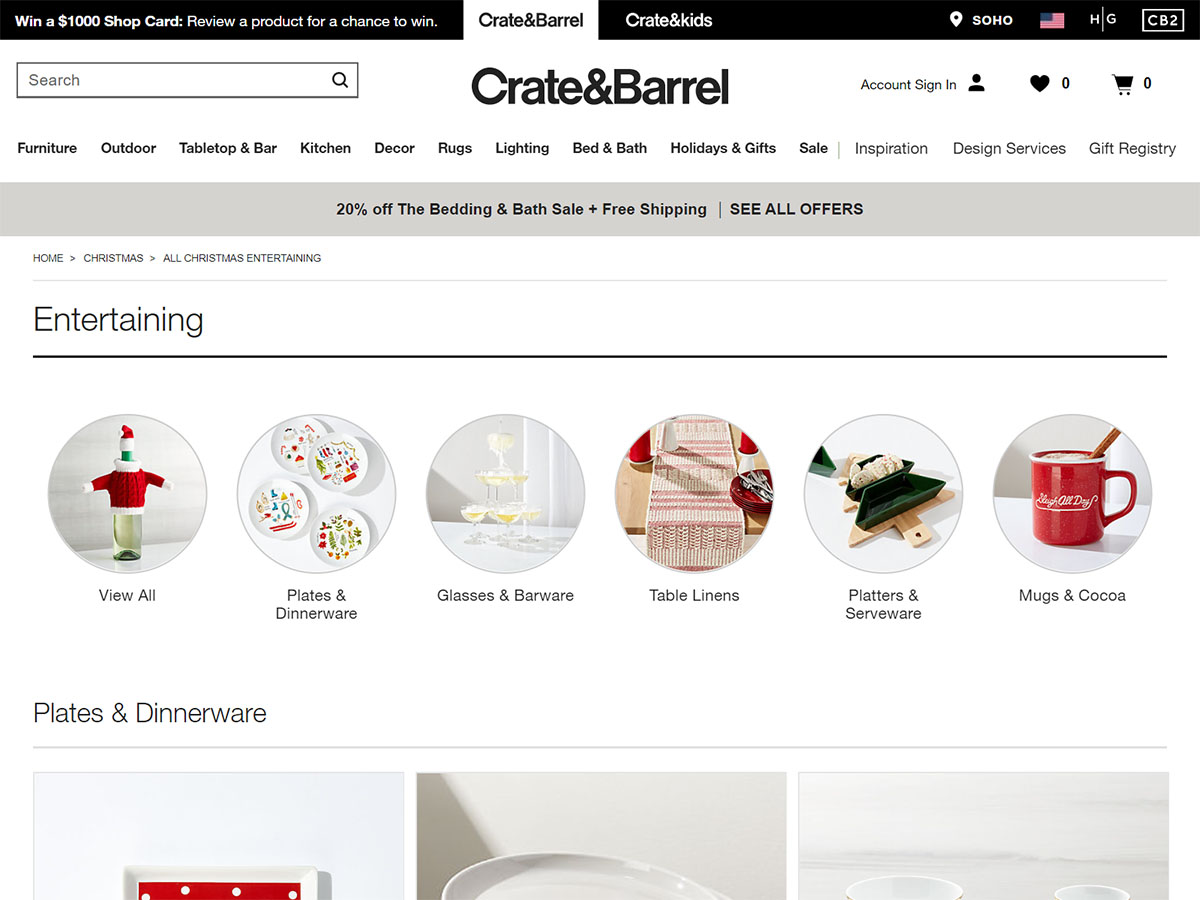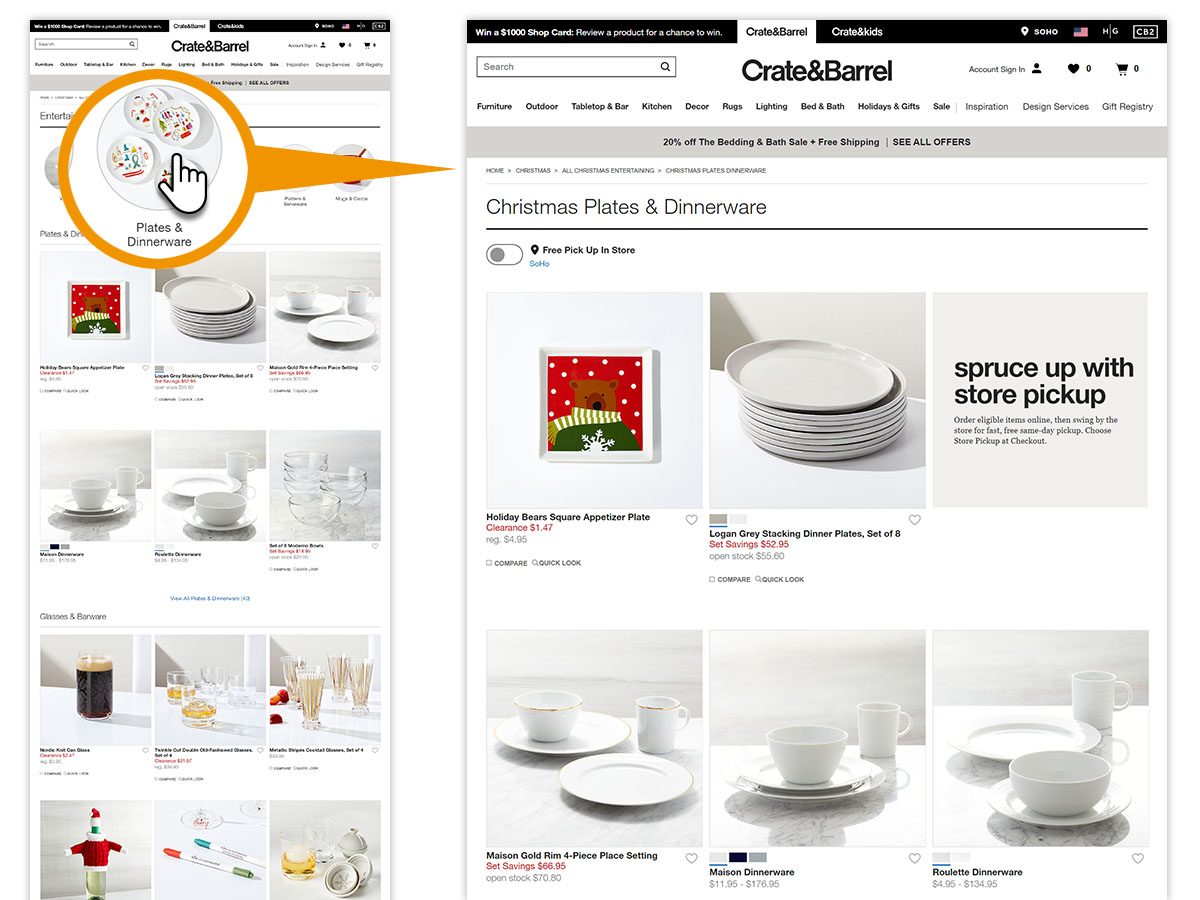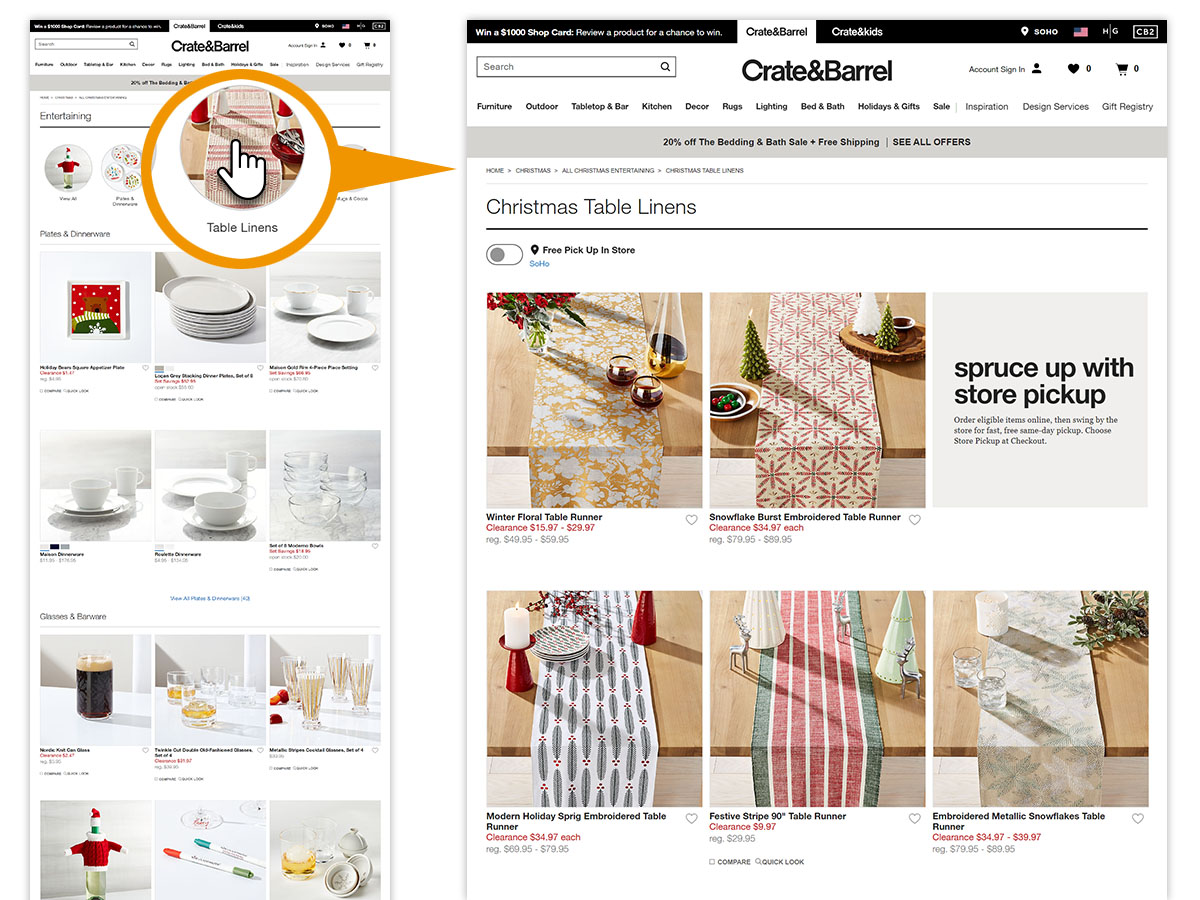 Fig. 7 — A wealth of Christmas shopping lists by Crate & Barrel
Source: https://www.crateandbarrel.com; accessed: December 2019
With many such shopping lists, you can even set up a separate holiday store within your e-commerce portal, just like Wayfair has been doing for last years by bringing a dedicated Christmas Decor Shop with numerous categorized shopping lists, tips and advice from interior designers and celebrities, as well as lots of decorating inspiration featuring shoppable pictures (Fig. 8).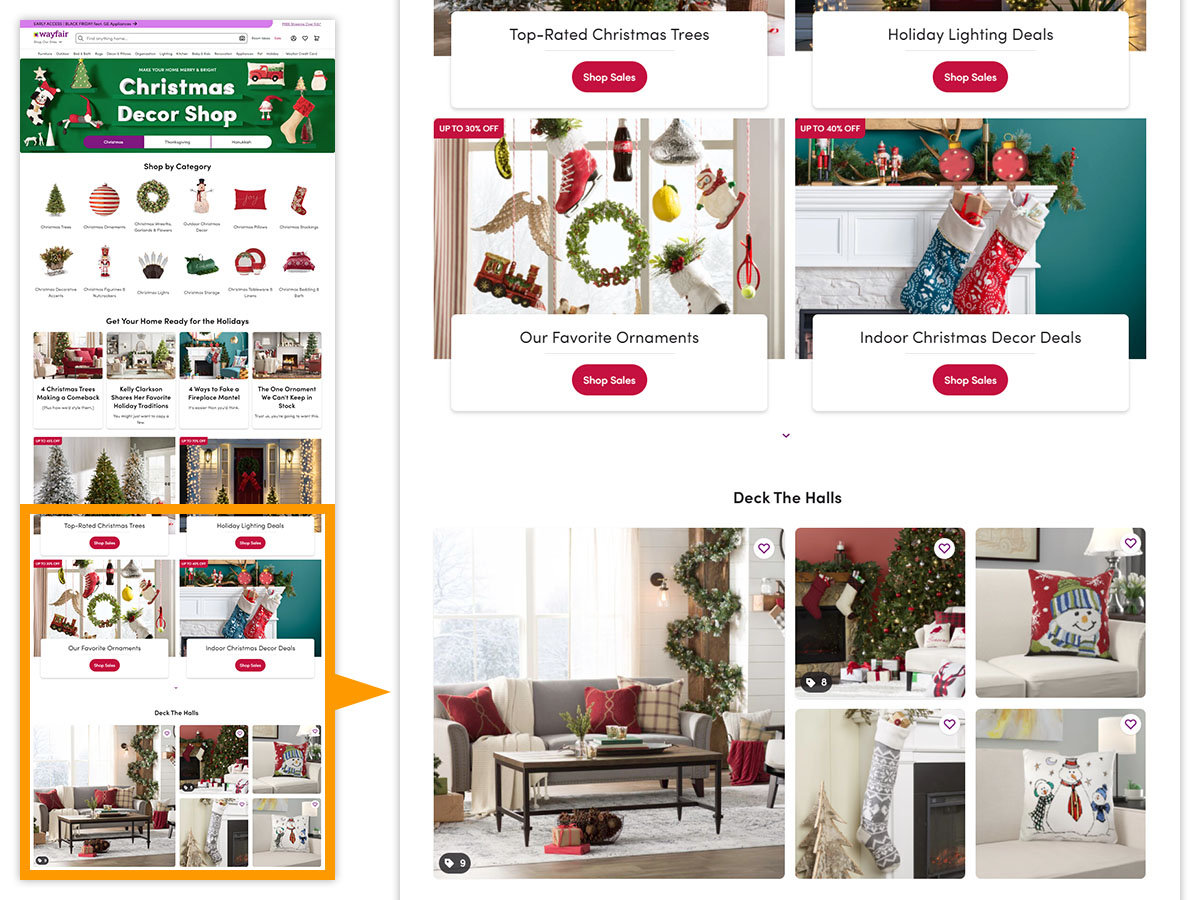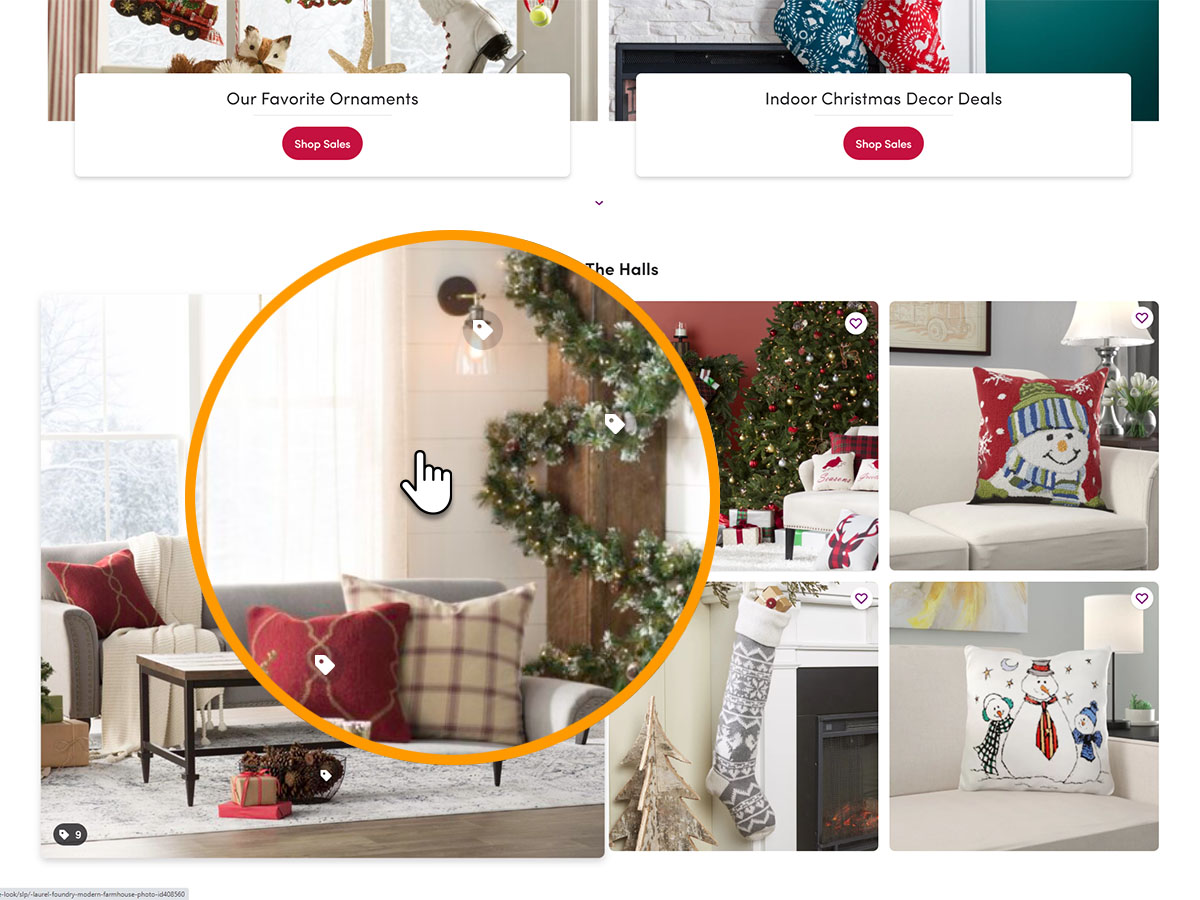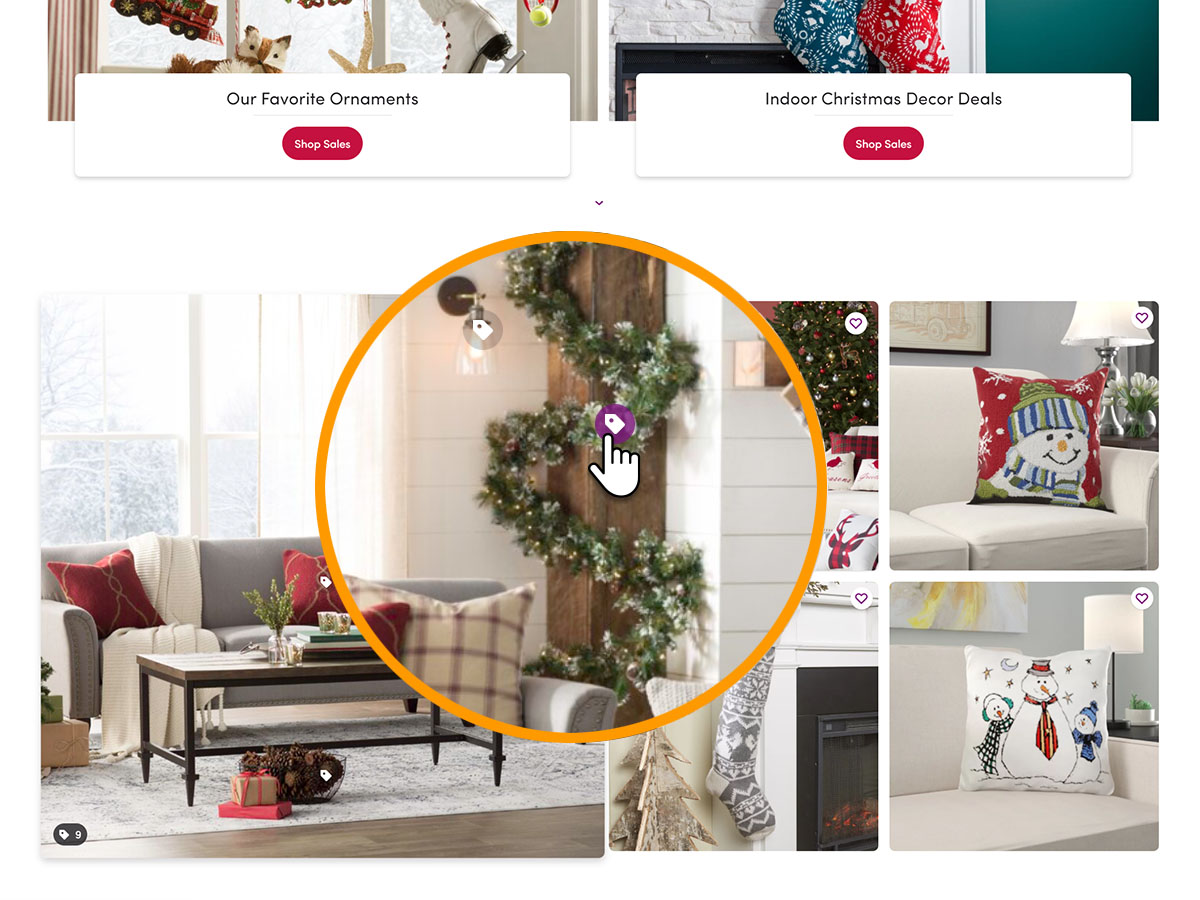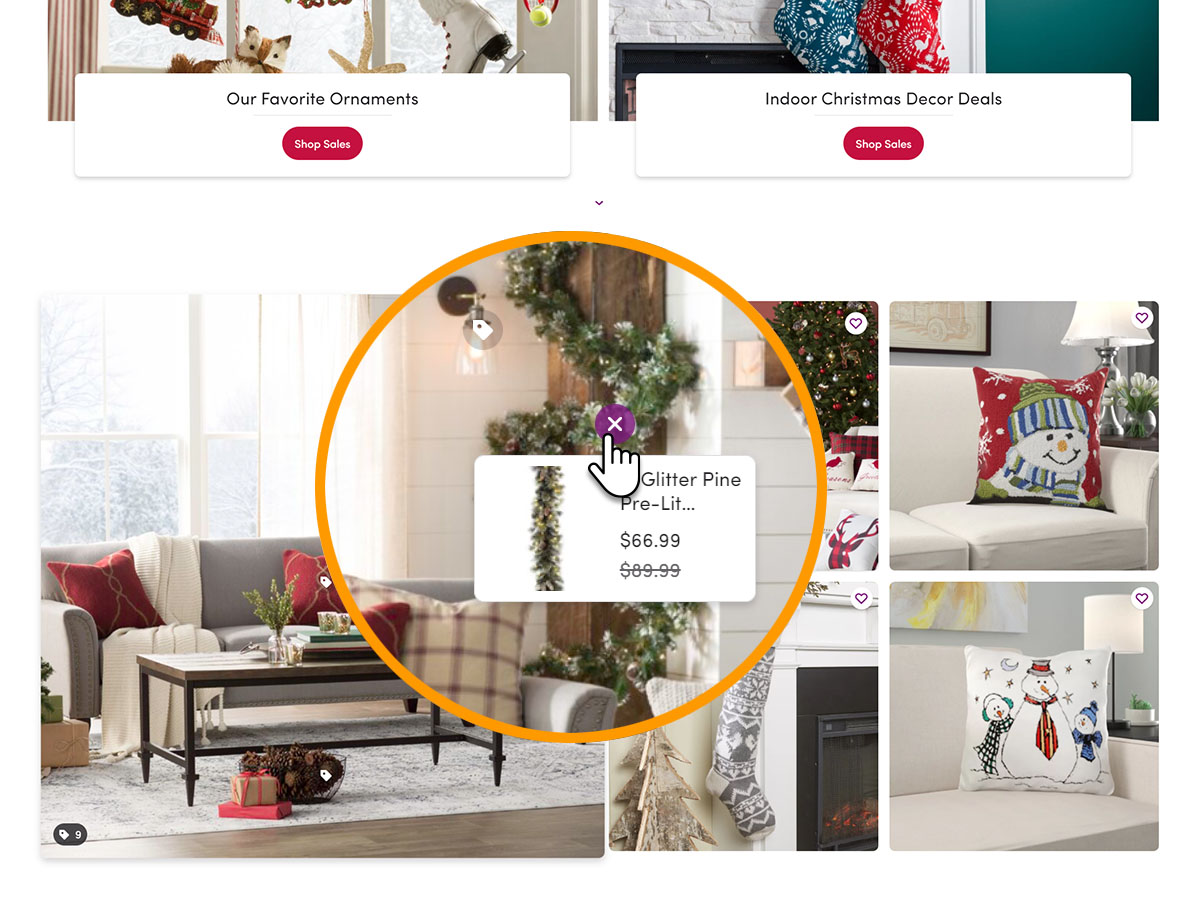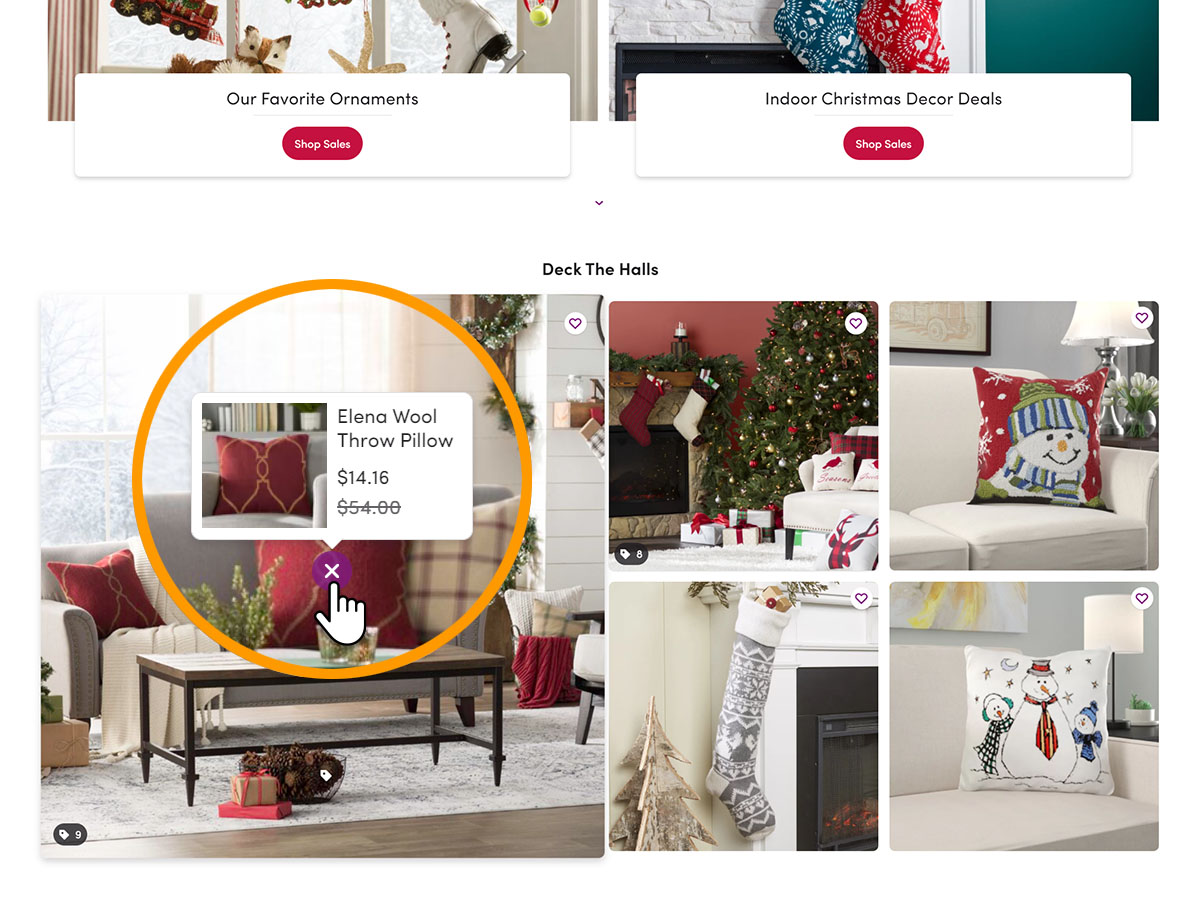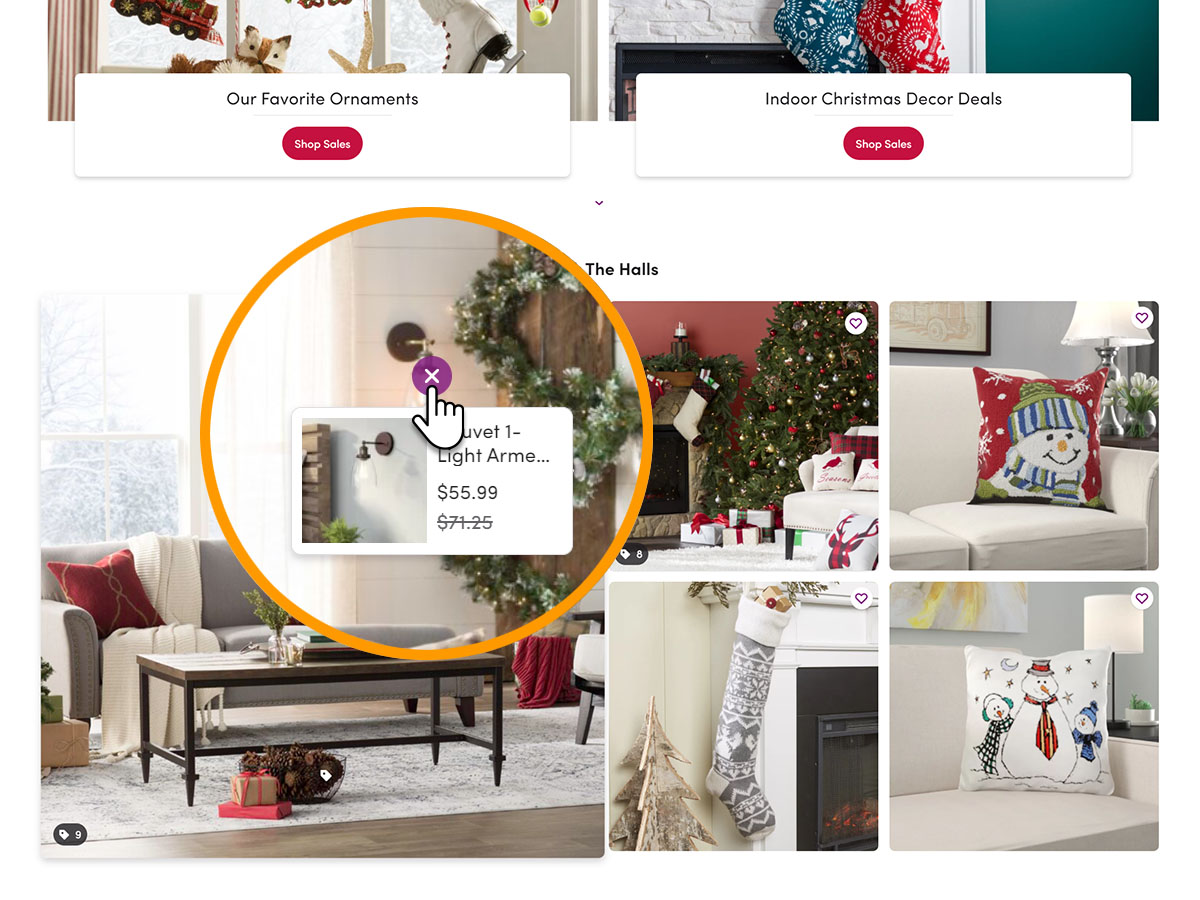 Fig. 8 — Christmas Decor Shop by Wayfair
Source: Wayfair; accessed: 18 November 2020
Holiday lookbooks and catalogs
Digital Christmas catalogs — often referred to as holiday lookbooks (Fig. 9) or shopping guides — with stunning imagery and excellent design are another great way to engage buyers, especially when they are not likely to visit your brick-and-mortar store to get a printed publication.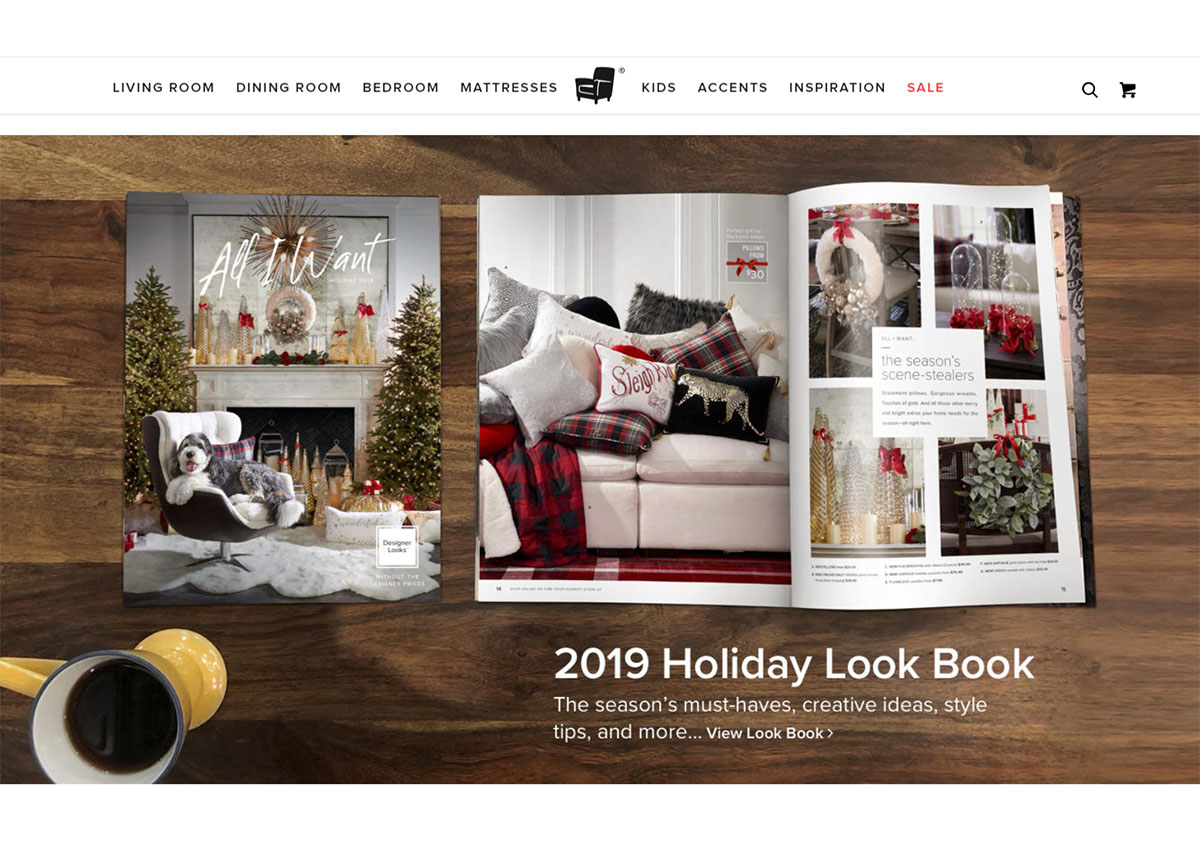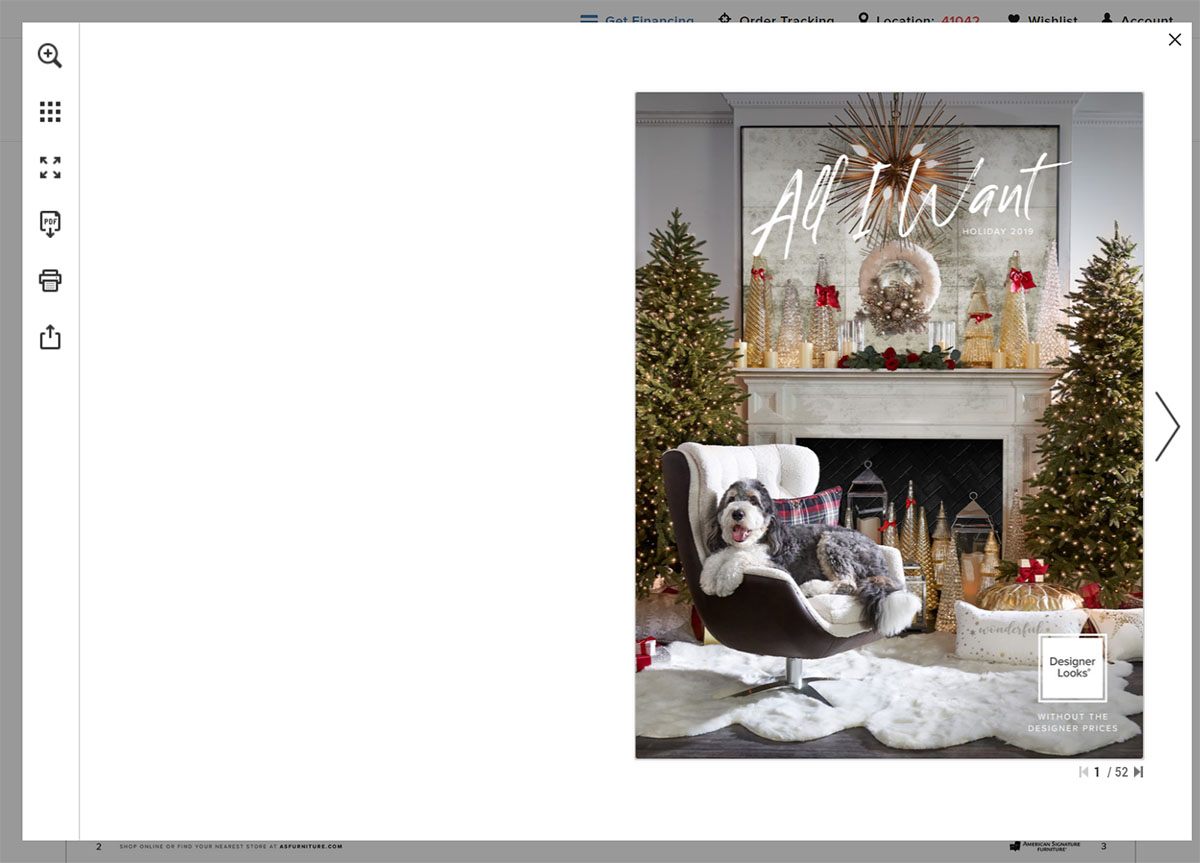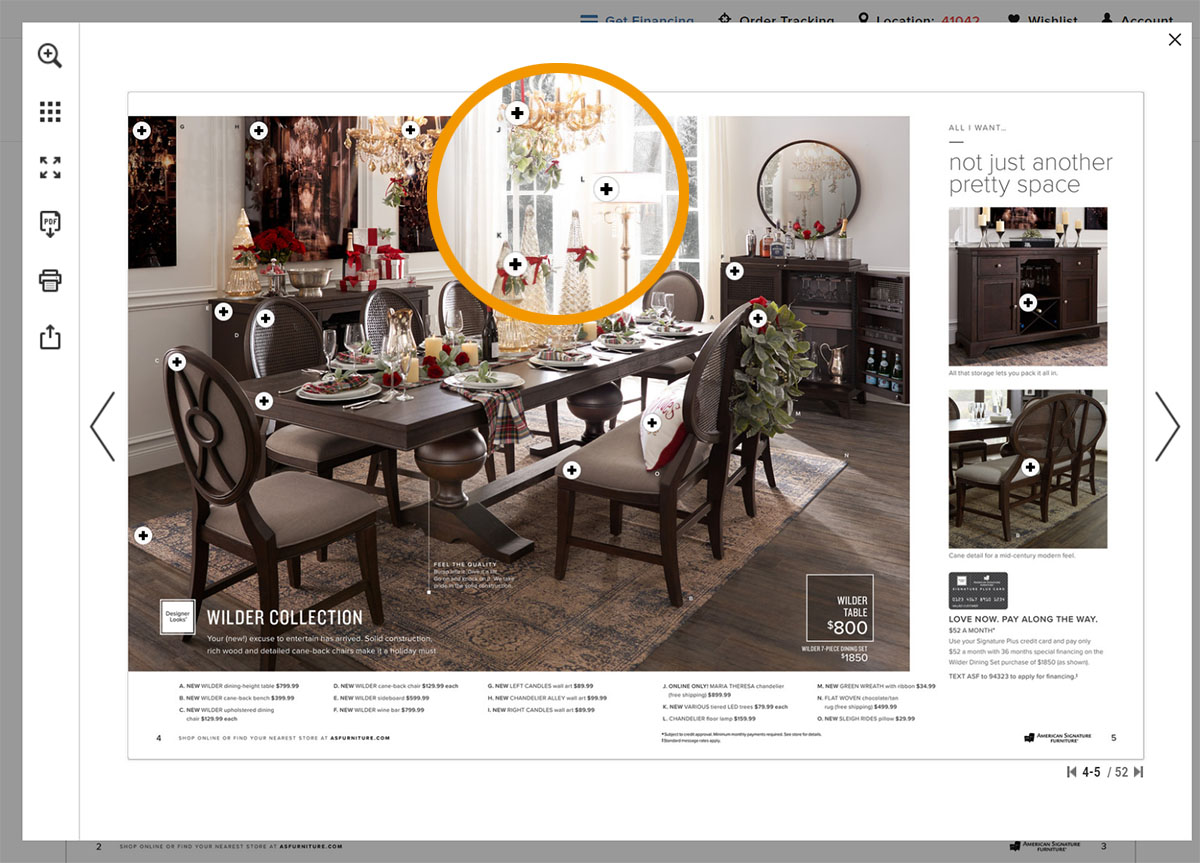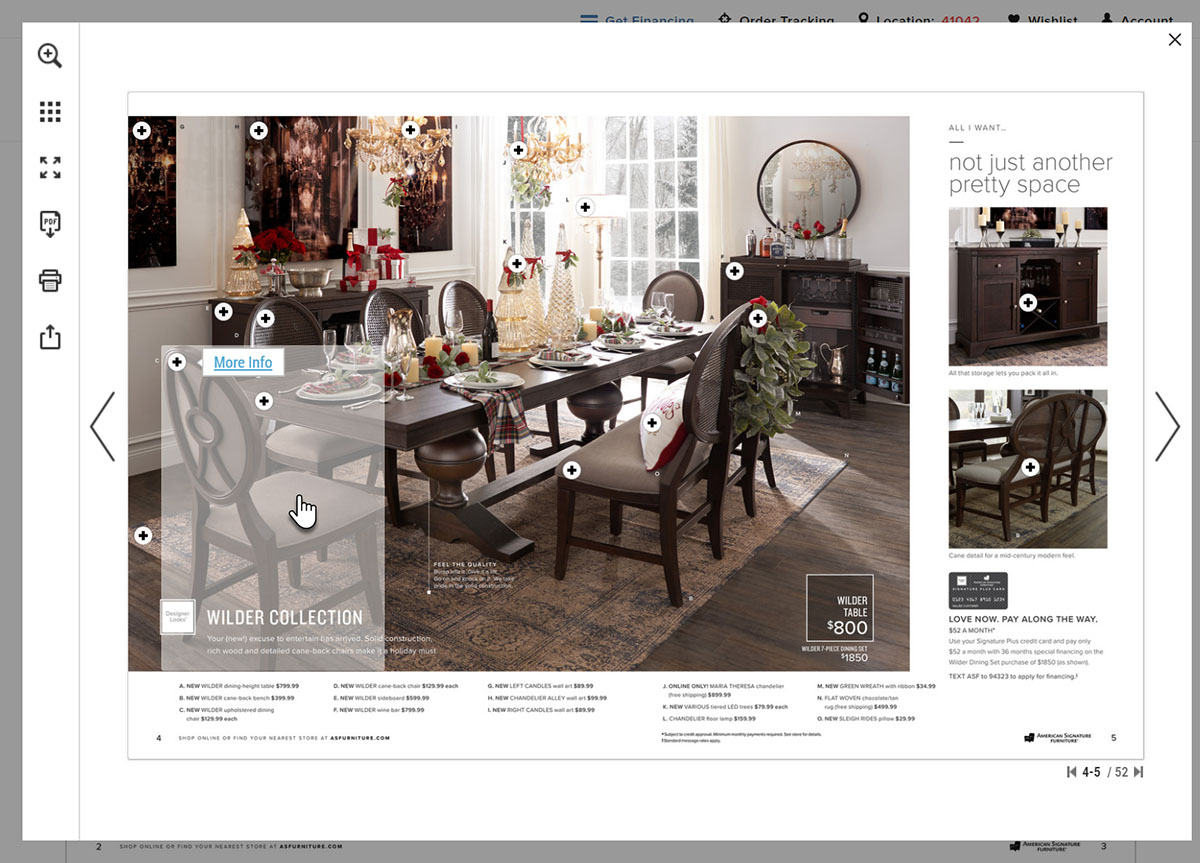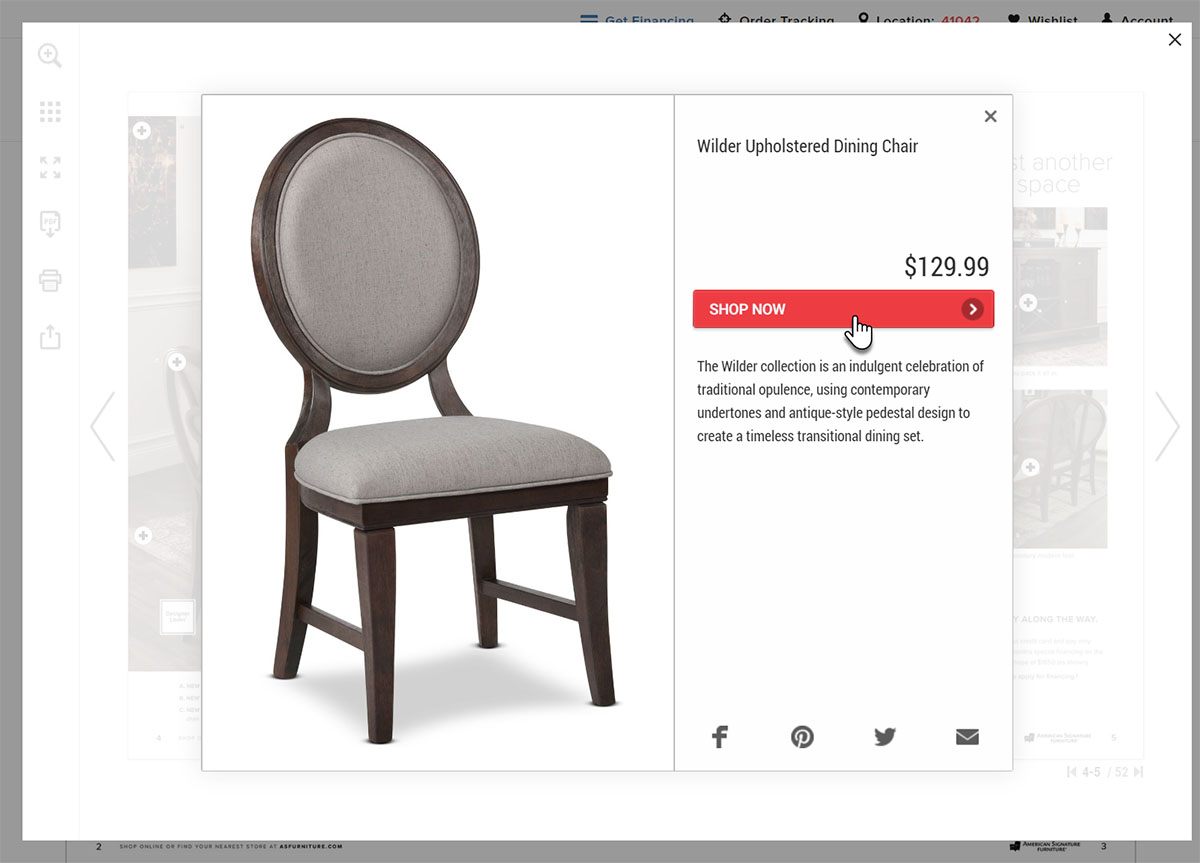 Fig. 9 — Holiday Look Book with shoppable images by American Signature Furniture
Source: https://www.americansignaturefurniture.com; accessed: December 2019
Jonathan Adler's holiday catalog is a best-in-class example of how modern digital publications should look (Fig. 10). In this solution, the customer is given access to full product pages inside the electronic catalog. When the user clicks the active product, a fullscreen popup layer appears over the catalog and the entire product page is displayed. With one click, the customer can close the window and return to the catalog.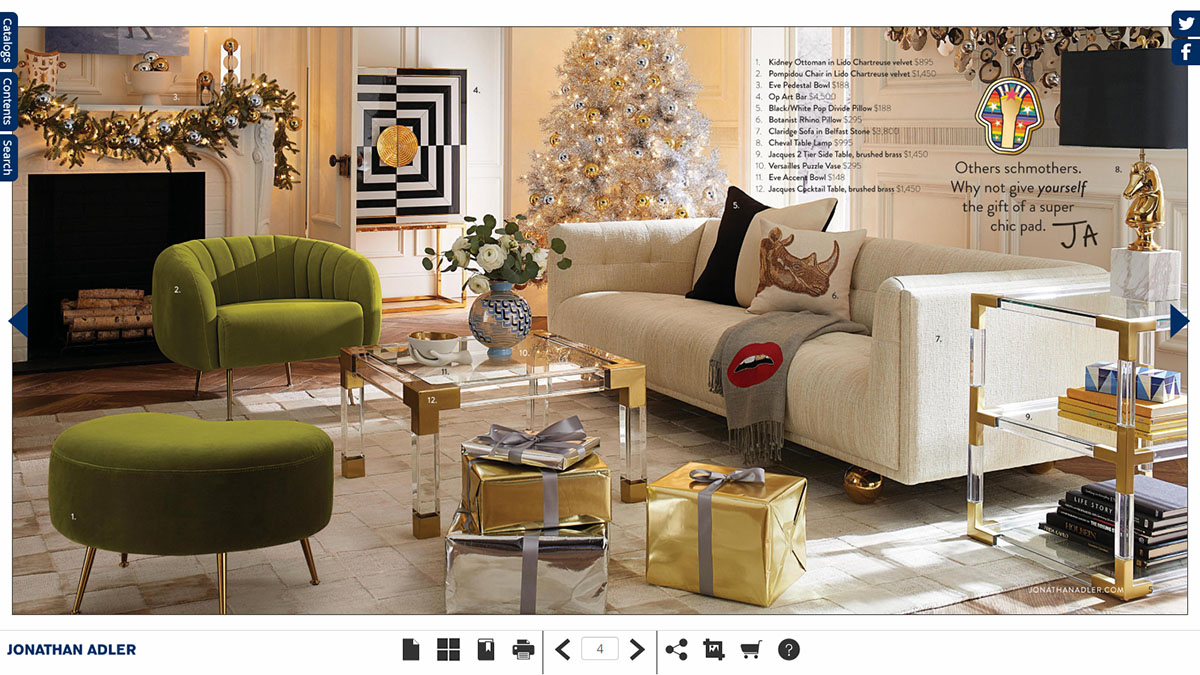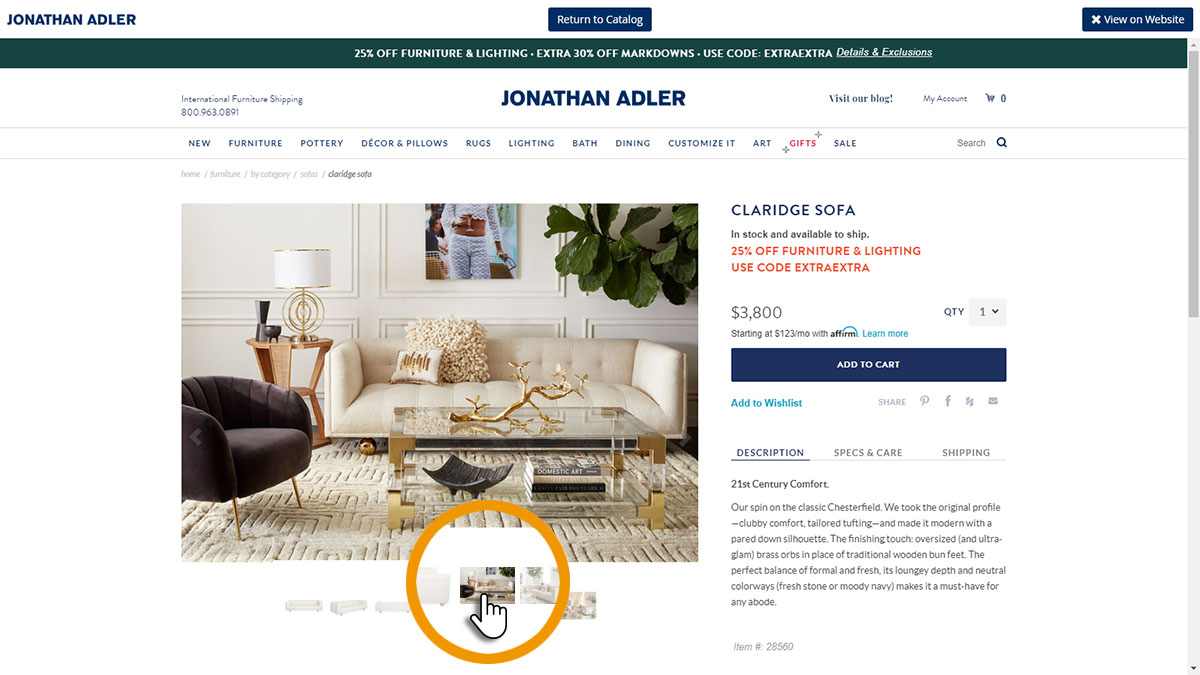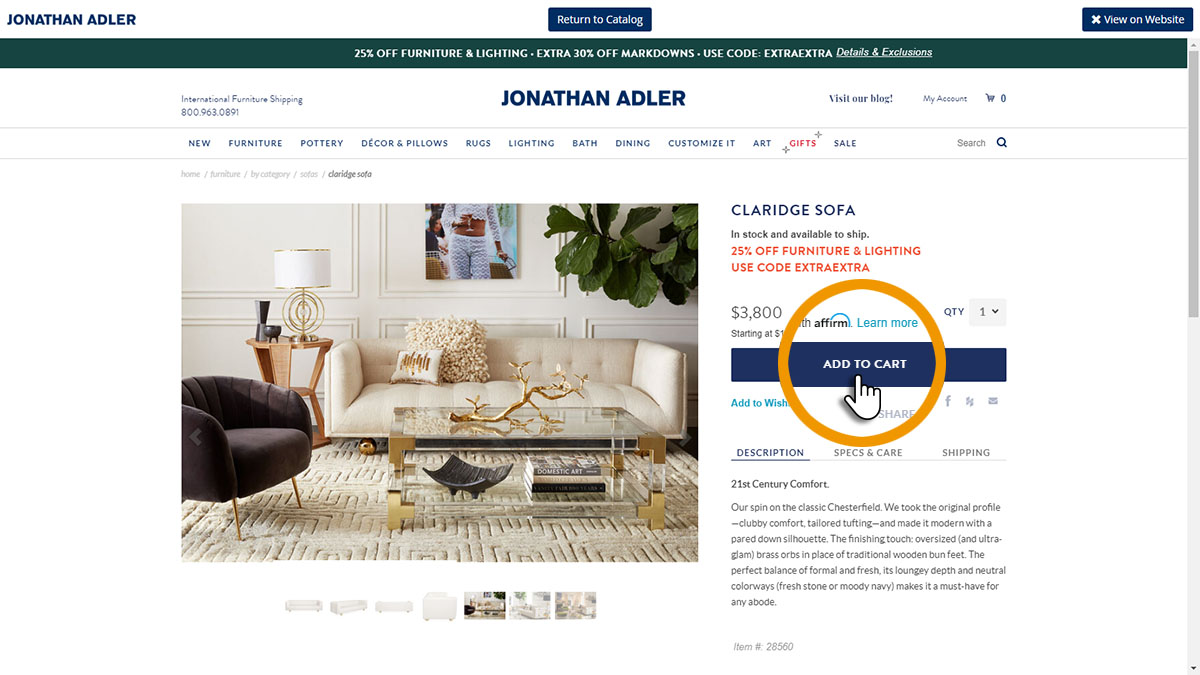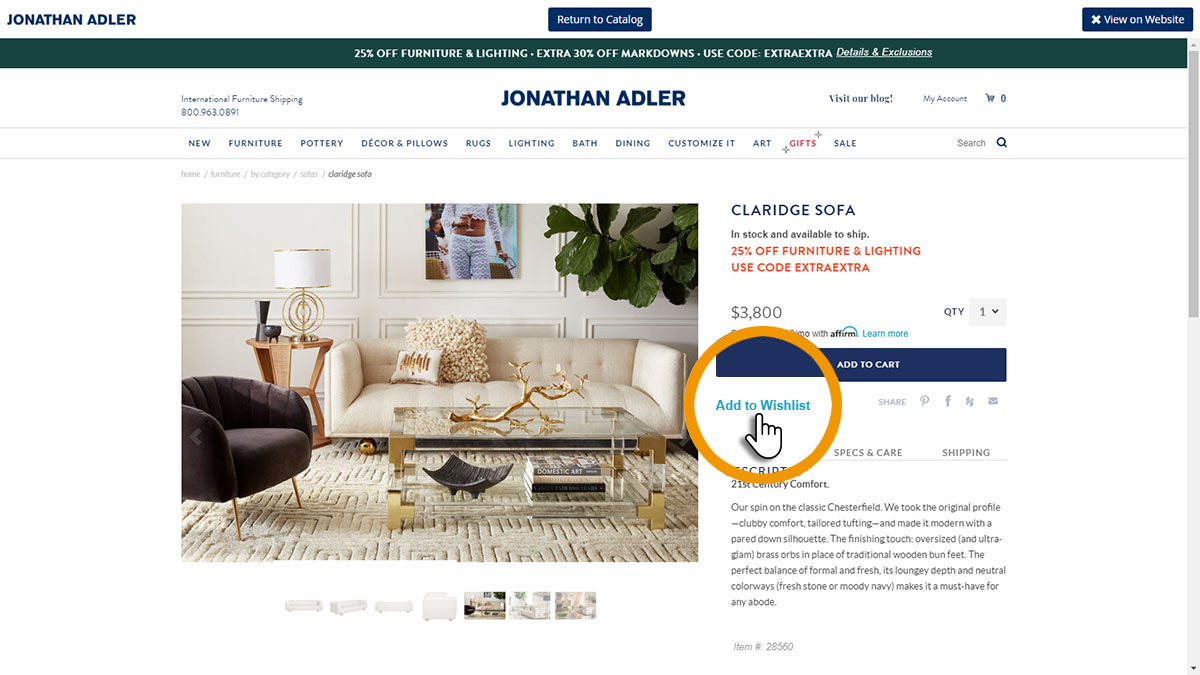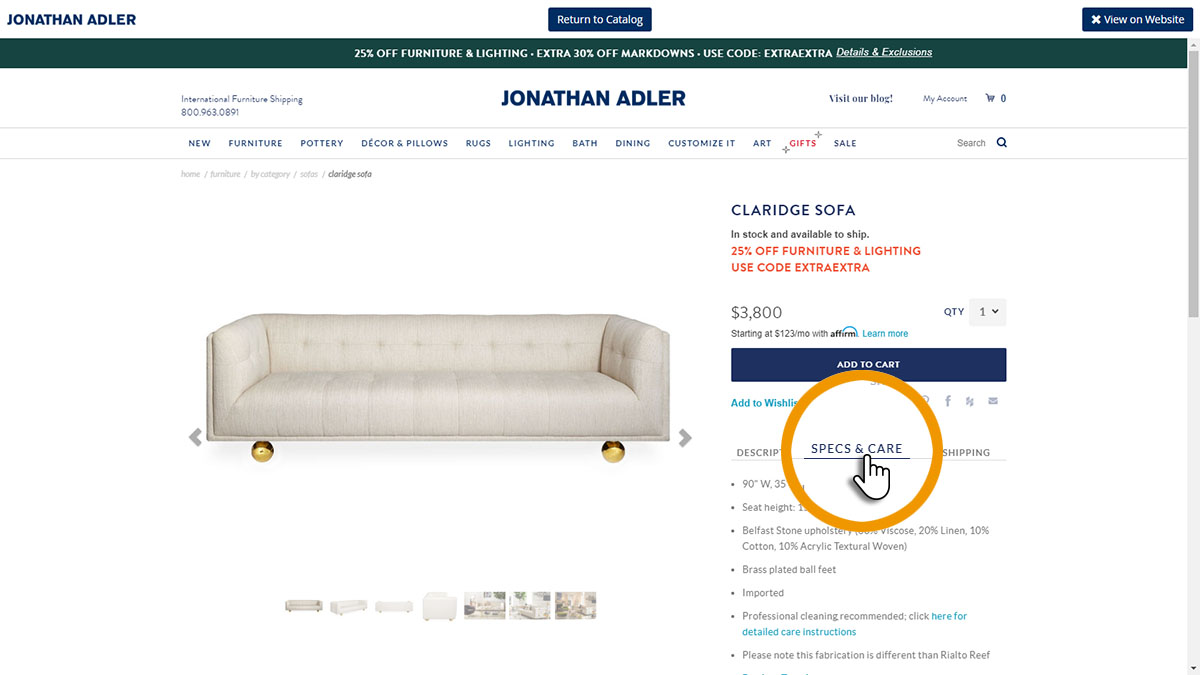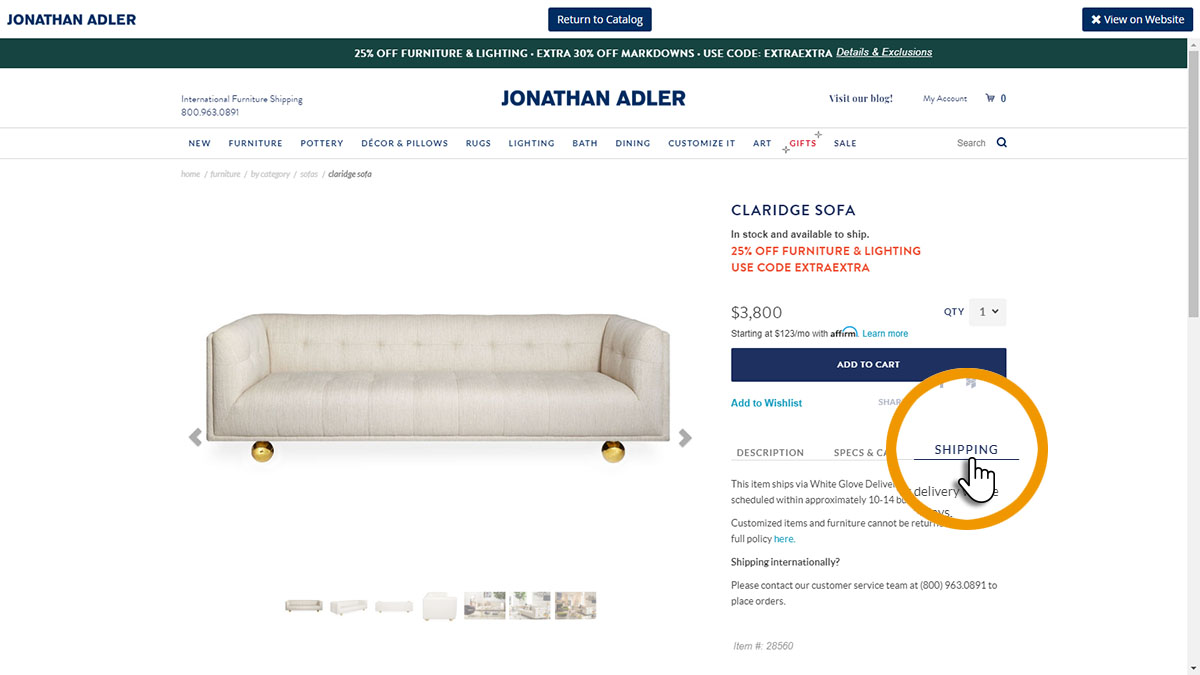 Fig. 10 — Outstanding holiday catalog by Jonathan Adler with product pages embedded
Source: Jonathan Adler; accessed: December 2019
In fact, the product page is embedded into the layer as an iframe. Thanks to that — being still within the electronic publication — the customer can take advantage of the same options, functionalities and resources that are available on a regular website.
They can, for example, learn all product details, read customer reviews, browse an image gallery, configure the product, check its availability, add it to a wishlist or directly to the basket. At any time, the customer can also check the status of their shopping cart or even sign up for an account and place the order. And all of this is done while still within the digital publication.
Gift guides and shops
Christmas is a time of giving. A huge portion of household holiday budgets is spent on gifts for family and friends. Undoubtedly, presents are the products we most frequently look for and buy during this period. That's why creating a Christmas gift guide is one of the best ways to draw consumers' attention and bring them to your online store.
If you host a blog on your website, consider writing a few articles on gifting ideas, featuring numerous items from your offering. You can embrace advice and ideas from renowned personalities, celebrities, influencers, designers, chefs, stylists, etc. You can also come up with gift recommendations from your customers or even your own employees, as CB2 did last year (Fig. 11).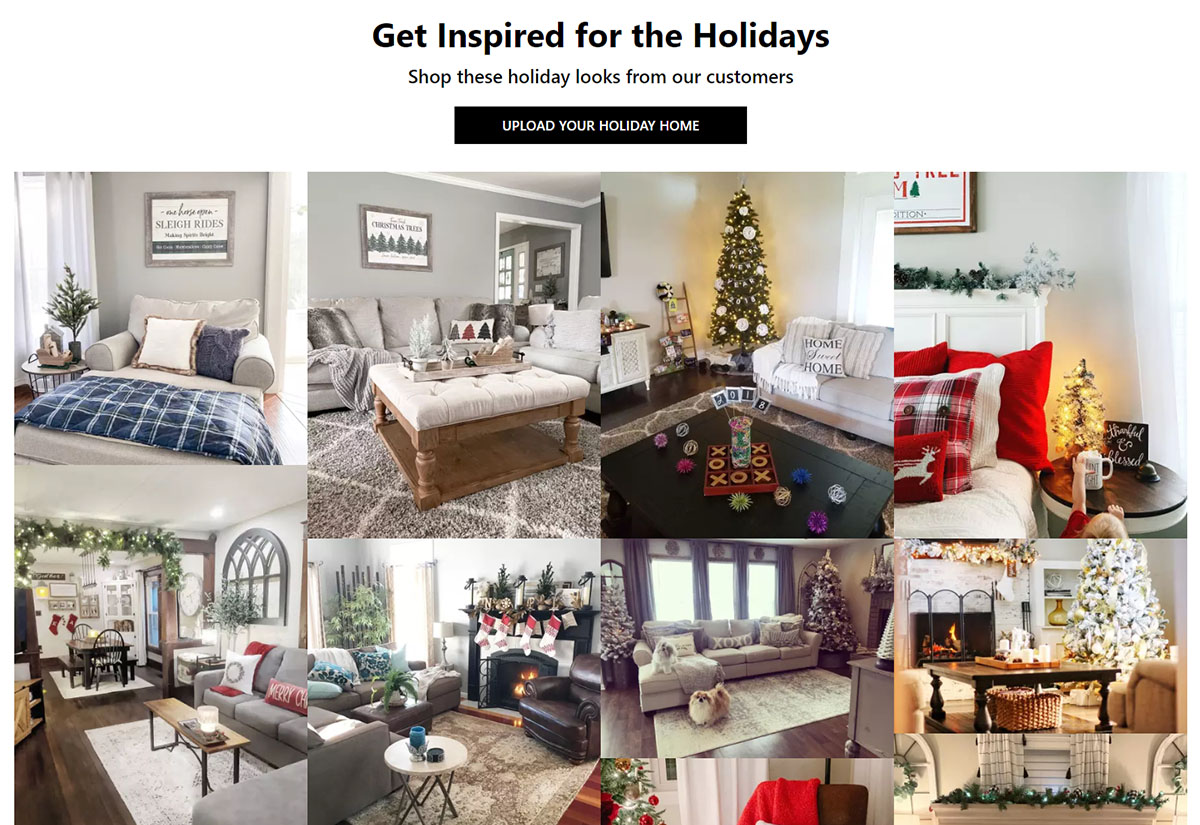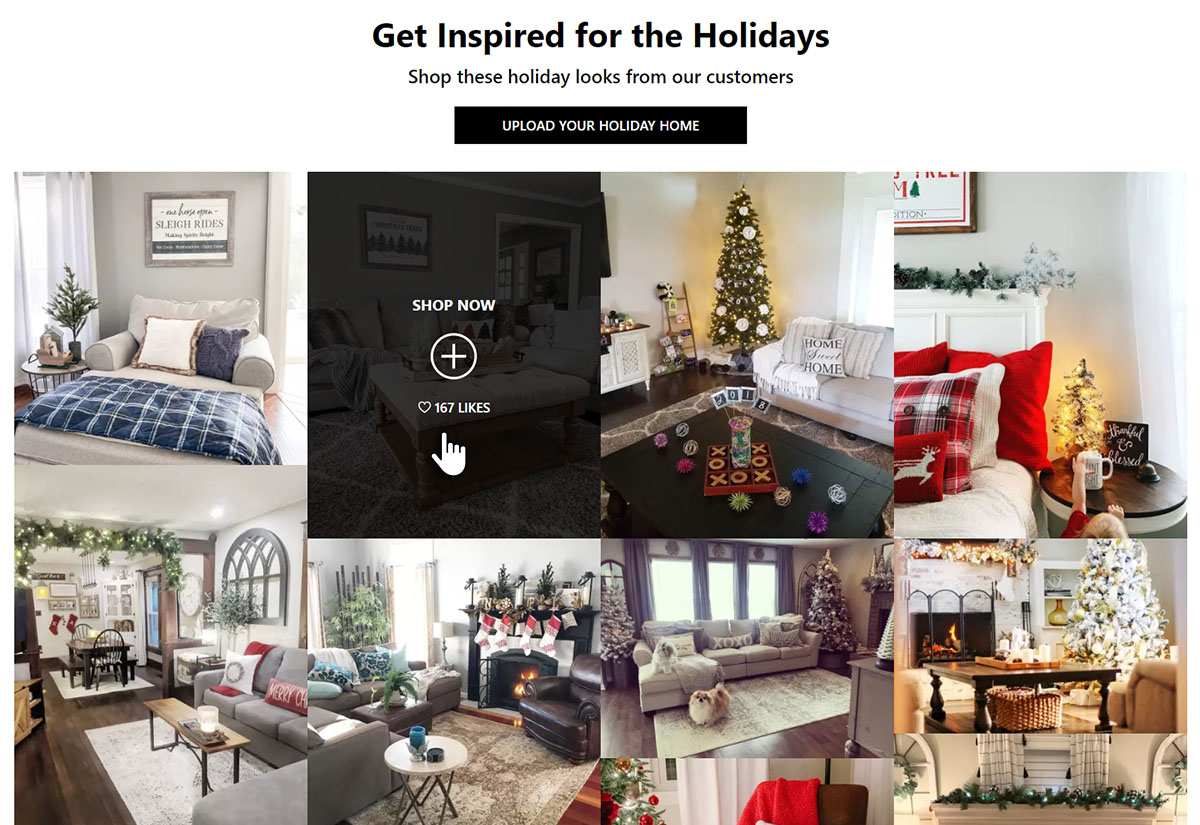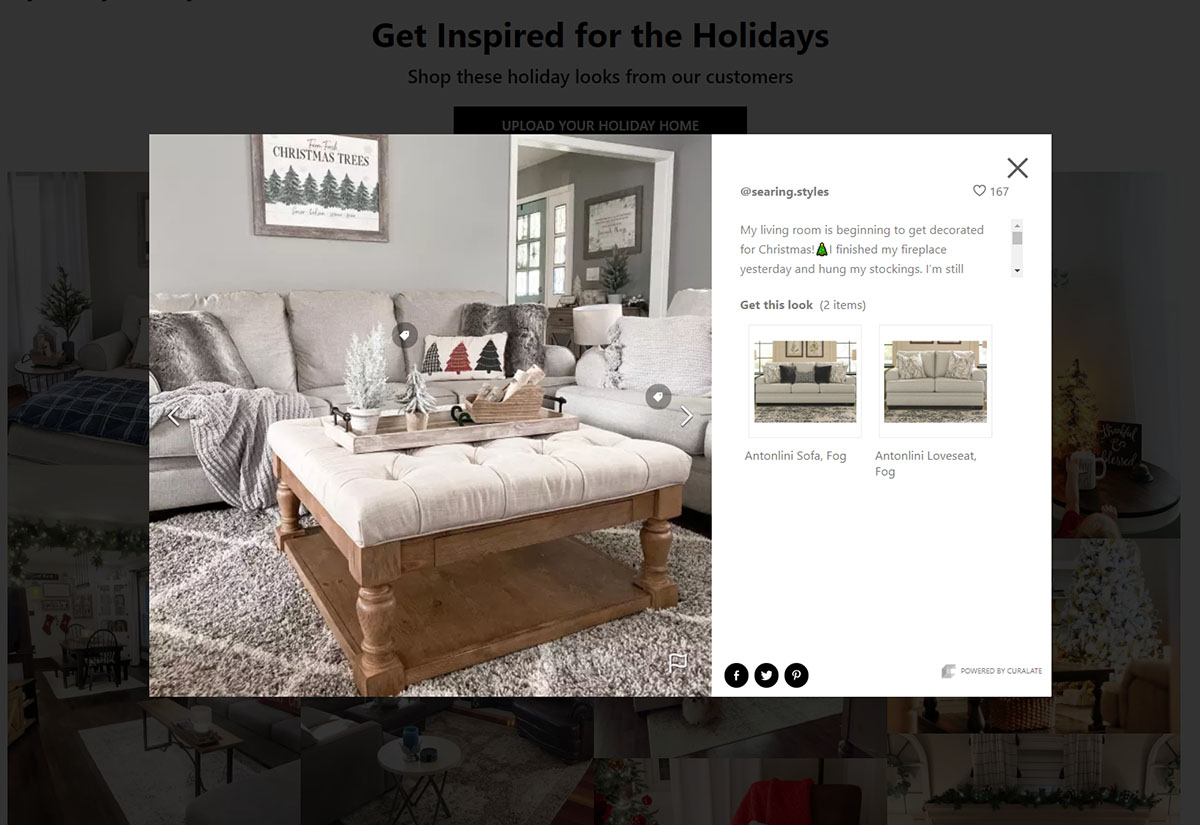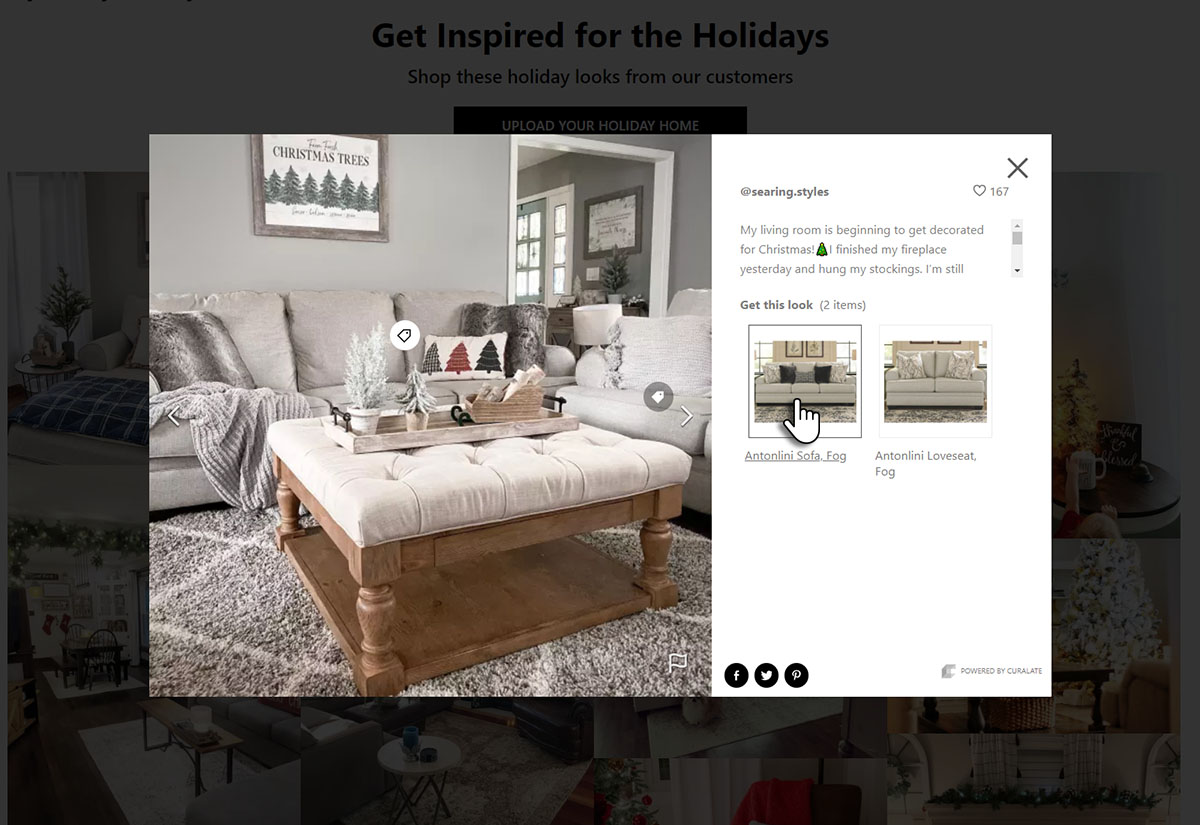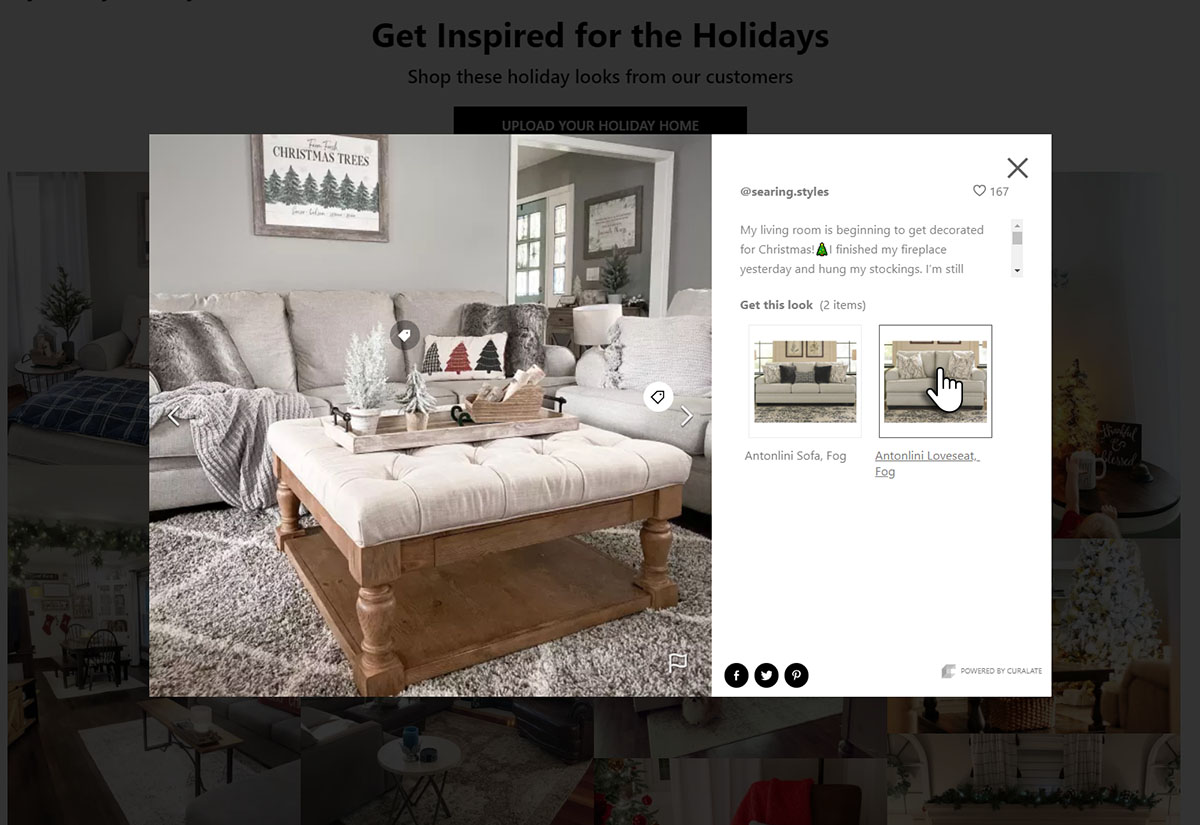 Fig. 11 — Holiday gift guide as a blog article with gift ideas from CB2's employees
Source: CB2; accessed: December 2019
If you would like to offer a compelling gift guide in visual format, one of the best solutions is to create a digital publication. Don't forget to feature shoppable images inside to provide your customers with the opportunity to interact with the products depicted (Fig. 12).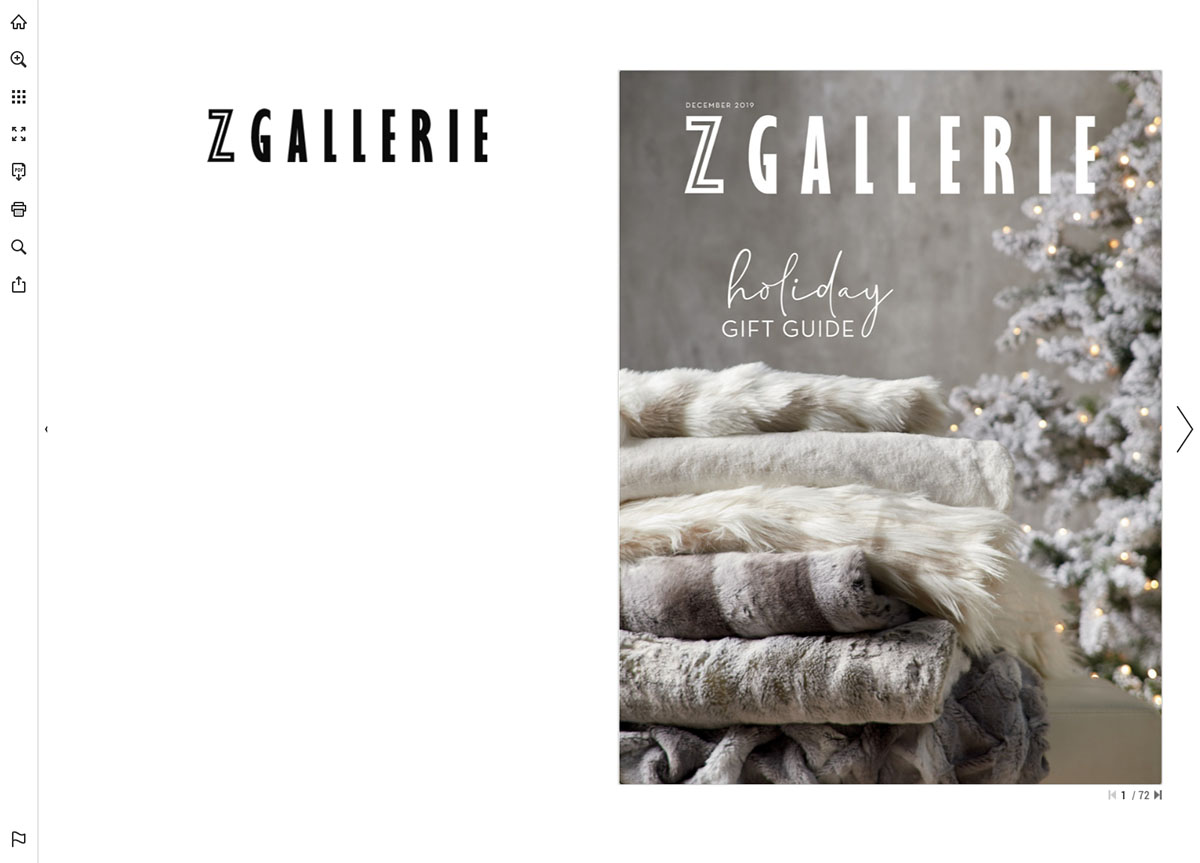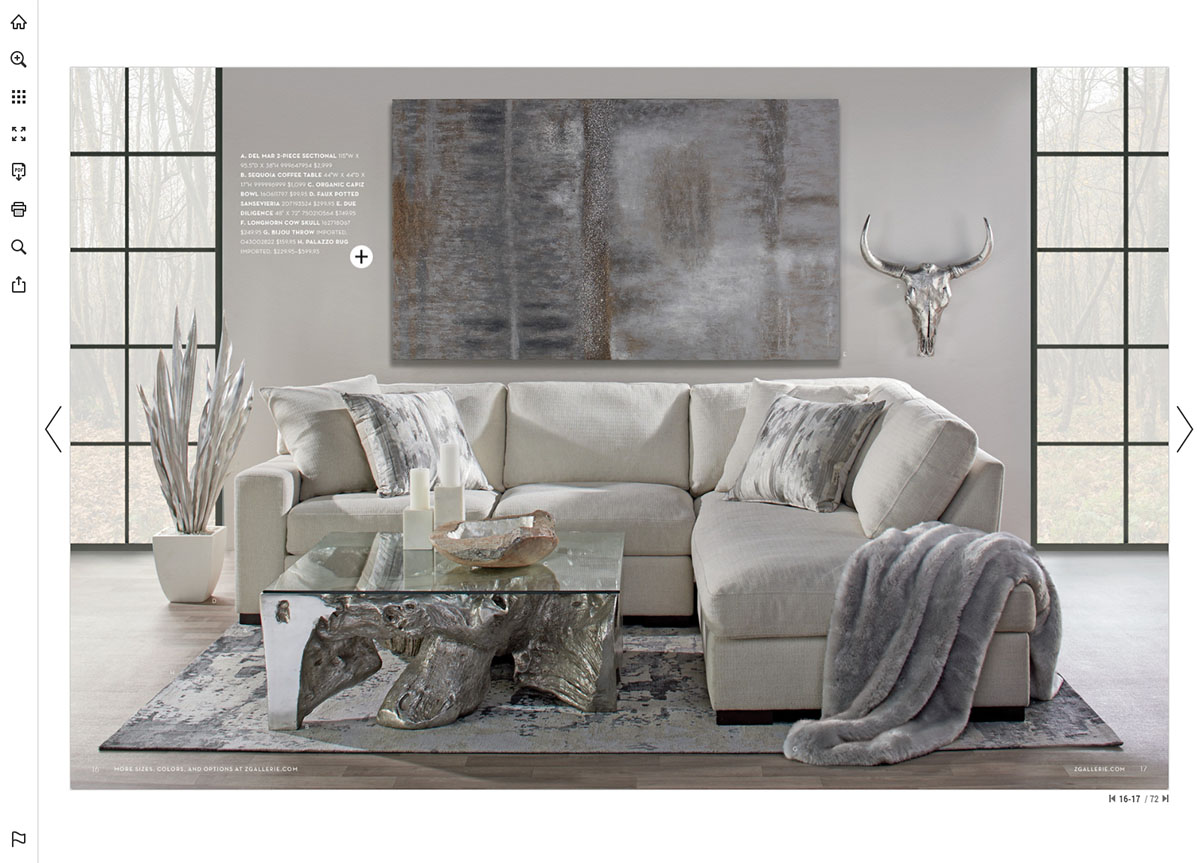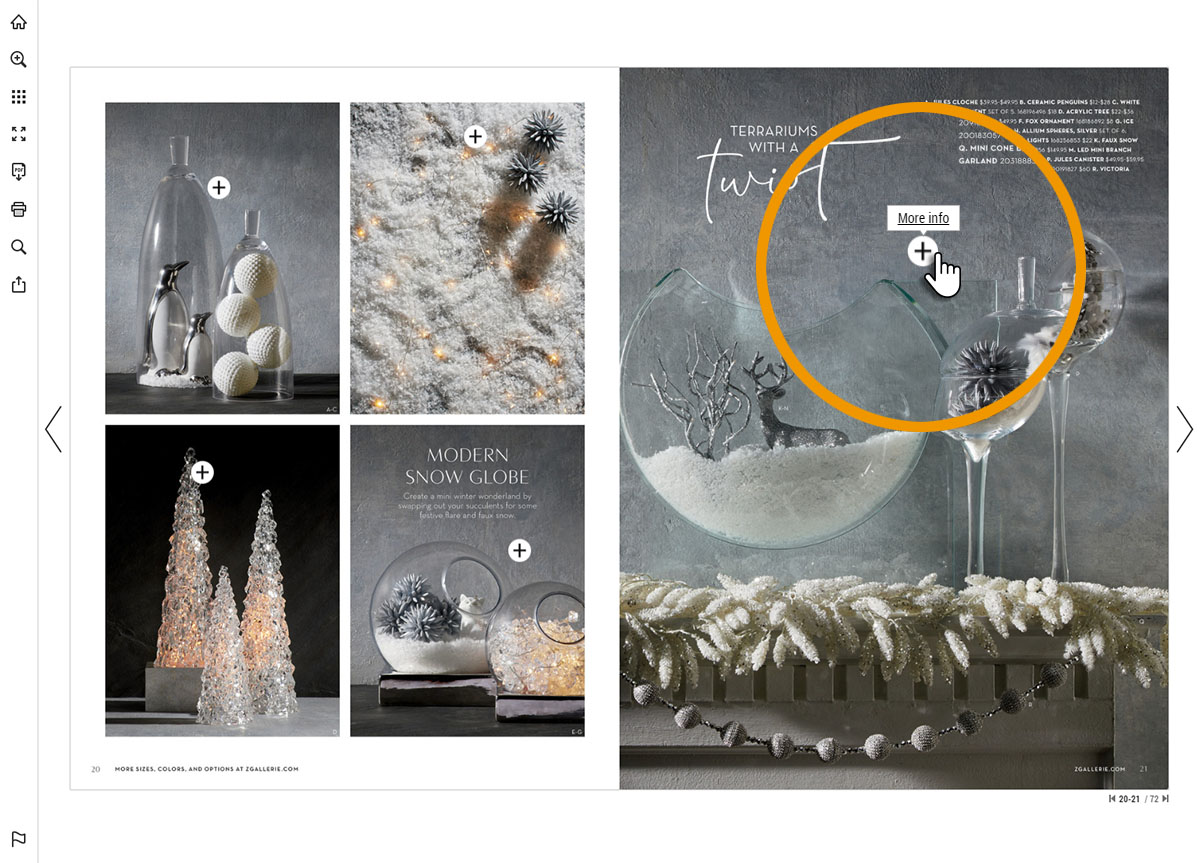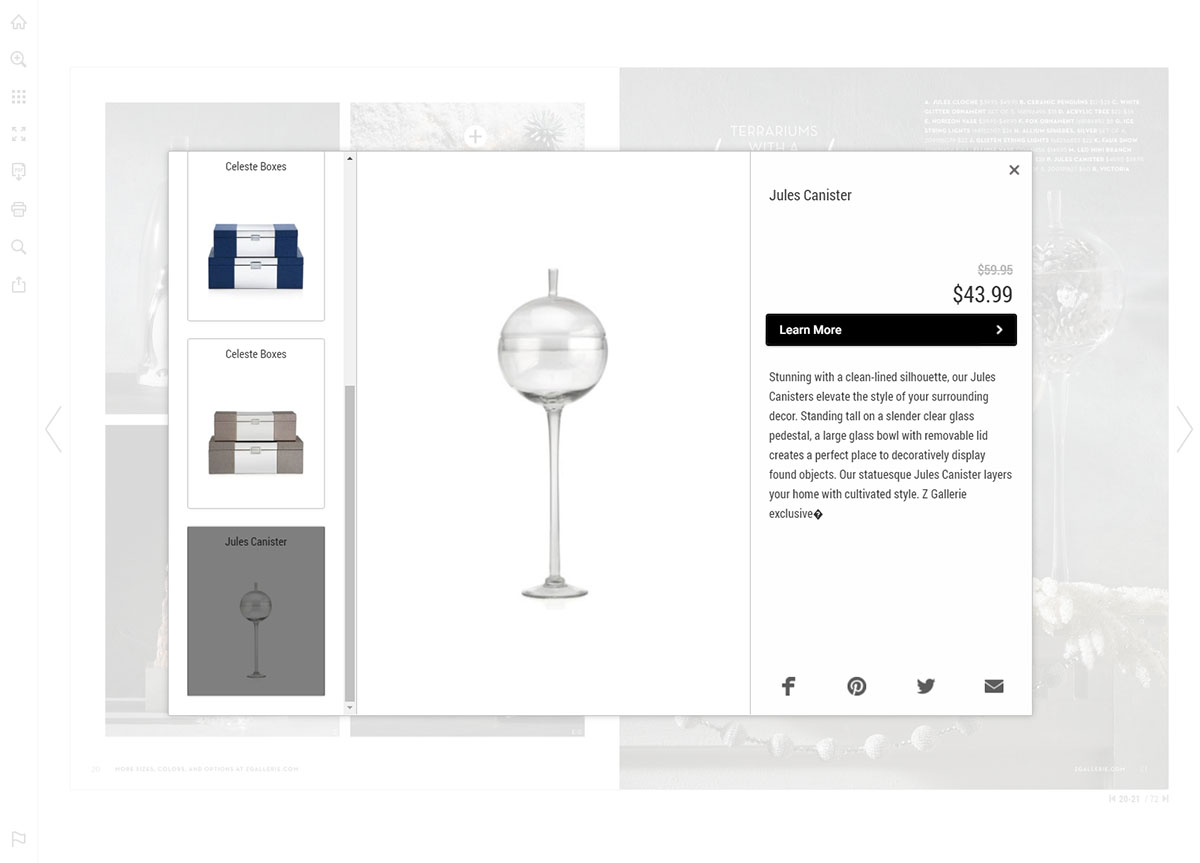 Fig. 12 — Holiday gift guide as an interactive digital catalog
Source: Z Gallerie; accessed: December 2019
Another great idea is to prepare a dedicated gift shop on your e-commerce platform. By organizing all gifts in one place, you make shopping much easier and help consumers quickly find interesting items without the need to browse the entire product catalog.
To make finding the right presents as easy as possible, you may group the products into several smaller subcategories and provide appropriate filtering and sorting options (Fig. 13). Most frequently, Christmas gifts are categorised or filtered by price ranges, gender, size, colour, fabric, etc.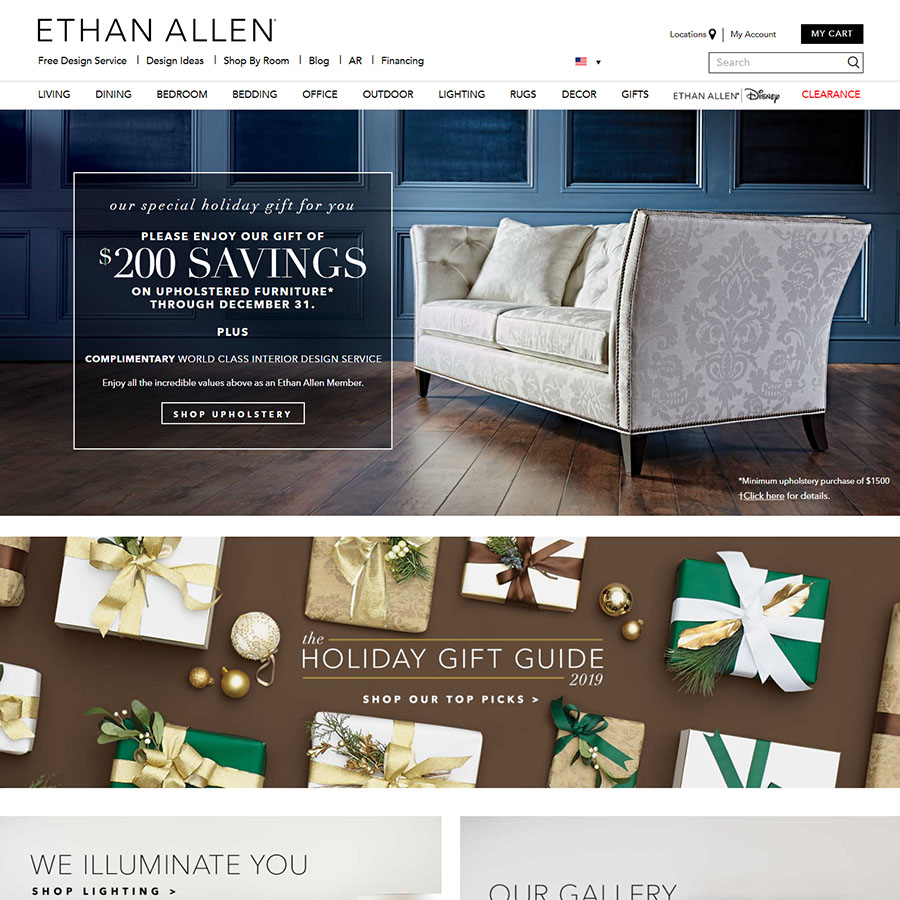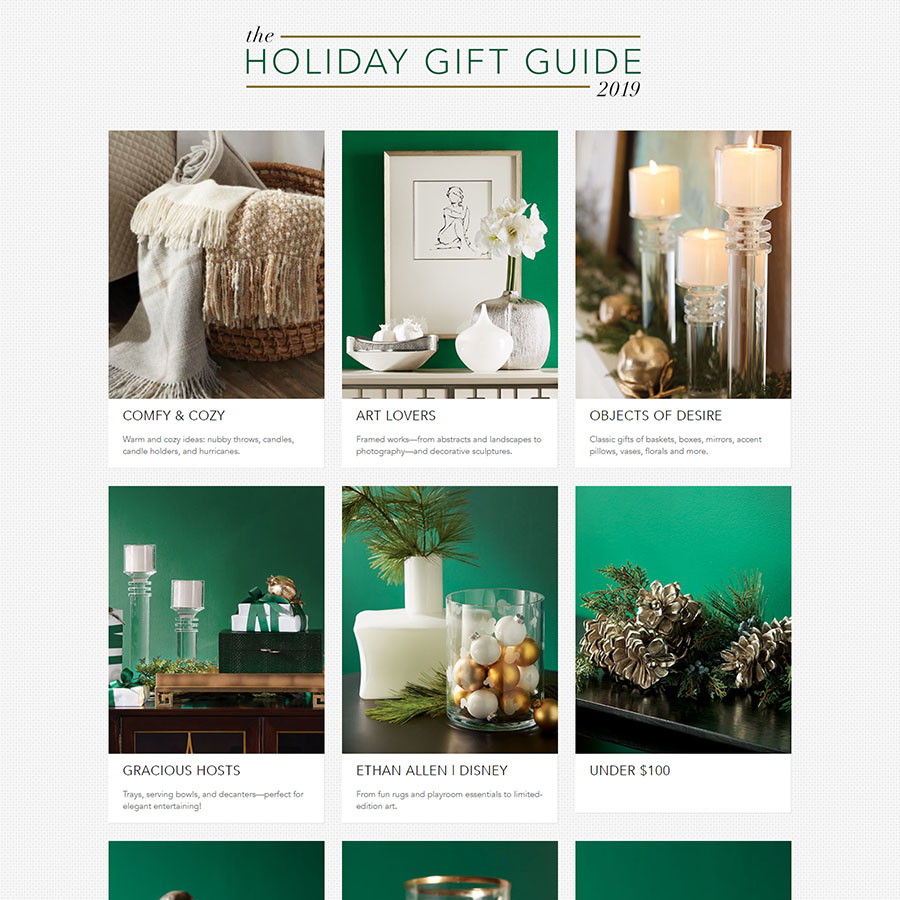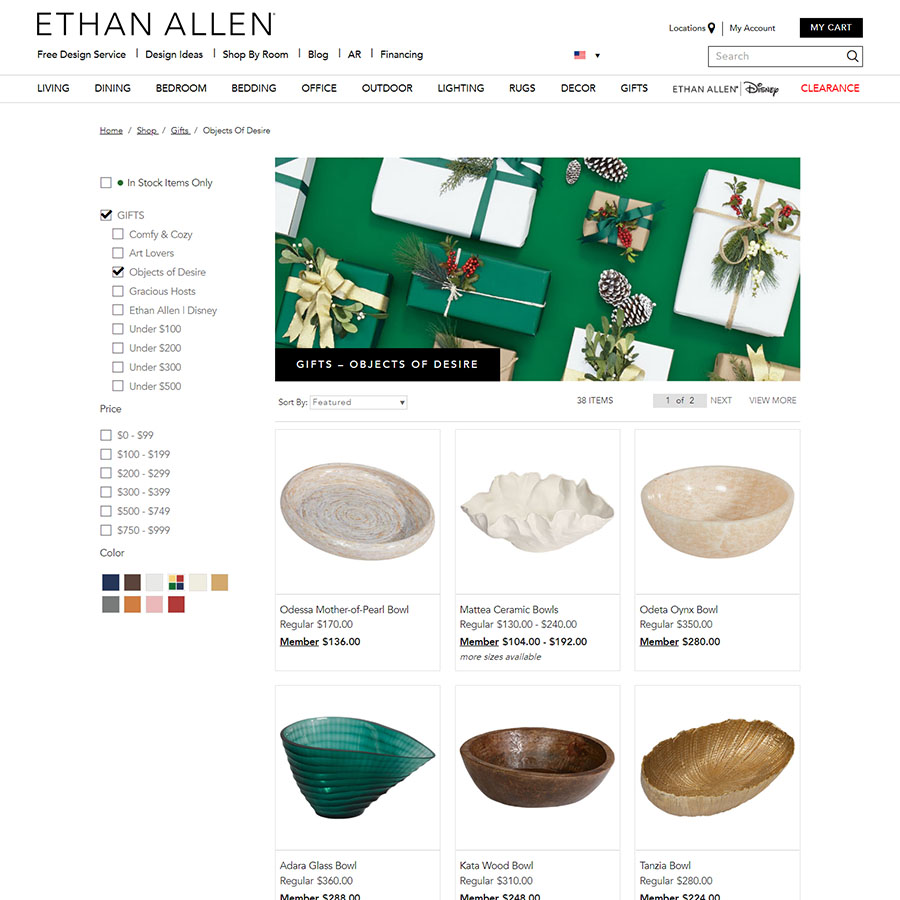 Fig. 13 — Holiday gift guide as a gift shop by Ethan Allen
Source: https://www.ethanallen.com; accessed: December 2019
Inspiration shared by your own customers
User-generated content has always been one of the most important factors influencing purchasing decisions. However, this will be all the more important during this holiday season as customers lacking physical contact with products will rely even more on the opinions and recommendations of others.
For highly visual industries — like furniture, fashion or jewellery — images of purchased products shared by customers are priceless assets. These pictures are used mainly to create so-called customer galleries. Last Christmas, Ashley HomeStore built an impressive holiday inspiration gallery using only photos shared by its customers (Fig. 14).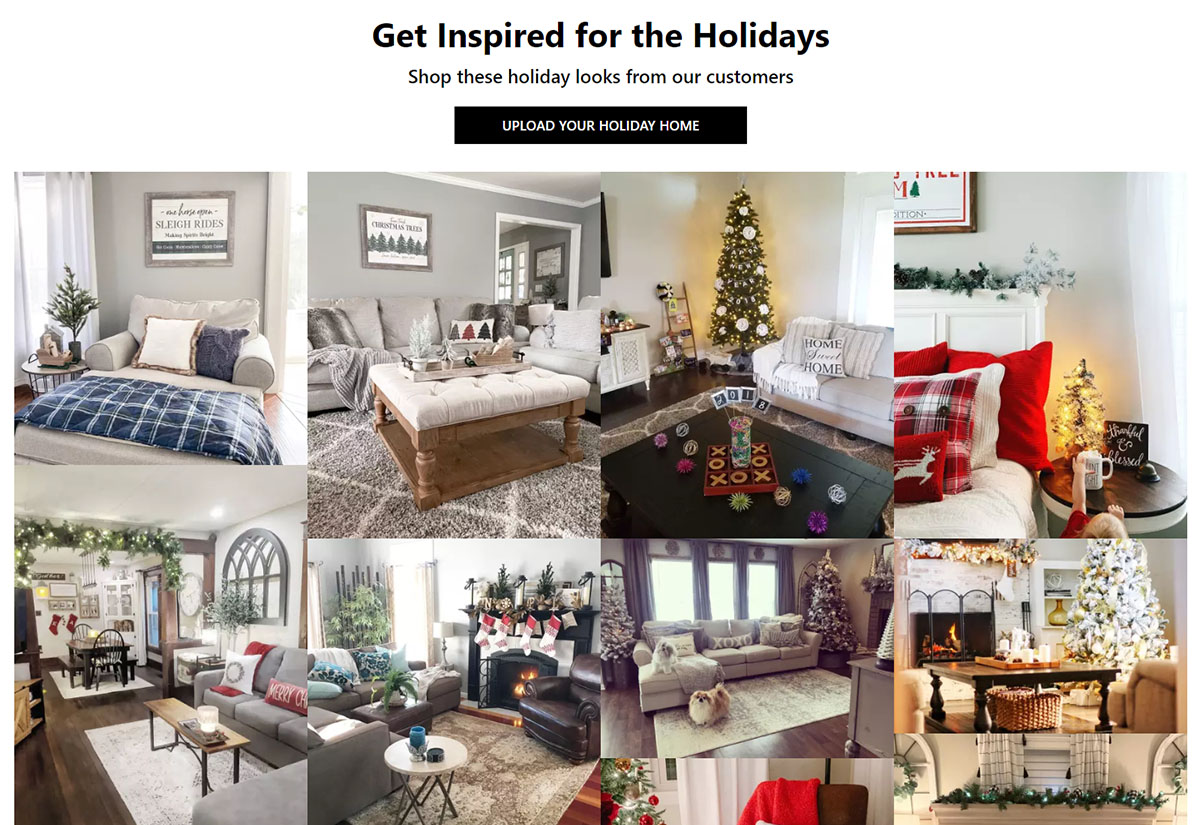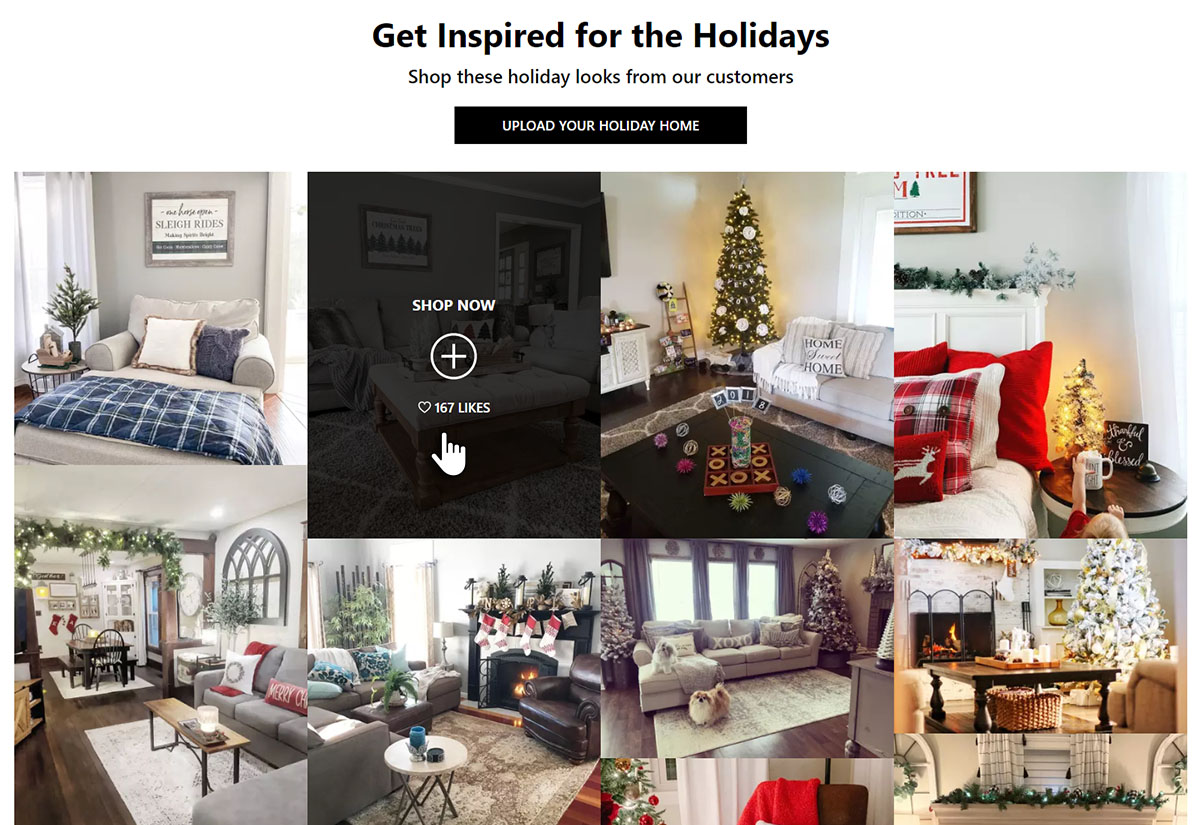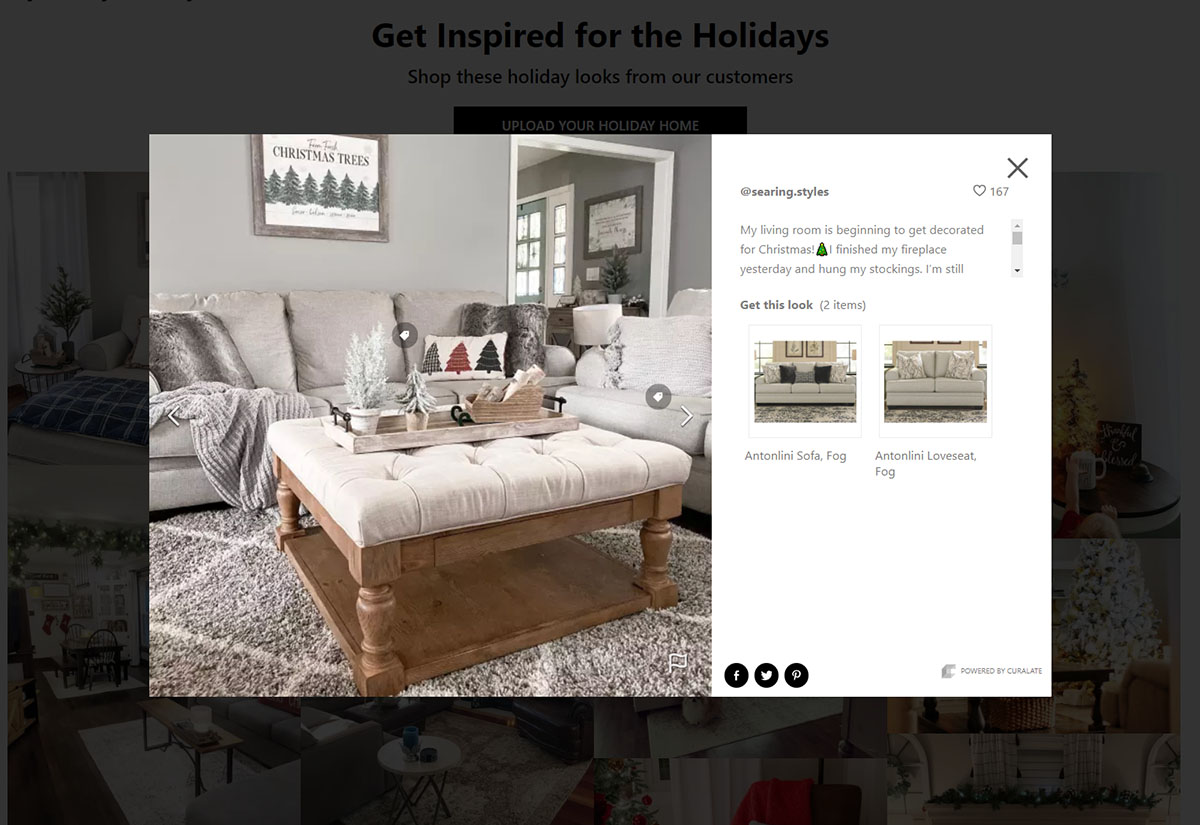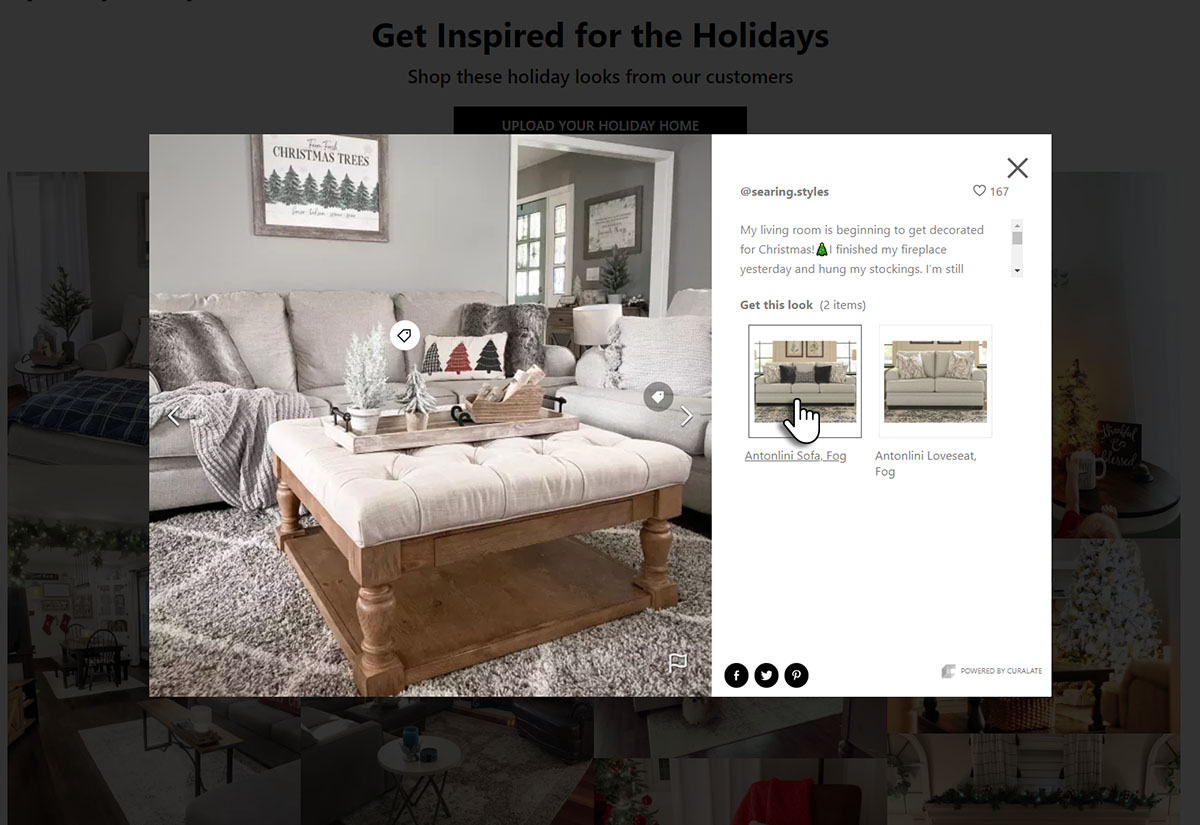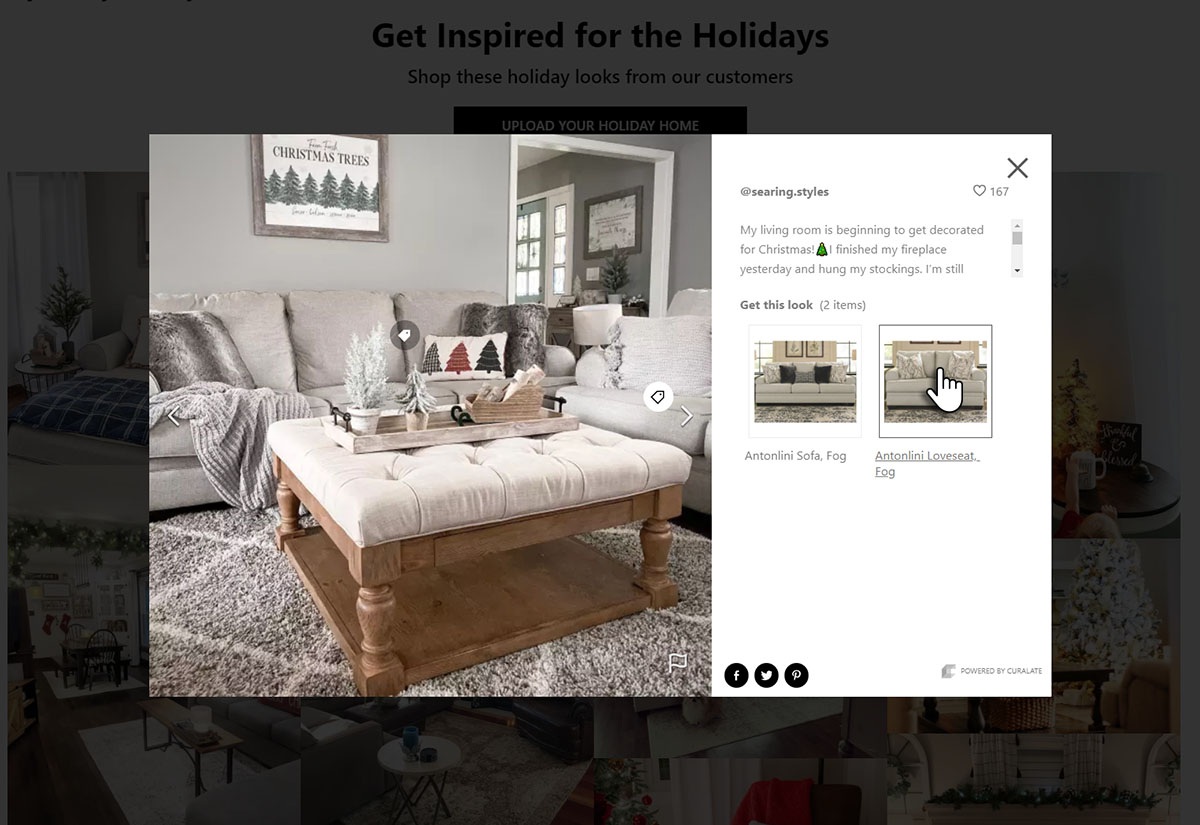 Fig. 14 — Holiday inspiration gallery created with images shared by the Ashley HomeStore's customers
Source: https://www.ashleyfurniture.com; accessed: December 2019
Most images are shared by customers on social media, mainly on Instagram. For that reason, you should consider using social monitoring tools to observe your customers' activity and communicate with them to get their permission to republish photos in which your brand has been tagged (Fig. 15).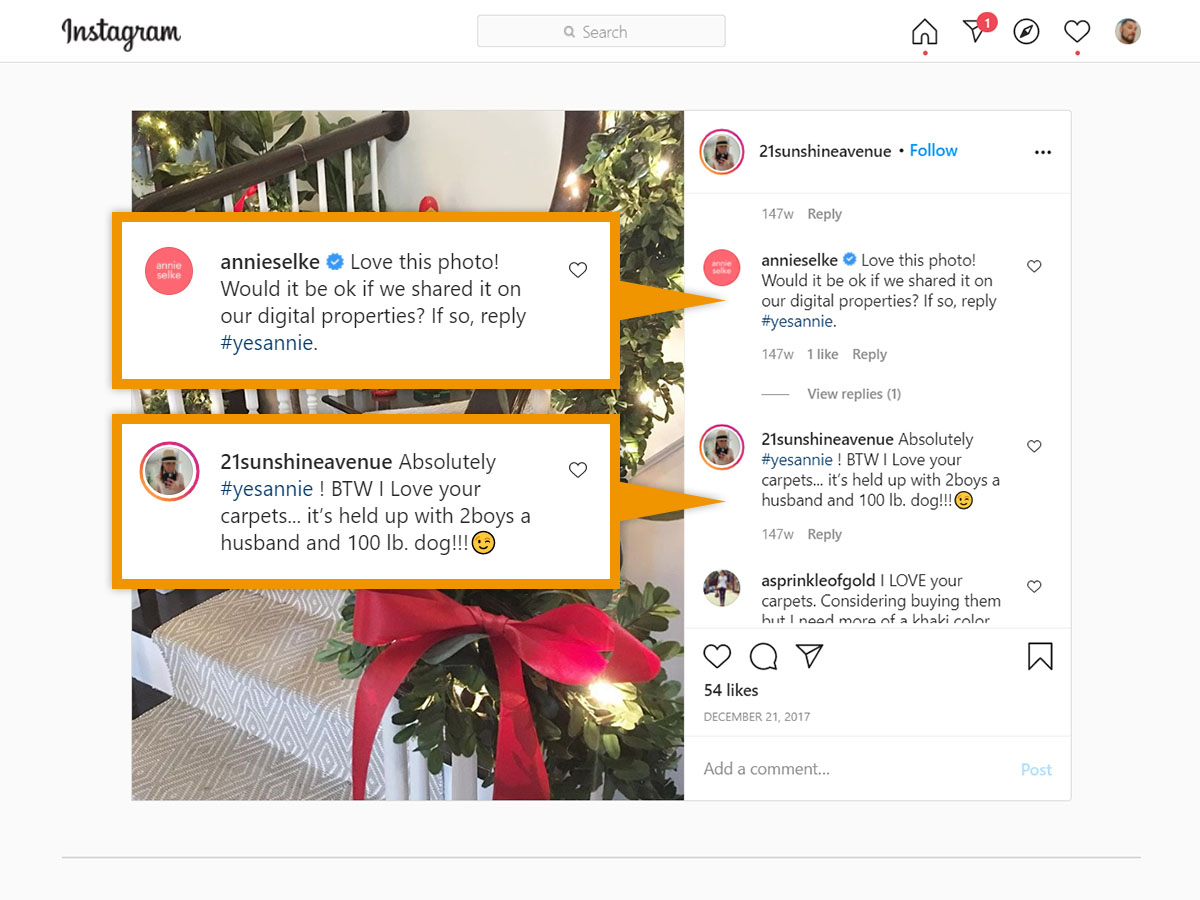 Fig. 15 — Before using any of the customers' photos, Annie Selke had to obtain their consent
Source: Instagram; accessed: 20 October 2020
Optionally, you can ask your customers to upload their images directly to the galleries you have created in your online store (Fig. 16).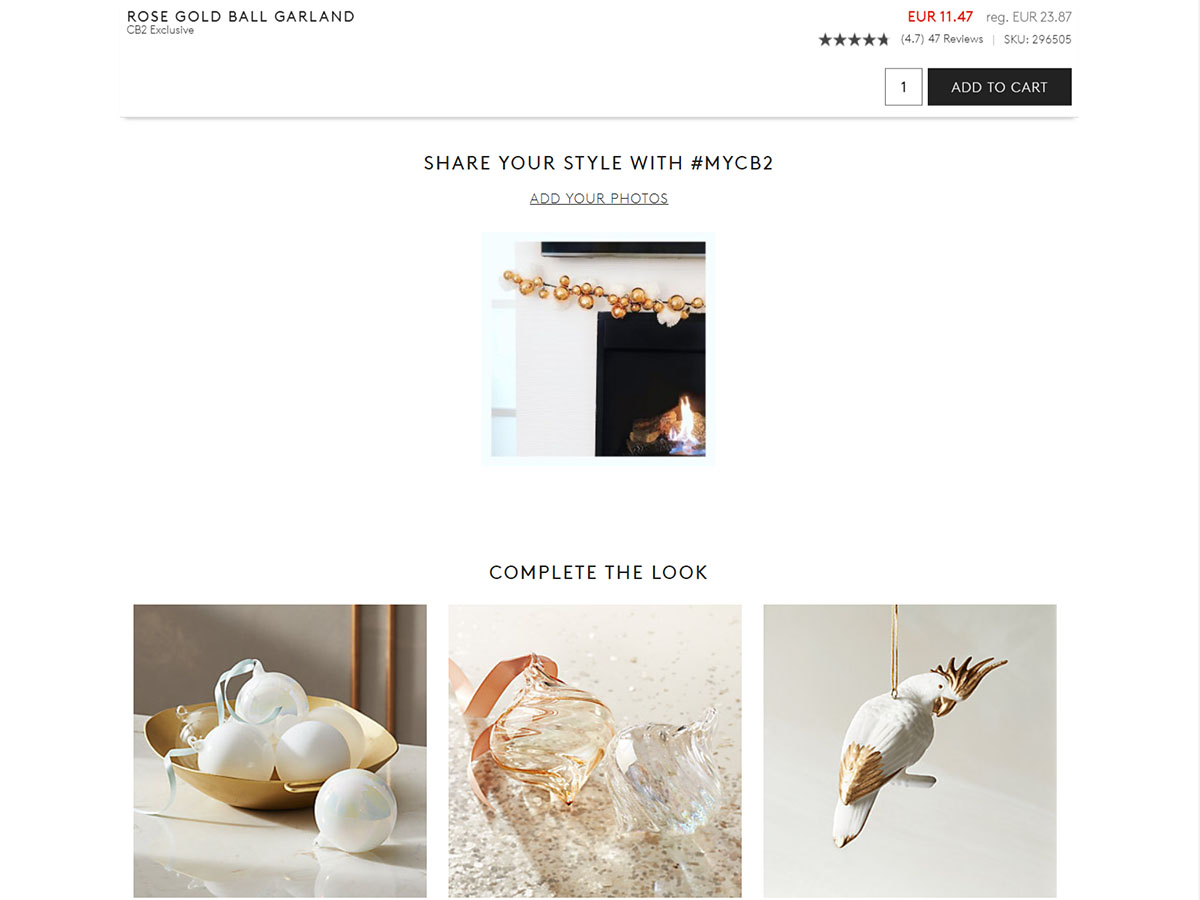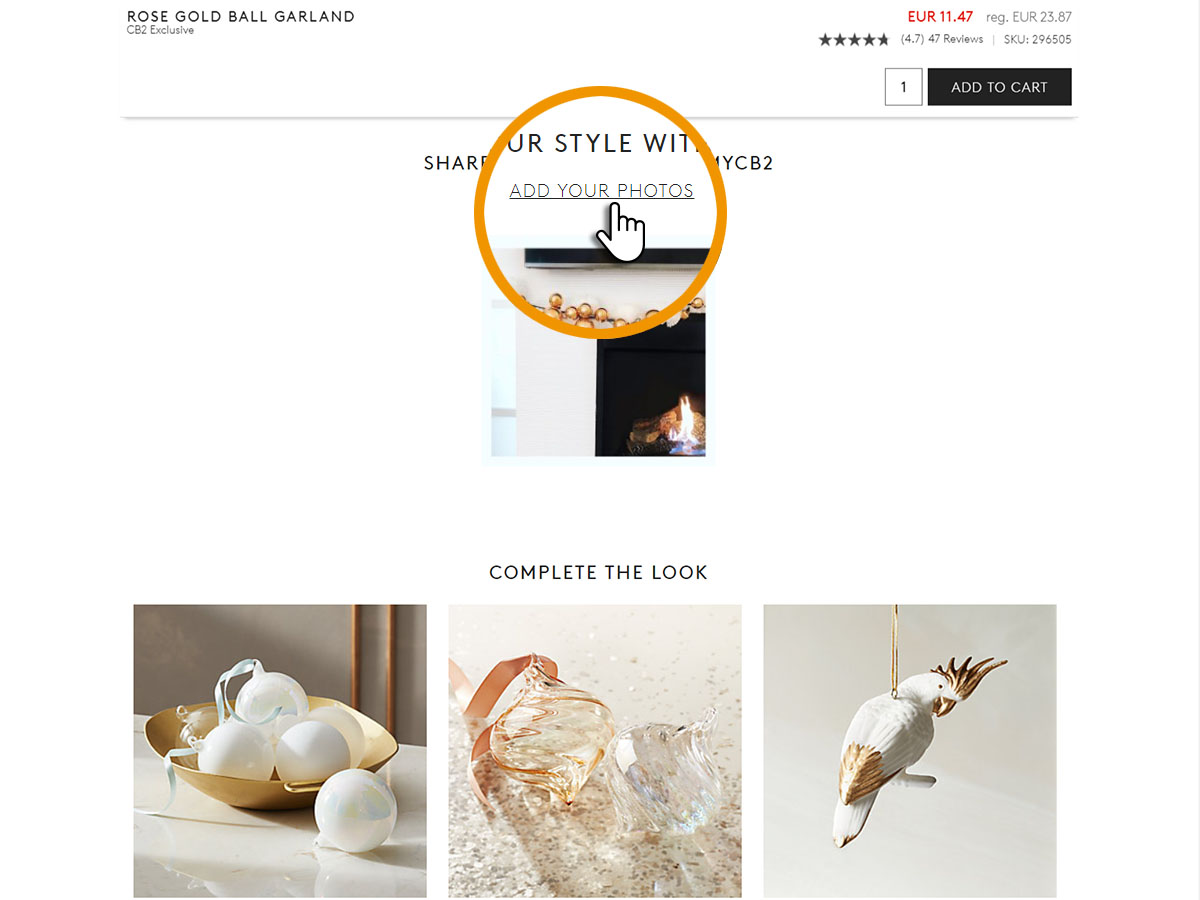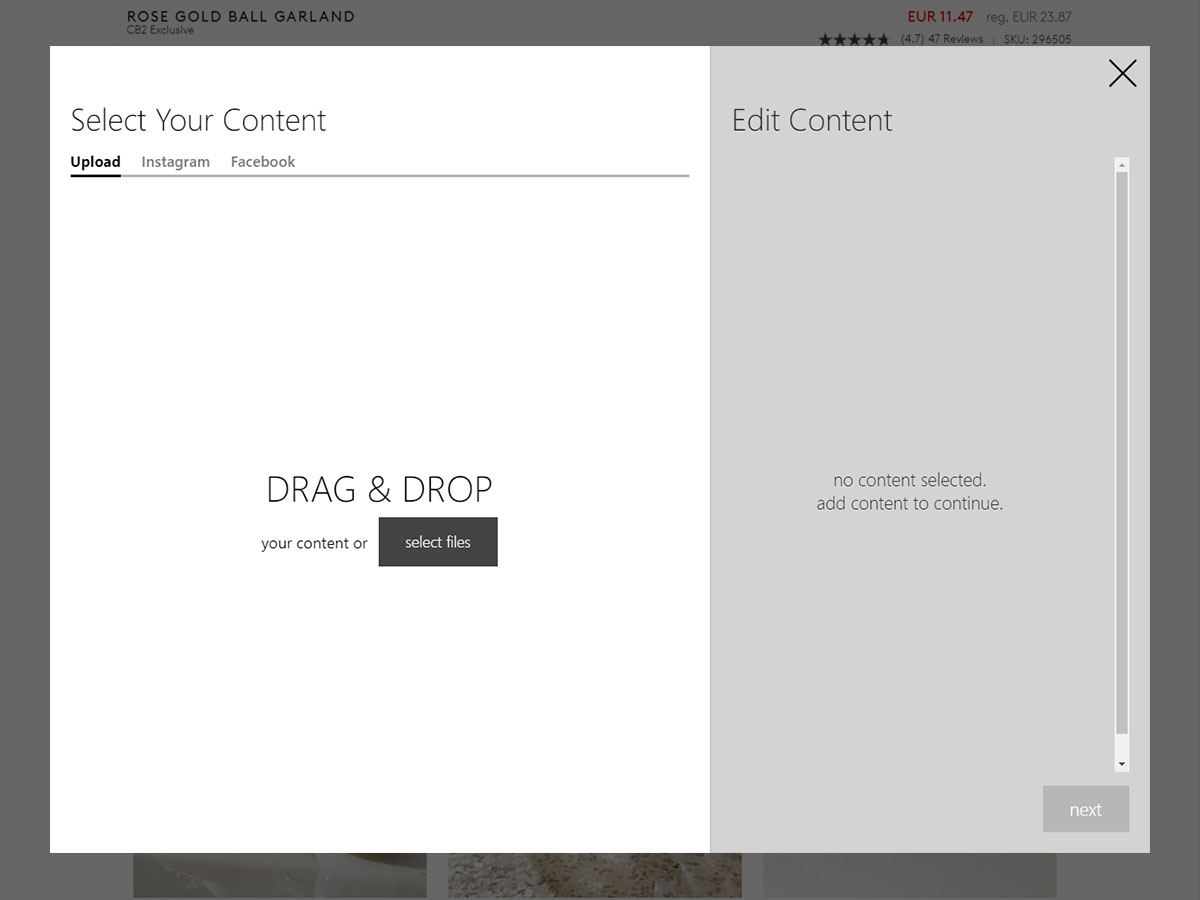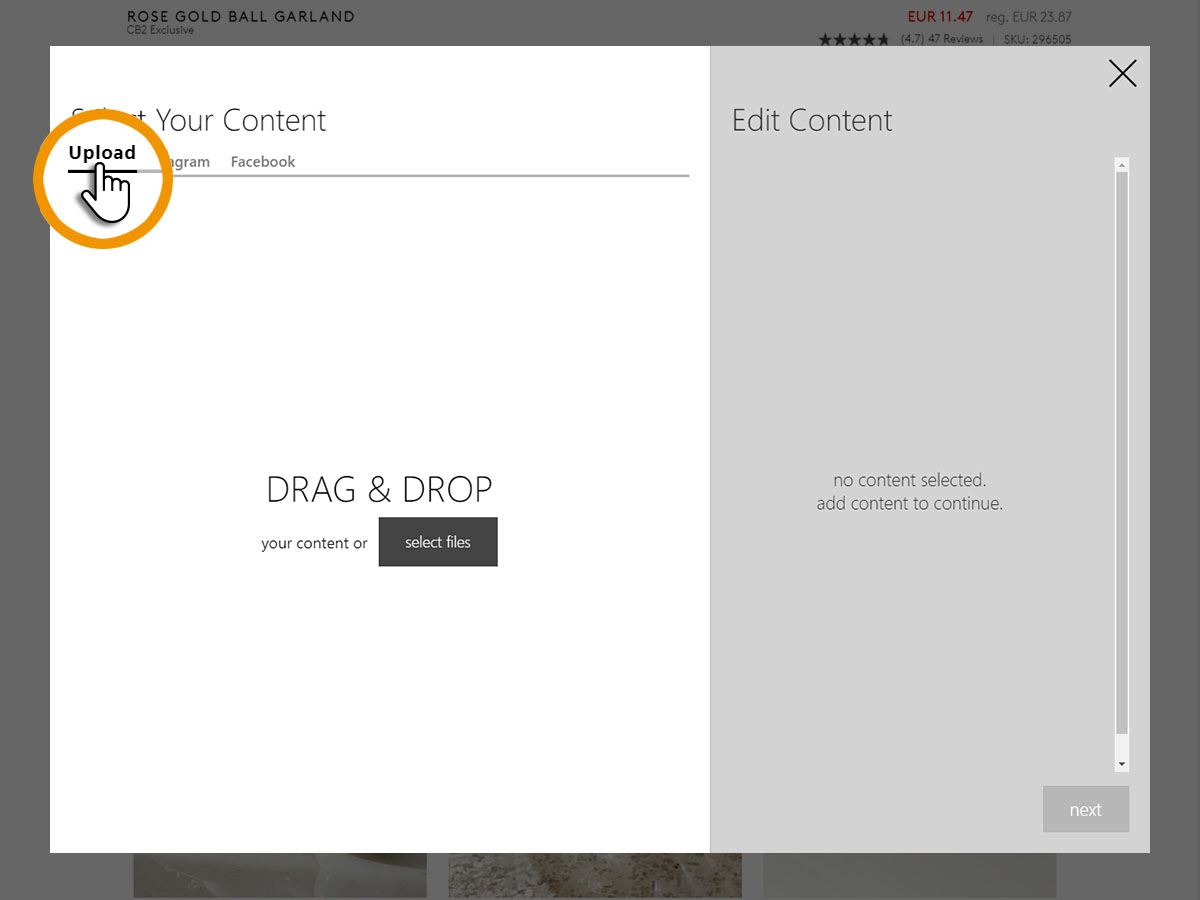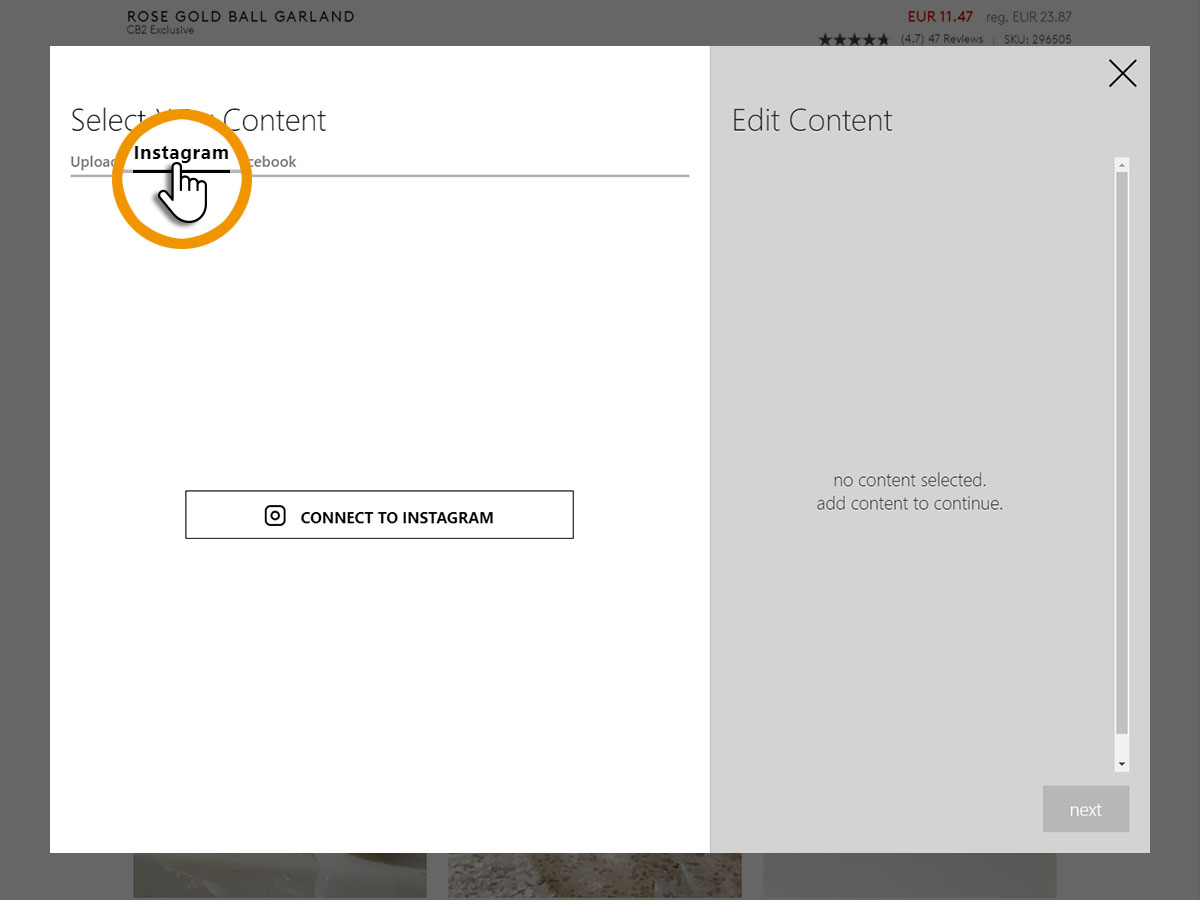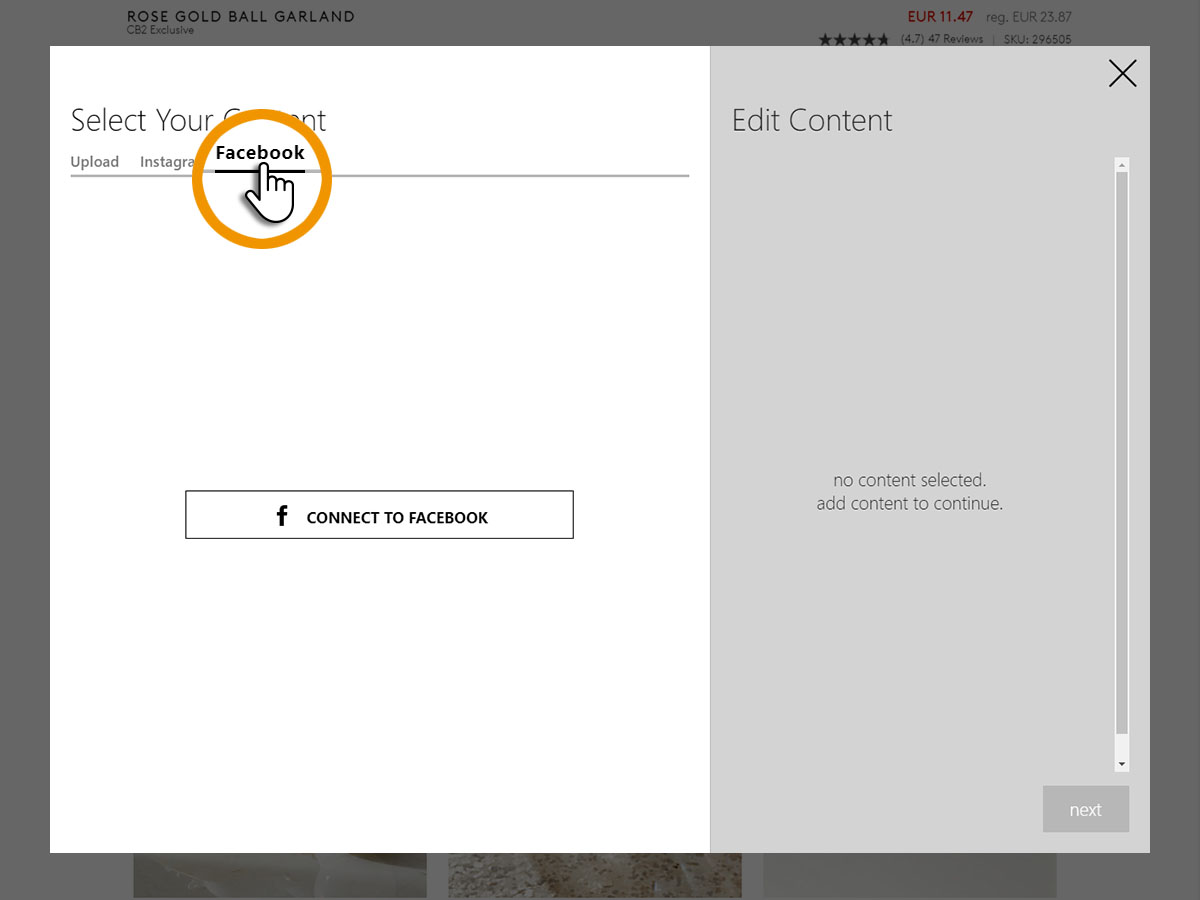 Fig. 16 — CB2's customers can upload their photos directly to the UGC gallery
Source: CB2.com; accessed: December 2019
Apart from creating separate inspirational galleries, images collected from customers are often placed on product pages, giving additional inspiration and strengthening social proof for the product (Fig. 17).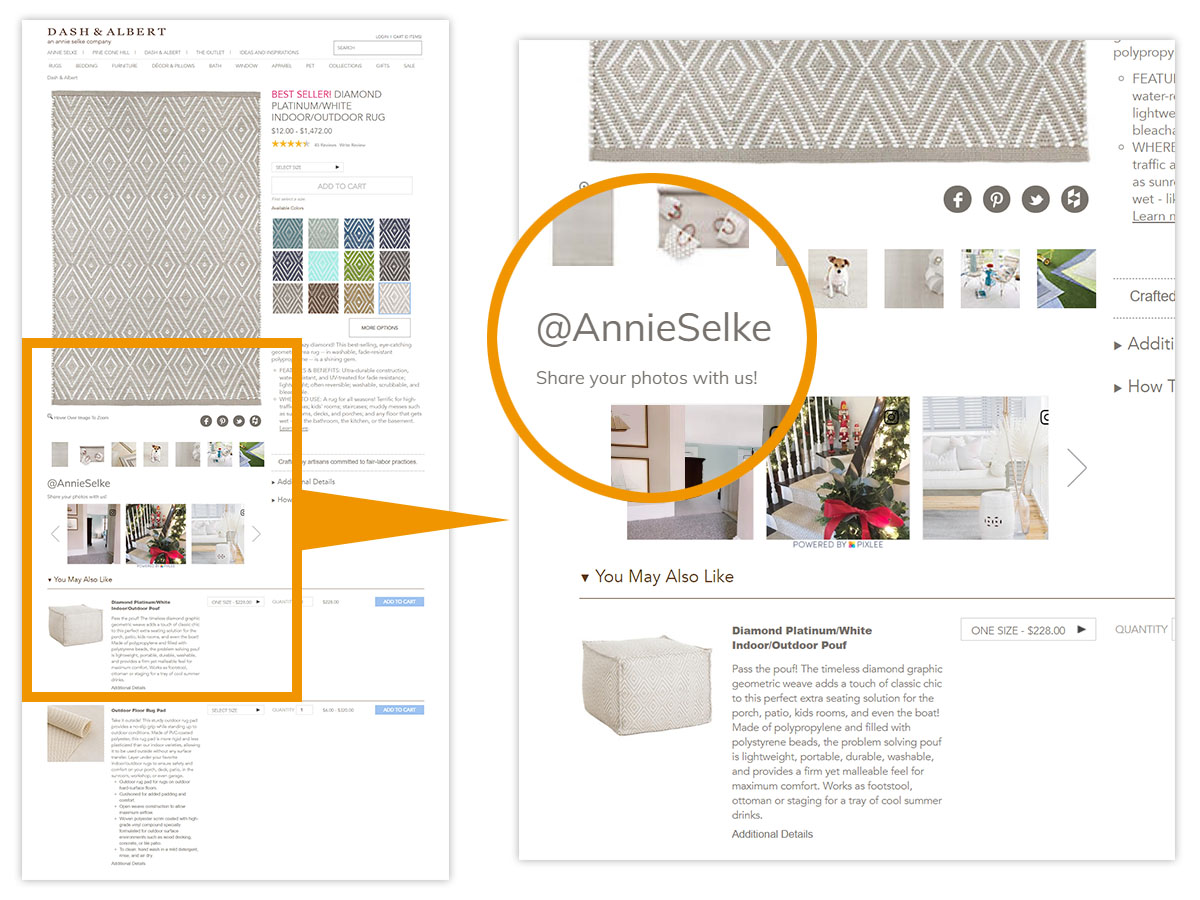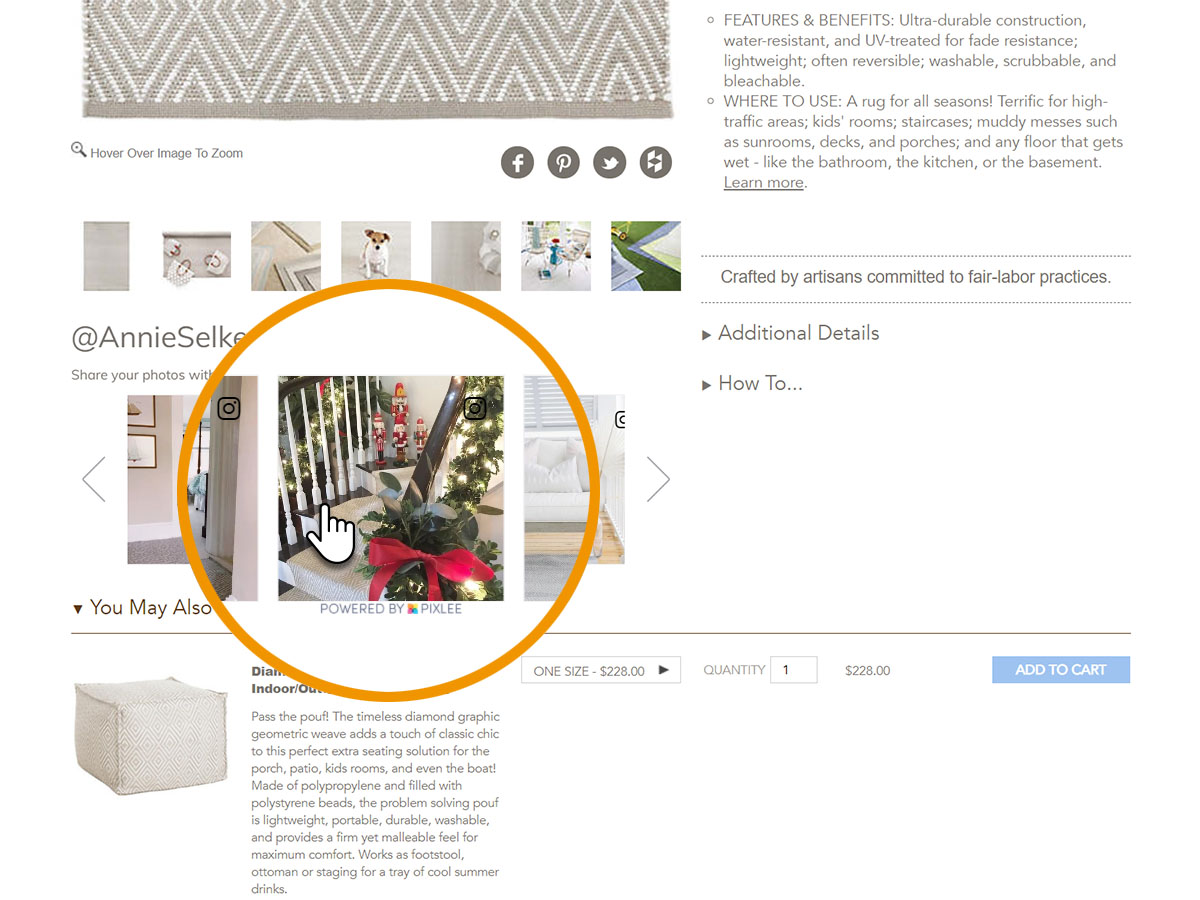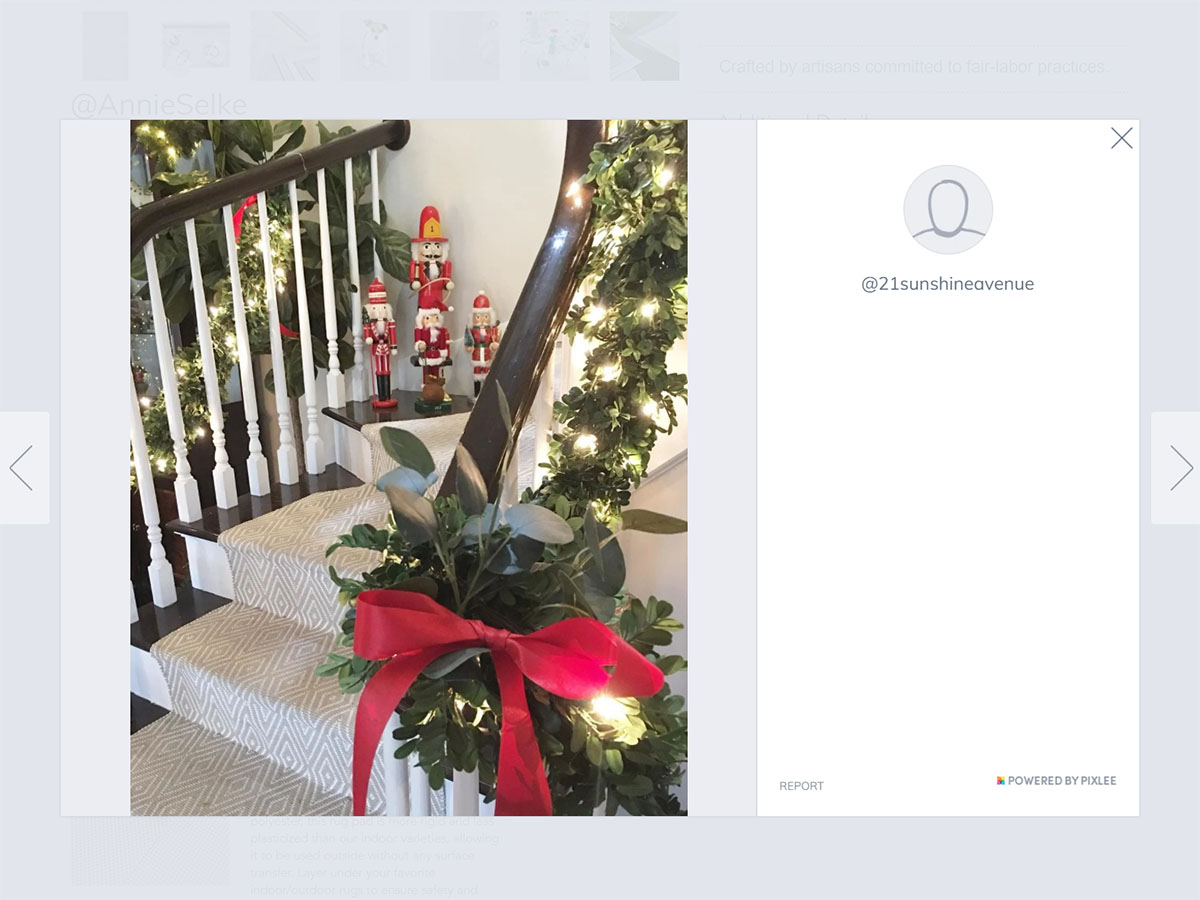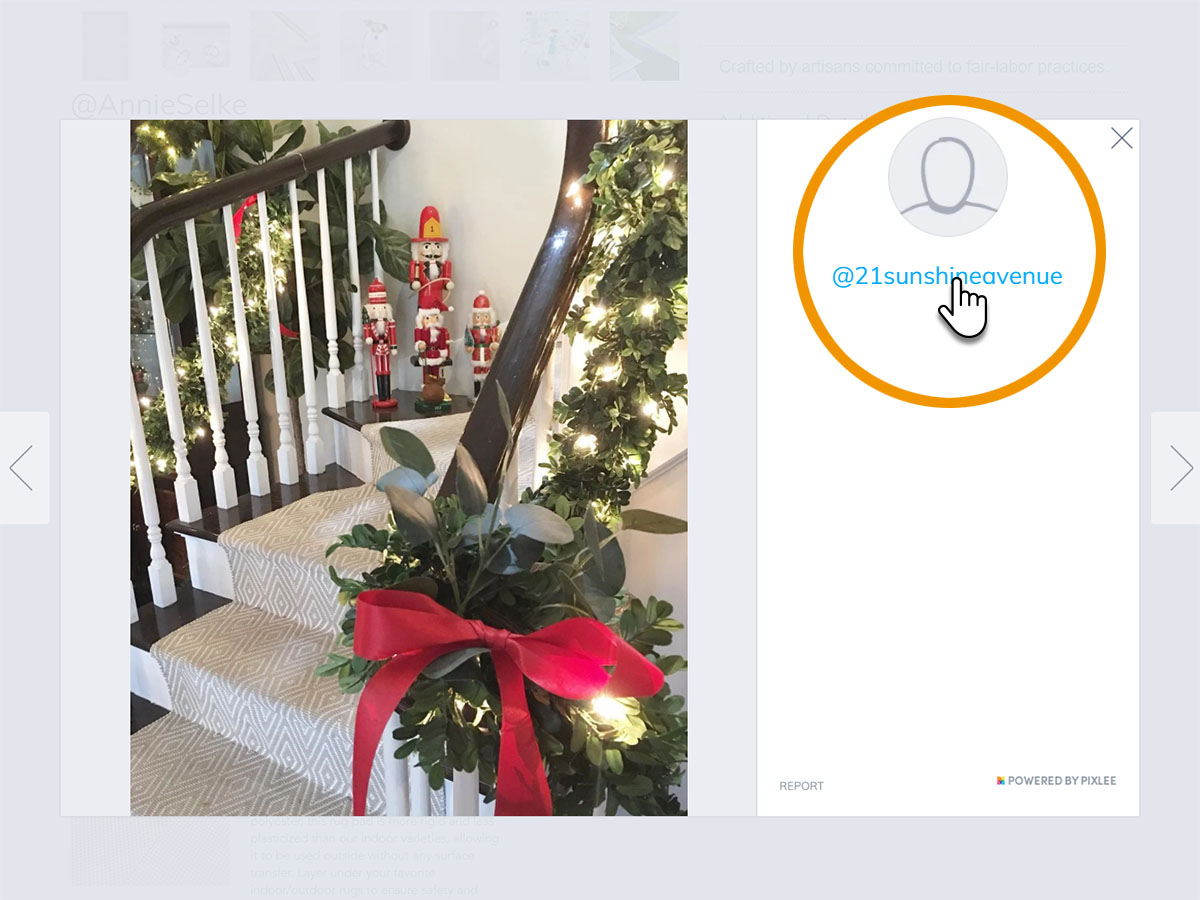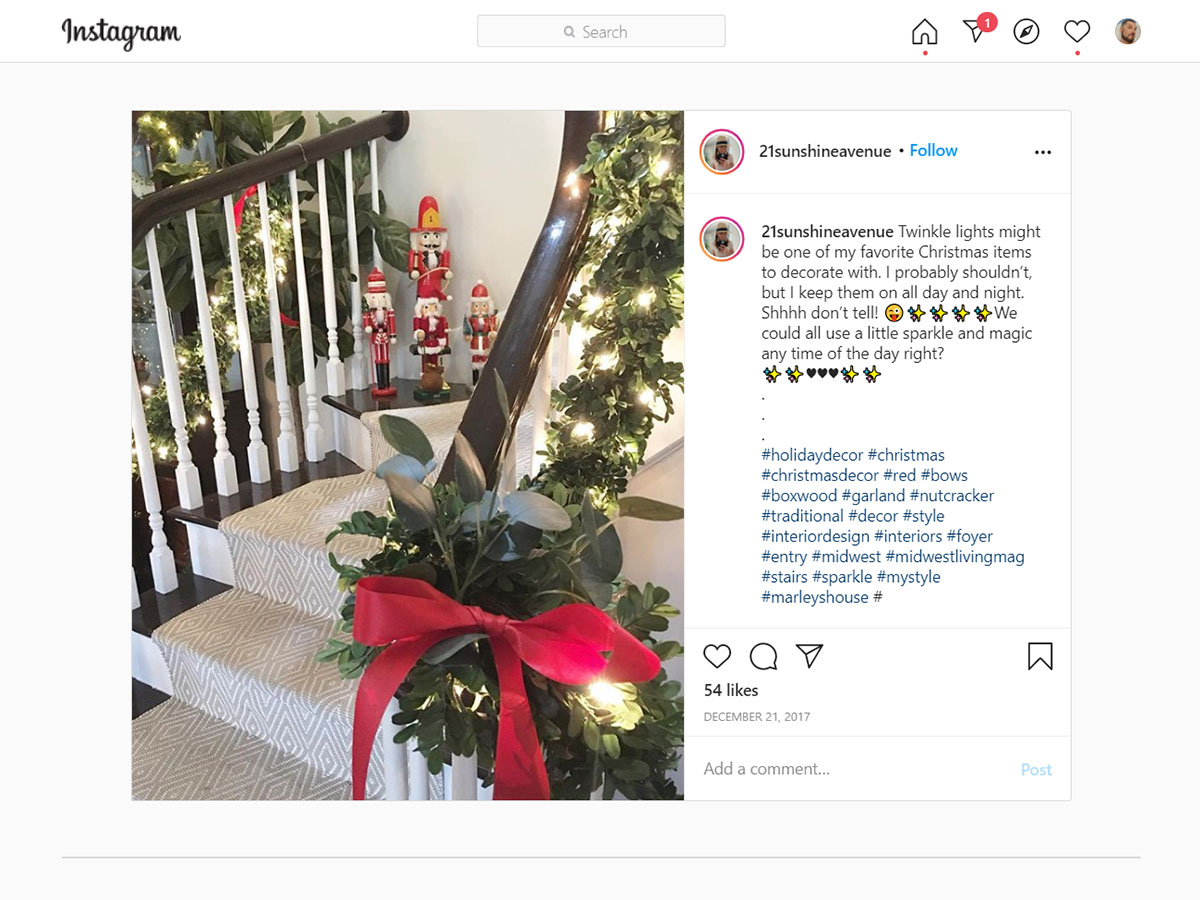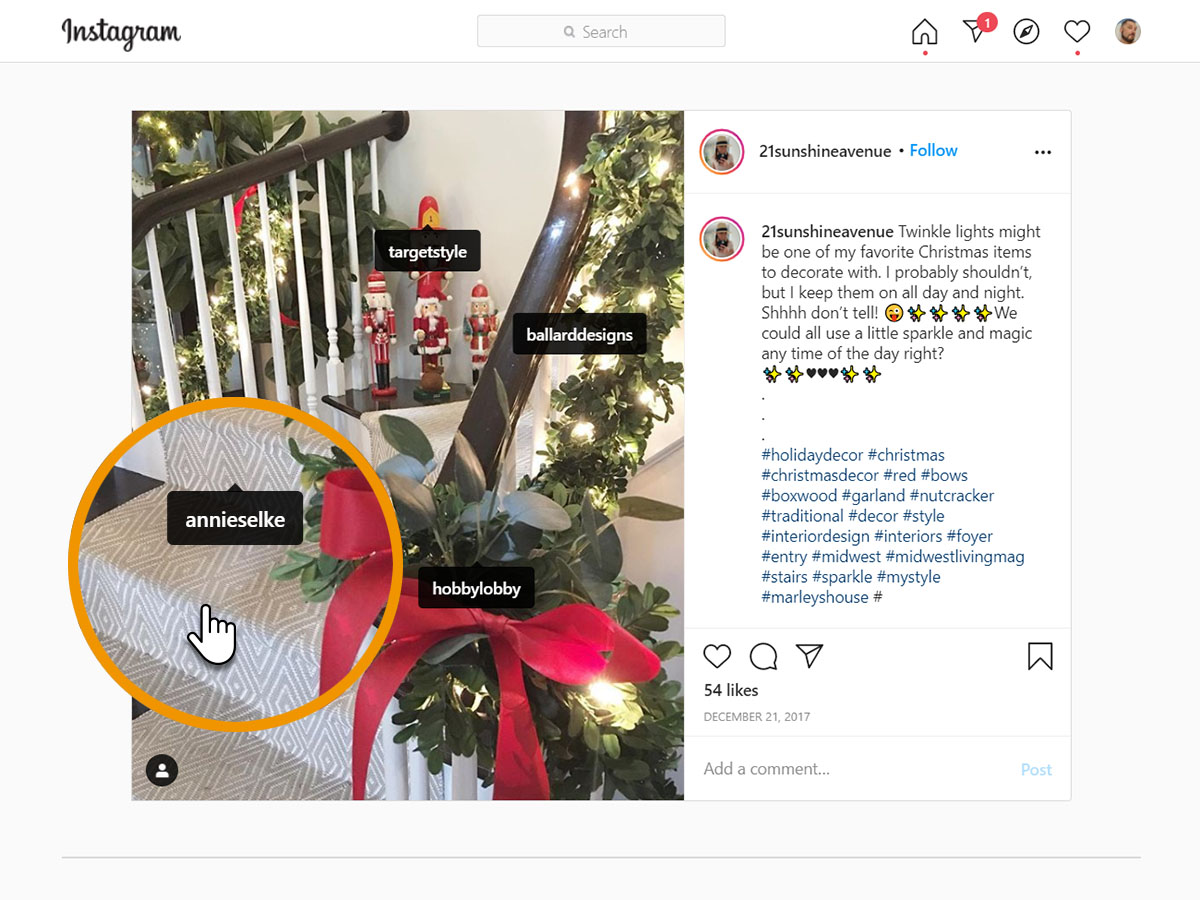 Fig. 17 — Annie Selke and its brands feature customer pictures on their product pages
Source: Annie Selke; accessed: 18 November 2020
After making these images shoppable, some retailers place them as illustrations in blog articles to inspire customers with fresh ideas about how other people have used the products (Fig. 18).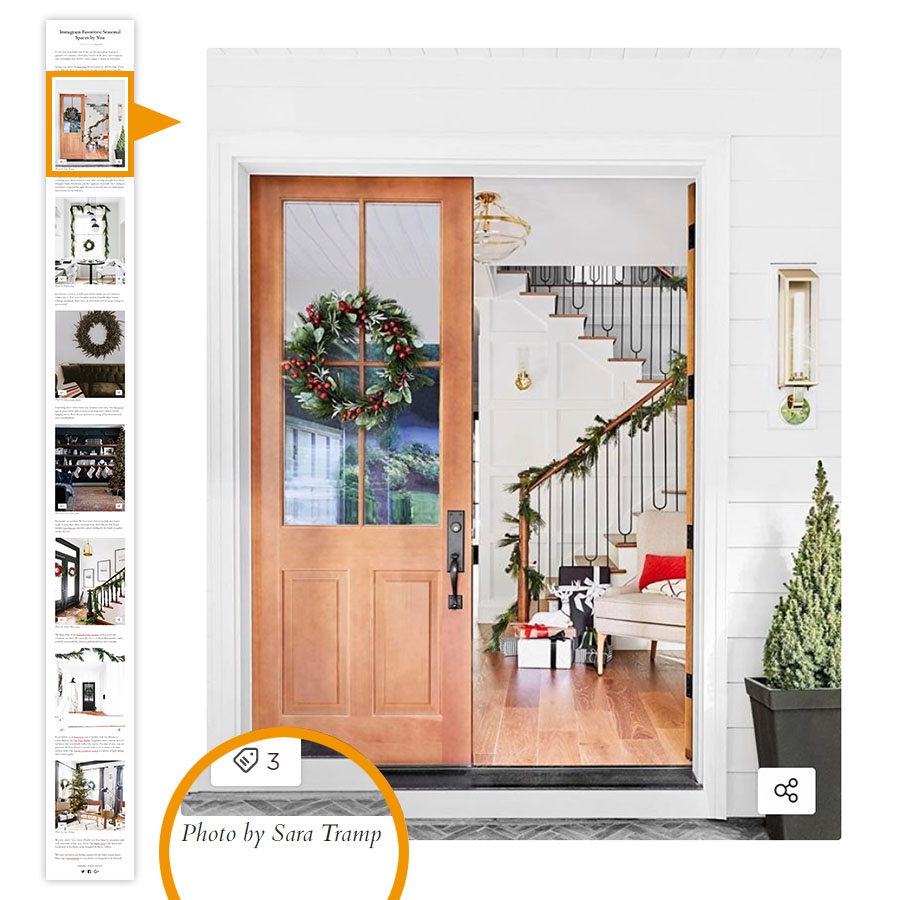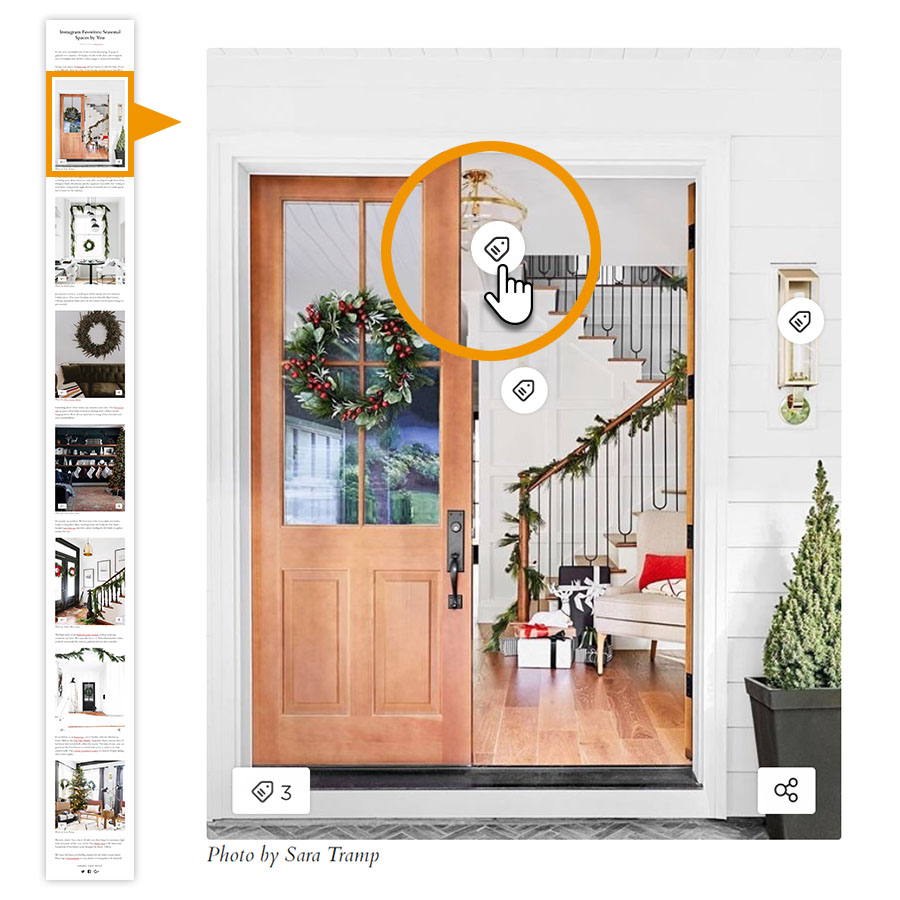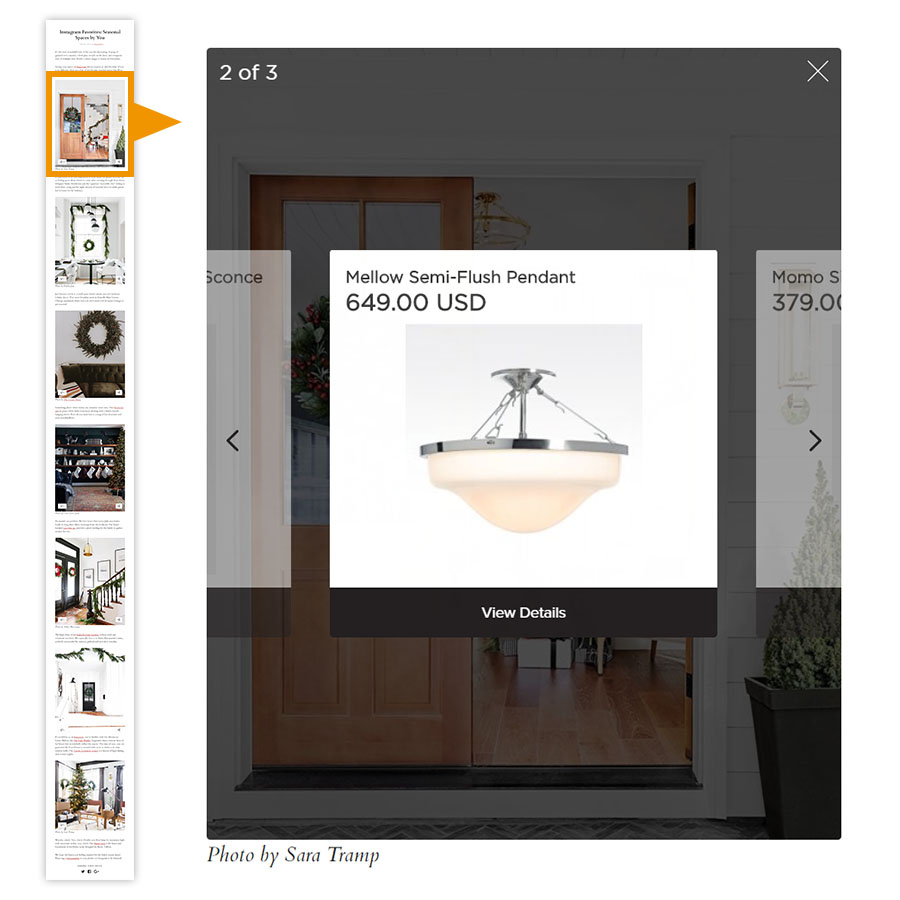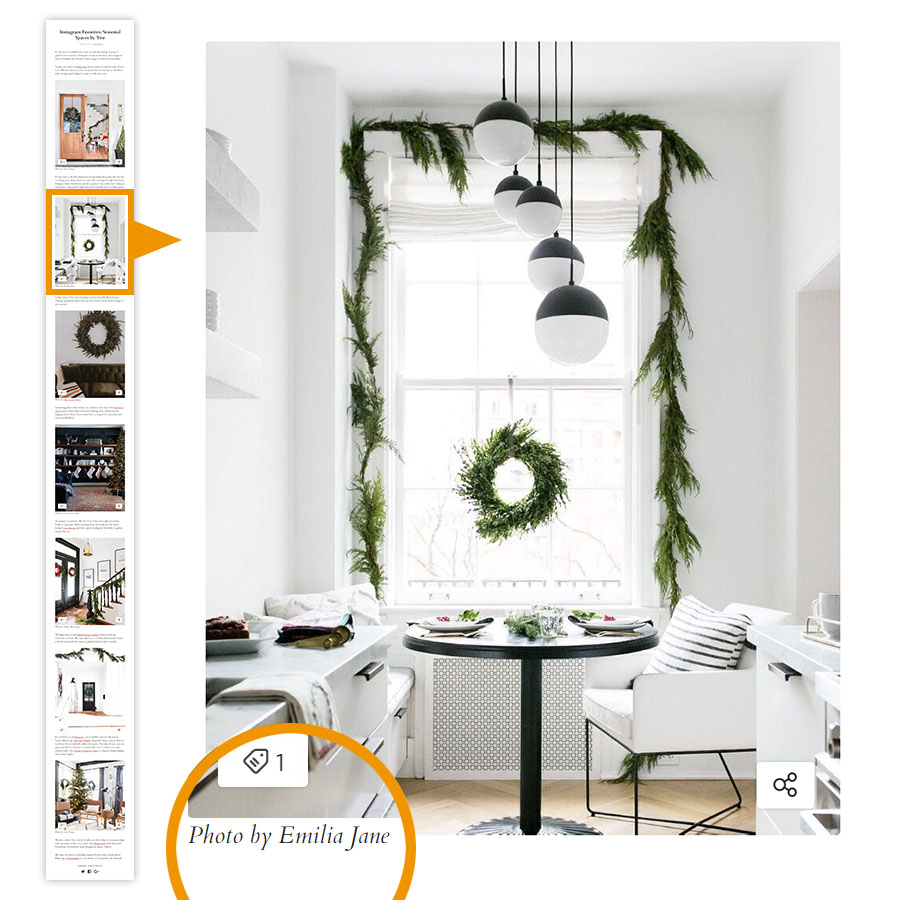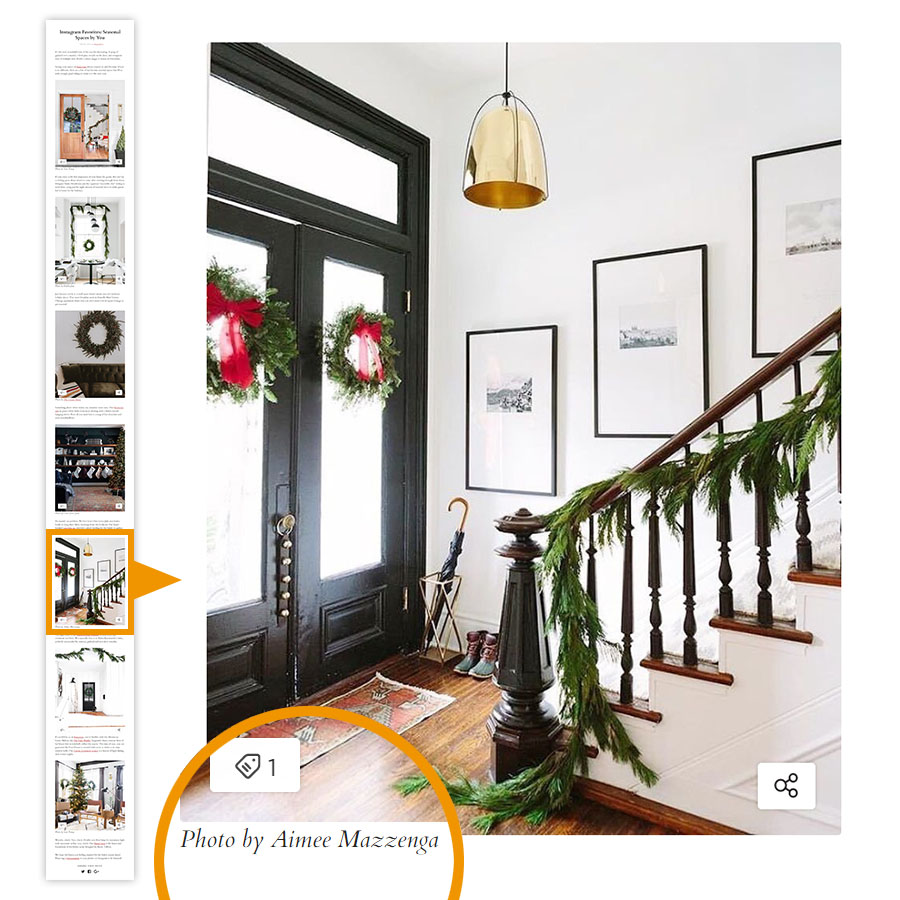 Fig. 18 — Shoppable UGC images from Instagram used as inspirational pictures on the Rejuvenation's blog
Source: Rejuvenation; accessed: 18 November 2020
START INSPIRING YOUR CUSTOMERS!
If you are wondering how you can provide effective inspiration on your e-commerce platform or what tools you can use to develop it quickly and efficiently, do not hesitate to contact us at